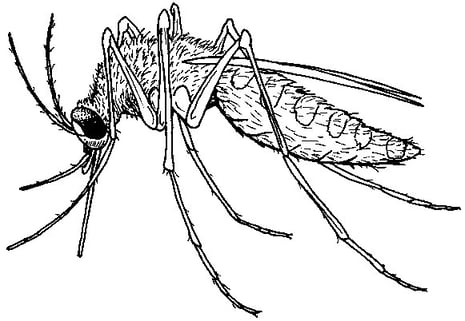 I can't believe I forgot to bring this formula with me while exploring the breathtaking and bug-filled wilds of southern Oregon and the Modoc National Forest last weekend! Hot weather meant those bloodthirsty mosquitoes were out in full force and my poor feet are now polka-dotted red and itchy.
I created this No-Skeeter Spritz recipe several years ago after my first Arnica harvesting experience. The air was so thick with mosquitoes while clipping the young flowering stems, that I broke down and begged for that toxic DEET-based stuff. There seemed no other way. When I got home, I immediately went to work researching an alternative. I discovered that the essential oil found in catnip may be helpful. If you've got fresh catnip growing in the garden and the essential oil is a bit out of budget, try using a high-proof alcohol tincture instead, which is what I like to do. Pure grain alcohol (95%) will totally dehydrate the catnip, extracting the oils in about a week.
This formula changes a little bit each time I make it, but always turns out highly effective against the pesky little monsters. Generally, my recipes follow a "less is best" philosophy when it comes to essential oils, so please feel free to reduce the amount for less severe environments.
No-Skeeter Spritz Recipe
Ingredients
4oz fresh Catnip Leaf tincture (made with 95% alcohol)
4oz Organic Witch Hazel Extract
20 drops Organic Cedarwood Essential Oil
20 drops Organic Eucalyptus Essential Oil
20 drops Organic Lavender Essential Oil
20 drops Organic Rosemary Essential Oil
10 drops Organic Lemongrass Essential Oil
10 drops Organic Lemon Essential Oil
Directions
Pour catnip tincture and witch hazel extract together in an 8oz glass spray bottle. Slowly drip each essential oil into the bottle, counting with care as you go. Mix all ingredients in the bottle by shaking vigorously. Shake well before each use and reapply as often as needed.