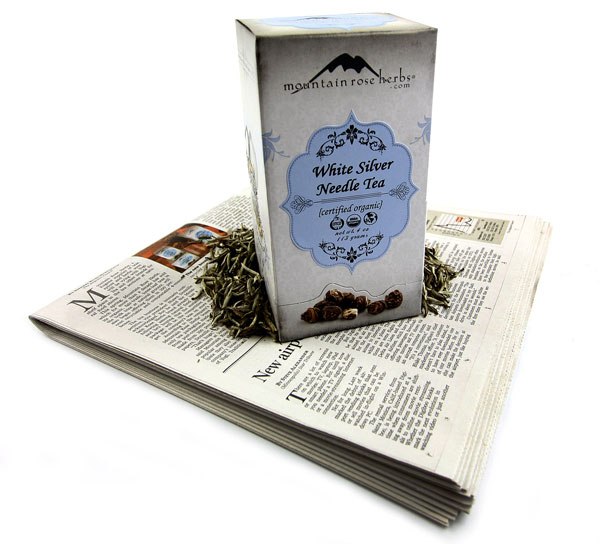 Have you seen our gorgeous new tea boxes?
Did you know that they're actually made from...recycled newspapers?
Oh, I know. They're so pretty it's hard to believe, isn't it?
After two years of planning, sourcing, and designing, we are overjoyed to finally introduce a sustainable package that's worthy of our deliciously herby, certified organic, and fair trade teas. From a sea of packaging choices, we've carefully selected materials taken out of the waste stream and transformed into environmentally friendly alternatives. All of our 4oz teas will now arrive boxed in this recycled loveliness. Really exciting stuff!

Here's what makes our new box so special...
It's Sustainable
Cardboard Tea Box
• 100% post-consumer waste recycled newspaper
• Reusable
• Recyclable
• Biodegradable/Compostable
• Printed with soy ink and water-based varnish
• Recyclable labels
Inner Tea Bag
• Non-GMO tree cellulose, an industrial bi-product from the Pacific Northwest
• 100% Compostable
• Resealable with adhesive tab for freshness
Our Tea
• 100% Certified Organic Ingredients
• Earth Kosher Certified
• IMO Fair For Life ~ Fair Trade Certified varieties
• Time-tested formulas handcrafted by us for over 20 years
• 65 green, black, red, white, and herbal blends to experience
It's Practical
• Prevents color and nutrient leaching by light
• Offers better protection during shipping to prevent crushed and broken bags
• Local co-ops and health food stores will now be able to stock our tea in the tea aisle
• Allows us to include detailed brewing instructions and a "resources saved" report
• The box can be reused to store future orders of bulk tea. Try it with glass canning jars!
It's Beautiful
• Beautifully designed to sit on your kitchen shelf
• Perfect gift for tea lovers
• Embossed with full color photos of our tea printed using soy-inks & eco-friendly water based varnish
Now our organic teas are as sustainable as they are delicious!
So, sip sustainably and help us support organic agriculture one cup at a time…