You may have noticed a few changes here on our Mountain Rose Blog…maybe you noticed some BIG changes? We've been working hard to create a better blog experience for our wonderful readers and followers—from the photos to the readability of the text. Same wonderful recipes and educational articles, but hopefully, you're finding it much easier to search, navigate, and learn!
You can now jump over to our website to find items and herbs by clicking "Mountain Rose Herbs" across the top menu bar. You can also arrange how you view this blog to suit your needs by choosing the drop-down menu under "Blog View" (experiment and see what you like best or what works best for the device you're using.)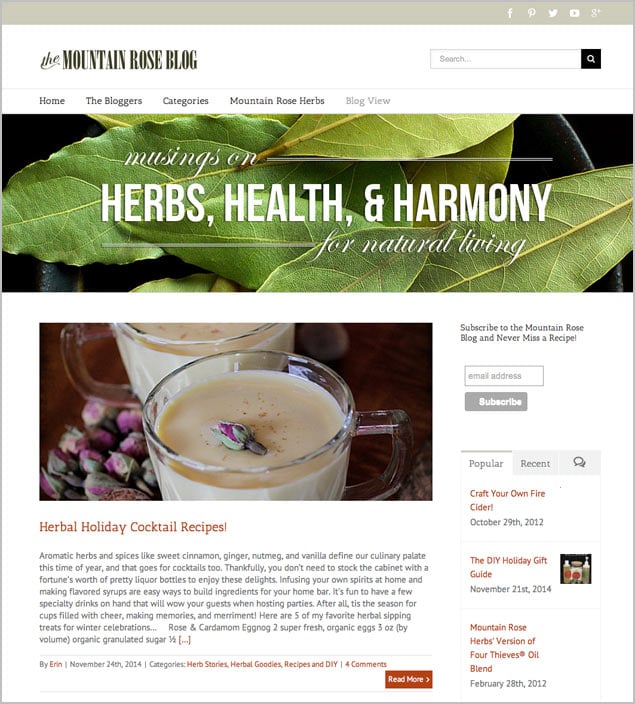 You can search by categories, or plug in the name of a post, recipe, or specific herb using the search bar to bring up a list of relevant results. If you scroll down to the bottom of the page, you can even search by date or month (or even year)! You can also subscribe to the blog and we will send new posts to your email so you'll never miss an herbal article or recipe.
Like many adventures around here at Mountain Rose, it has taken a team of folks to make the magic happen! We are still working out a few of the kinks and adding usefulness and function to this new blog experience, but we invite you to take a tour and check out our improvements!
Thanks to all the herb lovers for reading over the years!