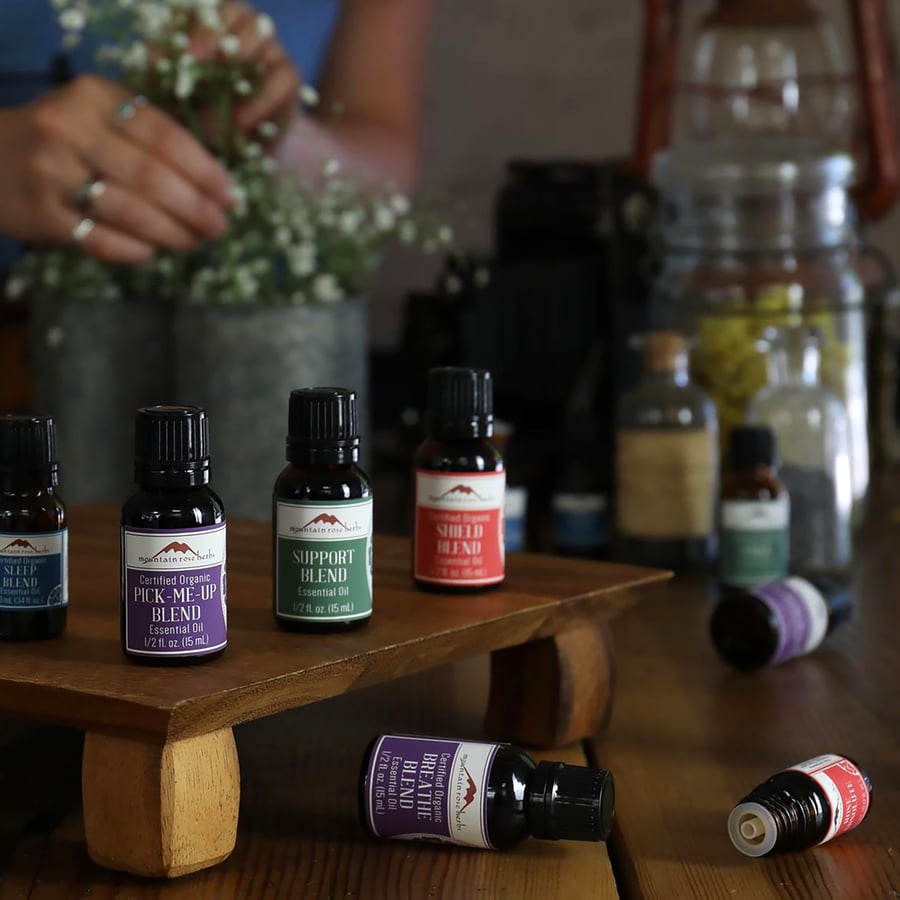 One of my favorite things about working with essential oils, besides their amazing properties, is blending them together. So, when it came time to craft our line of pure essential oil blends I was thrilled! Looking to the little bottles of oil filled with inspiration in my office, thinking about a Mountain Rose Herbs line of functional blends, I was able to focus not only on their aromas and how they work together, but also on their purpose. There are six inspirational blends in this line, each of which focuses on a specific need.
After years of research, people are finally accepting that aromatherapy can impact mood, spark memories, and support overall wellness. With this in mind, one of the most important aspects of creating supportive essential oil blends is to always use high-quality, pure ingredients, because the end-product can only be as good as what you put into it. As with all the hand-crafted recipes we create, each of these is blended with pure oils in small batches using the freshest materials. They are mixed in-house by our skilled blending team. From there, samples are taken for review by Quality Control before the blends are approved for bottling—we have these strenuous quality checks in place to ensure you receive safe, effective products.
I am especially proud of this line. These were some of the most requested items from our customers over the years and I'm excited that we finally have them available!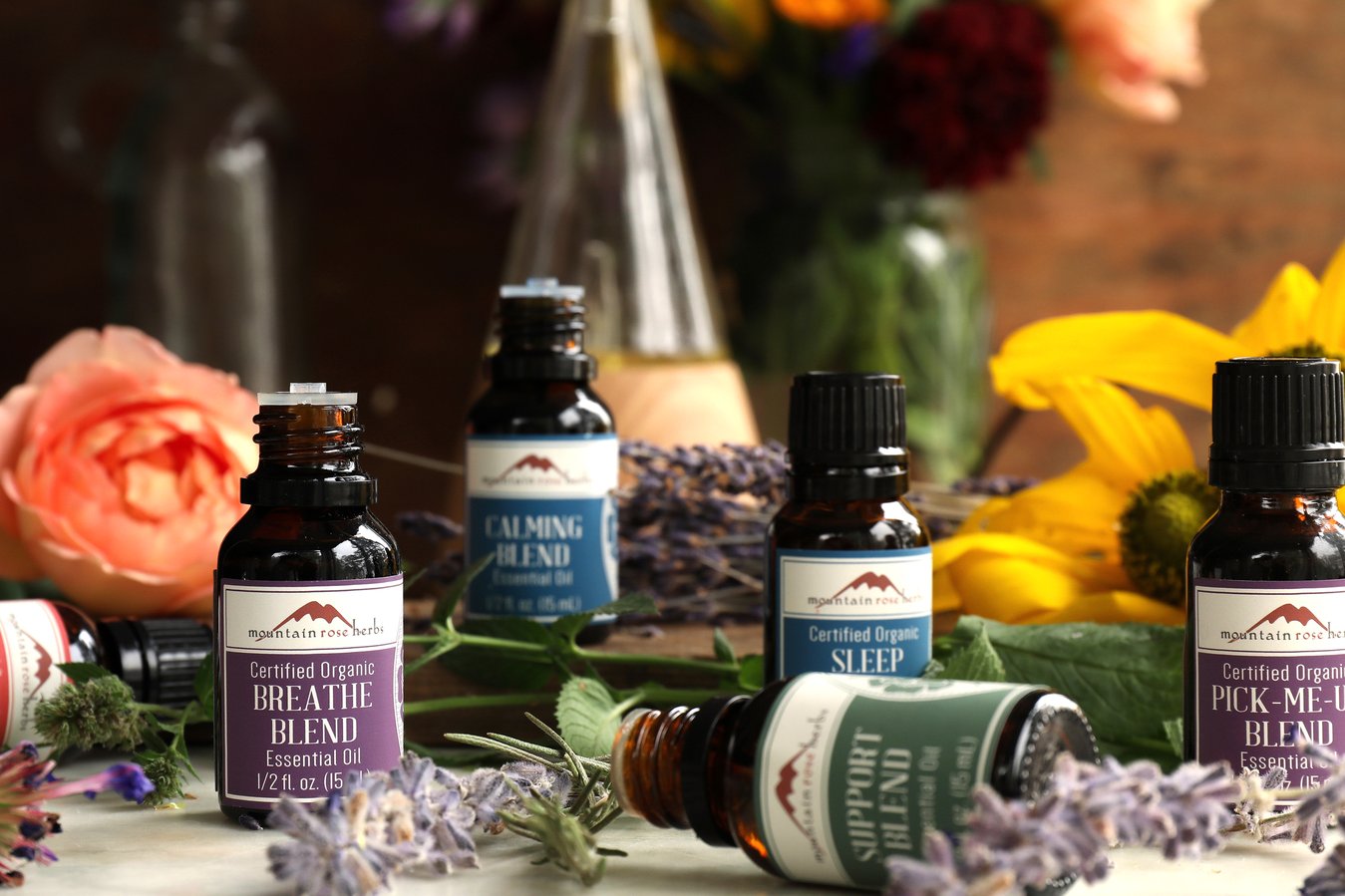 Invigorating Essential Oil Blends

Breathe: Designed to support clear bronchial passages and deep breathing, this blend imparts an invigorating camphoraceous front note with a breeze of piney and softly floral undertones.
Pick-Me-Up: Perfect for when you need a pick me up, this blend features fresh and zesty ginger notes that dance with refreshing rosemary and a subtle hint of black pepper. Take a moment to appreciate this oil and you'll find an added pep in your step and new energy you didn't know you had.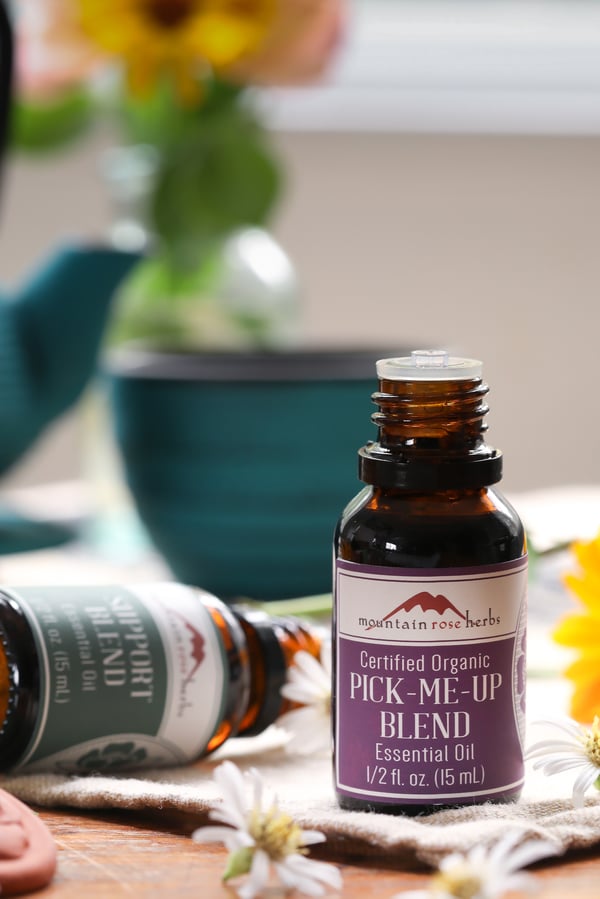 Peace-Evoking Essential Oil Blends
Calming: This calming oil assists with a healthy emotional response when you need it the most. Balanced with the soothing notes of lavender, clary sage, and earthy vetiver, it imparts an aromatic experience that will bring you back to the peacefulness of now.
Sleep: Pleasantly sweet with a dreamy floral softness and subdued green notes, this blend of pure essential oils features soft lavender, welcoming sweet marjoram, and serene Roman chamomile.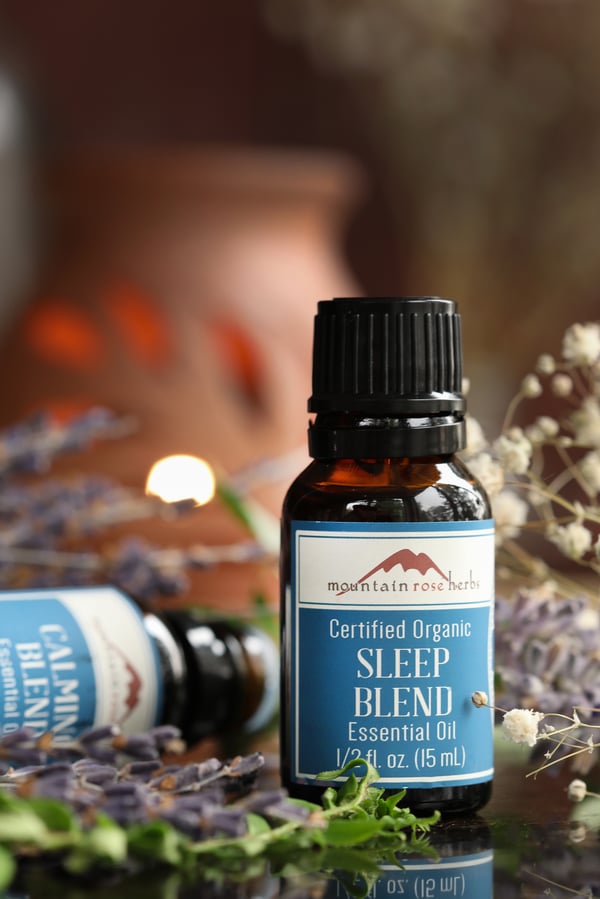 Supportive Essential Oil Blends

• Shield: This spiced combination features clove, rosemary, and lemon essential oils, bringing a clean, warming feel to any space. It also works brilliantly in cleaning recipes for the home.

• Support: This blend is a great tool for cleansing stagnant spaces. With refreshingly sweet citrus balanced by a camphoraceous top note and a soft resinous base, it helps to enliven a room (or attitude).
Want info about essential oil blending?
You may also enjoy: