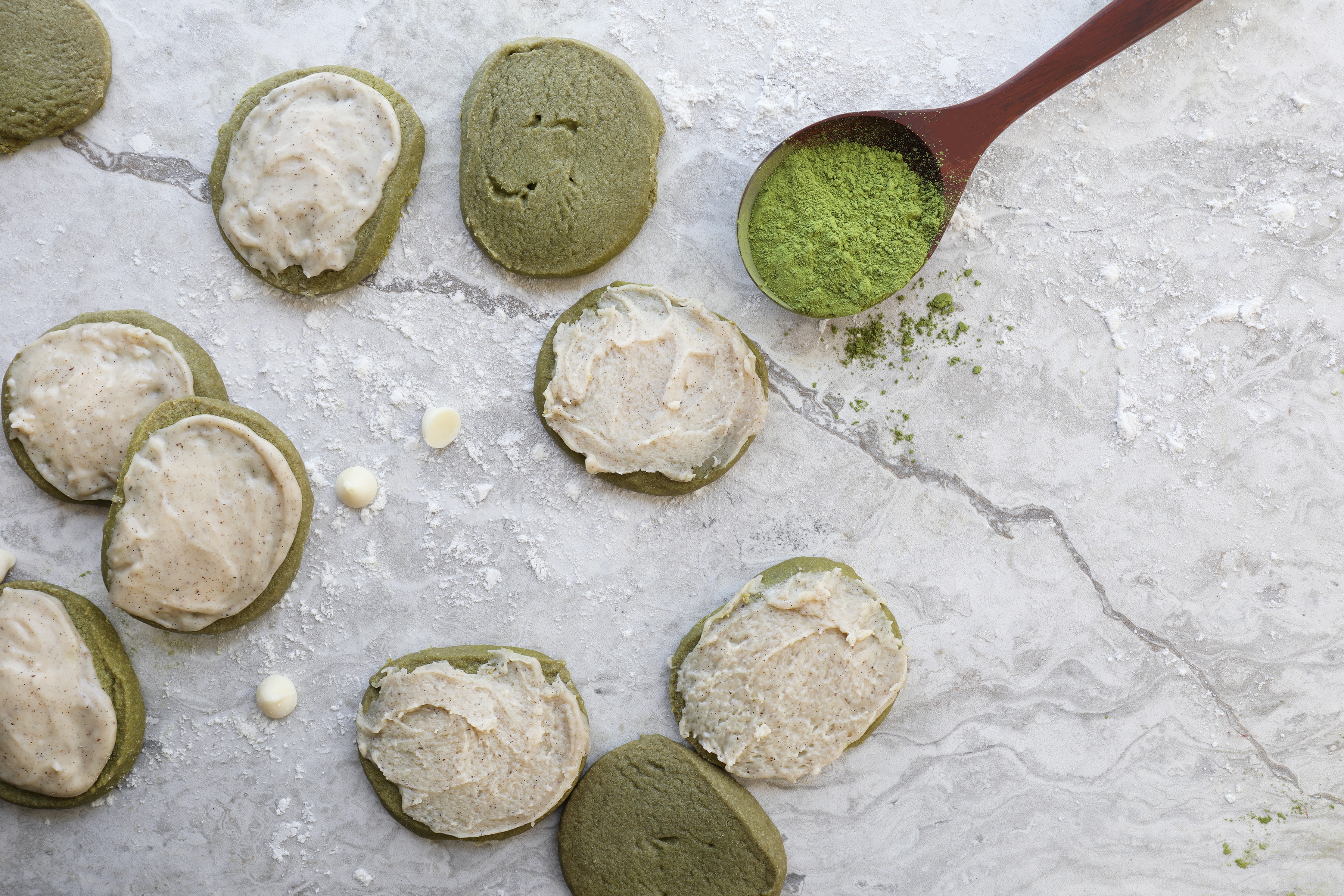 Matcha is an alluring powdered green tea with deep historical roots in Japanese tea ceremonies. Like all true teas, matcha is produced from the tender young leaves of the Camellia sinensis plant. The way in which the leaves are grown and processed is what sets matcha apart from other green teas. All matcha is shade-grown, hand-harvested, and quickly steamed. After steaming, the stems and veins are removed from each leaf, and the leaves are then left to dry flat before being stone-ground into a fine powder. Whether whisked hot in the traditional preparation, or combined with milk and honey poured over ice, matcha offers a truly remarkable flavor experience!
I'll never forget my first sip of organic matcha. Its grassy sweetness and soft melon nose enchanted me. It was gently stimulating and helped refresh my focus for the day. That first sip was bliss, as has been every cup and latte that has followed. Since that day, I've experimented with the powder as an ingredient in smoothies, granolas, ice cream, and many other sweet treats. But these vanilla glazed shortbread cookies are my favorite. They've the perfect balance of sweet and savory, and the vanilla glaze adds a wonderful richness without being heavy.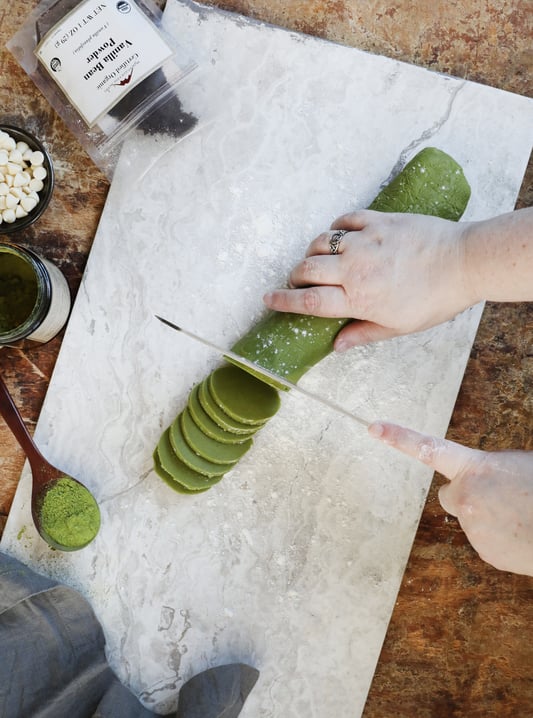 Matcha Shortbread Cookie Recipe
Makes about three dozen cookies.
Ingredients
Directions
Sift the flour, salt, and matcha powder into a small bowl.
In another bowl, cream together the softened butter, powdered sugar, and almond extract.
Mix in dry ingredients.
Divide dough in half and shape into a log.
Wrap dough.
Chill dough for at least a half-hour in the refrigerator. The dough should be firm.
Preheat oven to 325

°F

.
Lightly flour your work surface, the top of the dough, and a knife.
Cut log into 1/4-inch slices.
Place on baking sheets lined with silicone baking mats or parchment paper. Leave 1/4-inch between slices.
Bake cookies for 15 minutes or until lightly golden at the edges.
While cookies are baking, make the glaze.
Split a vanilla bean in half, scrape out seed pulp, and set pulp aside. Discard or save outer pod for a different use.
Slowly heat chopped white chocolate in a double boiler, stirring until melted.
Stir in reserved vanilla bean seed pulp.
Slowly add heavy cream, one tablespoon at a time, stirring until smooth.
Gradually cool glaze, stirring every few minutes until firm enough to spread without glaze running.
When cookies are done, remove from oven and place on a cooling rack. Allow cookies to cool completely before glazing.
Glaze cookies with a butter knife.
Allow glaze to set before serving or storing. If you're in a rush, place the glazed cookies in a freezer for five minutes.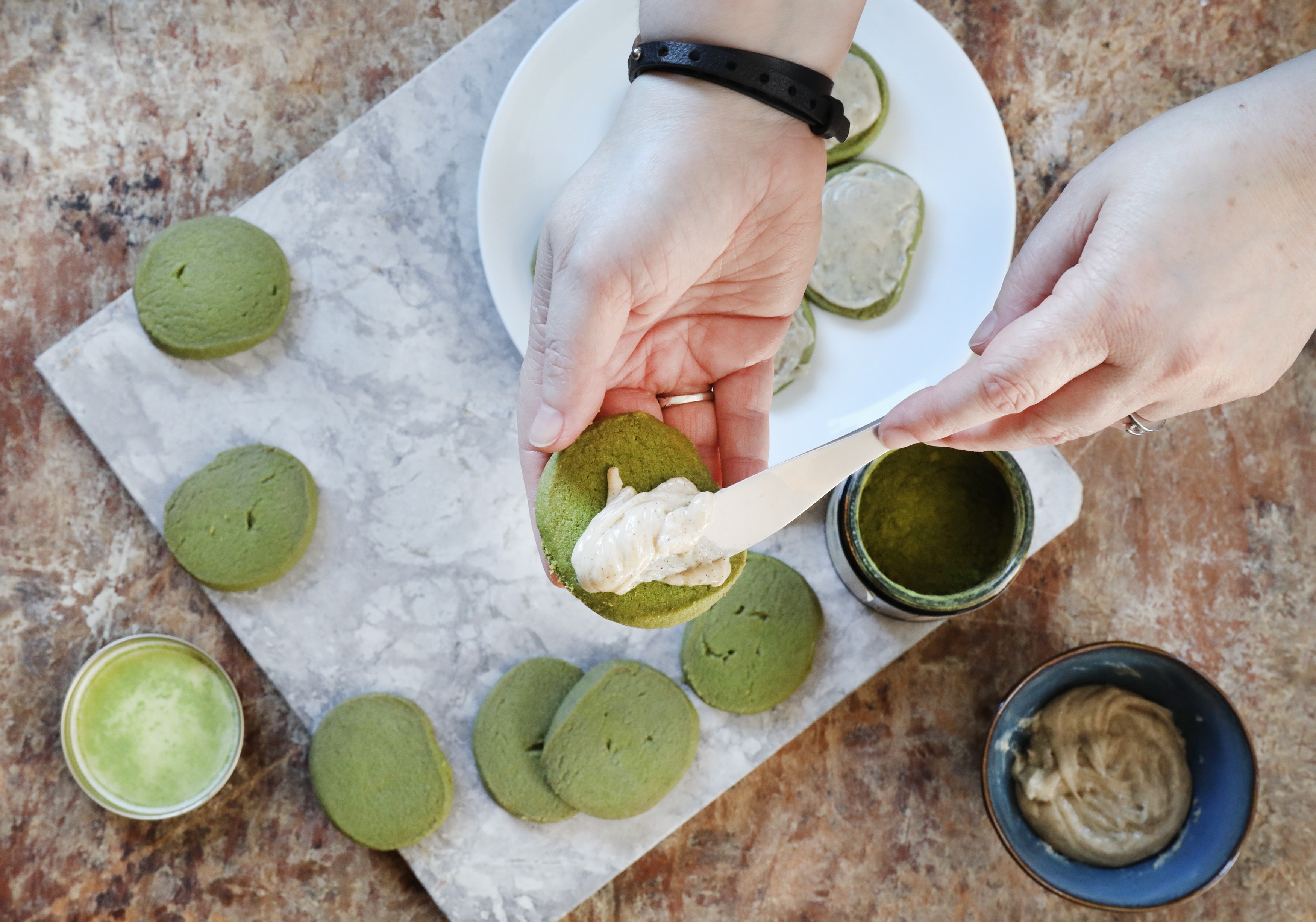 Pro Tip: Add the outer pod of the vanilla bean to a bottle of homemade vanilla extract to strengthen the vanilla flavor.
Looking For More Matcha-Flavored Goodness?

You may also be interested in: