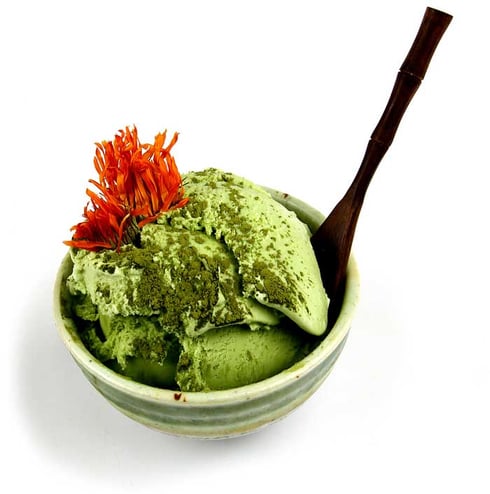 My first bite of green tea ice cream was nearly 12 years ago. After a feast of miso soup, seaweed salad, and veggie sushi with my bestie, we decided to be adventurous and split a scoop. And then we ordered another. It was a revelation to the taste buds. The mingling of grassy, floral, fruity, creamy sweetness was beautiful. It quickly became a favorite and I knew I had to make my own.
I've found that it's best to use powdered Matcha for this recipe. Matcha is a special green tea with deep historical roots in Japanese tea ceremonies. To produce this delicacy, the sweet and tender young leaves of Camellia sinensis are ground to a fine powder. When you use Matcha as an ingredient, you consume the entire green tea leaf, which is alive with antioxidants, vitamins, and minerals.
Simple to make and excitingly unique, this recipe is the best ice cream to go along with summer birthday cake. Plus, the lovely green color can be dressed up with edible flowers, fresh fruit, or any of your favorite toppings. I hope you enjoy it as much as I do!
Green Tea Ice Cream
2 cups organic half-and-half
1 cup organic heavy cream
3/4 cup organic sugar
2 tablespoons organic Matcha Tea powder
1 organic vanilla bean, split and scraped
Combine half-and-half, cream, sugar, scraped vanilla bean pulp, and vanilla bean pod in a large saucepan and place over medium heat. Stir occasionally until the mixture just barely begins to simmer. Do not boil! Remove the mixture from heat immediately and allow to cool for a few minutes. Remove the vanilla bean pod. Whisk in the Matcha powder until well incorporated and pour mixture into a lidded container. Refrigerate overnight to allow the flavors to develop. Pour mixture into an ice cream maker and freeze as directed. Once semi-solid, spoon the mixture back into a lidded container and harden in the freezer for at least 1 hour before serving. Scoop and love!