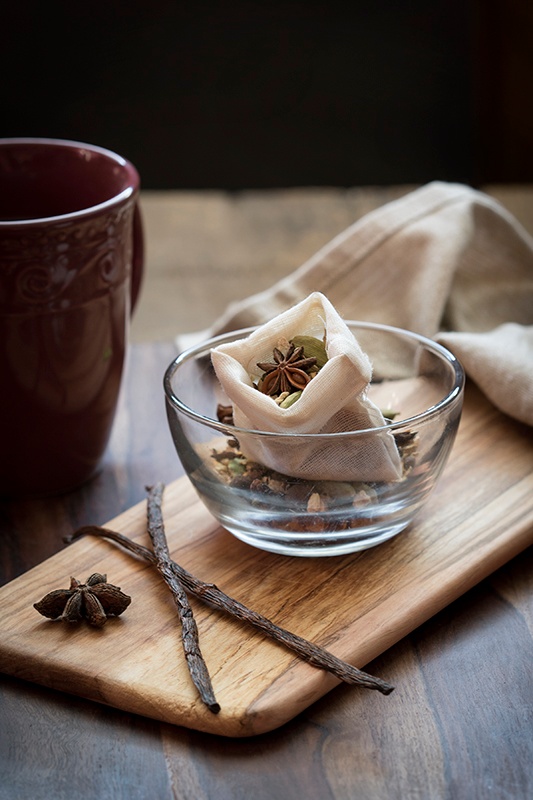 Whether it's craving a warming hot toddy or dreaming of sweet and spicy apple cider, 'tis the season for the toasty, comforting scents and flavors brought to us by fragrant mulling spices like cinnamon, cloves, allspice, and star anise. There's something positively historic about the spicy hot drinks served up this time of year. Our favorite story of the spiced "wassail" involves the indigenous populations of Southern England. According to that story, in the cider producing regions of Medieval Britain, the Winter cider celebrations were a way to sing and celebrate the health of the apple trees to ensure a good harvest of cider apples for the coming year. One folktale even tells of the ancient "Apple Tree Man" who resides as a spirit in the oldest apple tree in the orchard and by offering up the last mug of mulled cider and pouring it over the tree roots, the bounty of the next year's harvest could be expected. We'll raise a mug to that!
Let's Make Mulling Spice!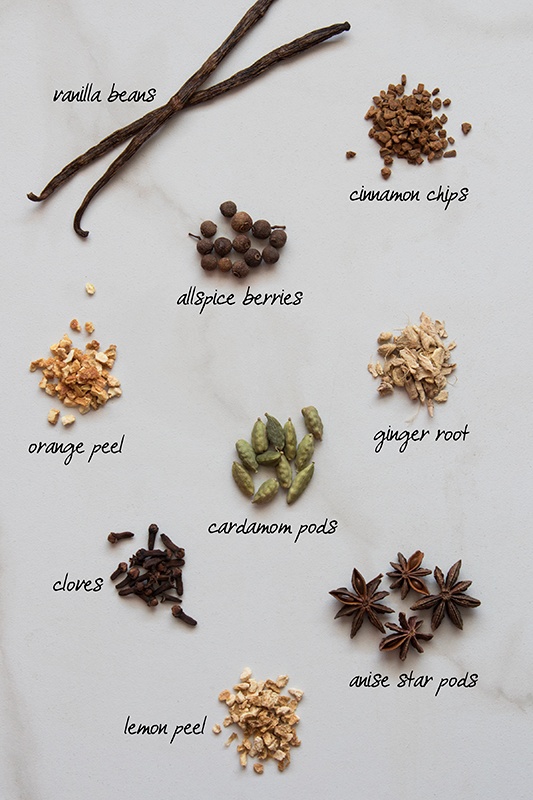 Bags of this mulling spice also make a wonderful gift! It can even be boiled on the stovetop as a nice spicy potpourri. Or why not put together a gift basket of the spices, with some fresh apple cider, tea and/or a bottle of red wine to share?
Ingredients
Directions
Put nutmeg and cardamom pods in a thick plastic or cloth bag and whack with a mallet or heavy rolling pin to break into pieces.
Put nutmeg and cardamom pieces in a bowl and add the cinnamon chips, ginger root, orange and lemon peel, allspice berries, and cloves.
Scrape the inside of the vanilla beans and add to this spice mixture (you can save the vanilla pods for homemade vanilla extract or to infuse sugar or honey.) This makes about 2 ½ cups -- enough mulling spices for several recipes.
You can put about ¼ cup in a cotton drawstring bag or wrap in cheesecloth and tie well. Toss in 1-2 star anise pods per bag, if you'd like.
Suspend the cinched bag in the wine, cider, or punch. We like to toss in a couple whole cinnamon sticks too for flavor and because we love the way it looks simmering in the pan.
A few ways to utilize your tasty spice blend...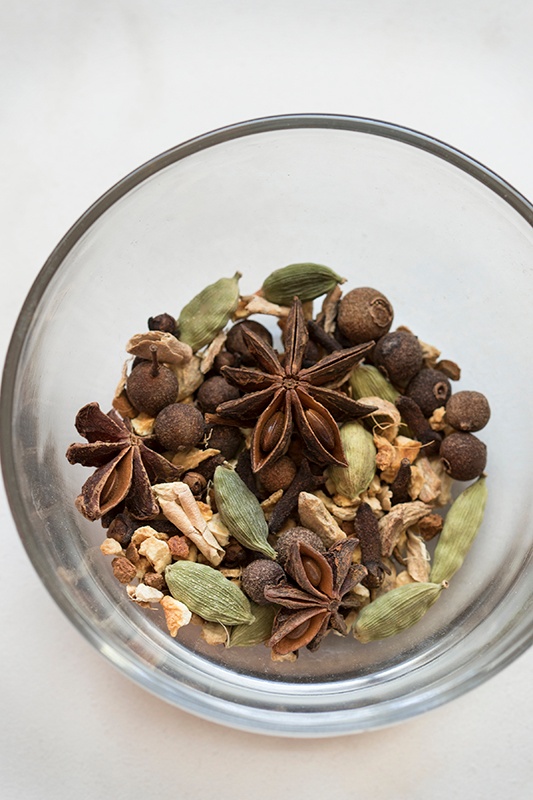 Classic Mulled Wine
Ingredients
Directions:
Pour red wine and fruit juice in a large saucepan (if using the elderberry syrup, wait to add it after the wine has heated up and simmered.)

Toss in mulling spices and extra cinnamon sticks, if desired.

Heat slowly over medium heat until steaming and little bubbles form around the edges (pre-boil.)

Turn down heat to low, cover and let simmer for 20 minutes or so. Remove lid, remove mulling spice bag, and add brandy and elderberry syrup (if using).

Stir well. Garnish with a slice of orange and a cinnamon stick.


Mulled Orange Tea Hot Toddy
Ingredients
Directions:
Bring water to boil and pour over Orange Spice Tea (in an infuser or tea bags) and let steep for 20-30 minutes.
Remove tea bags and put tea, sugar or honey, apple cider or juice, butter, and mulling spices in a pan and heat slowly over medium heat for 15 minutes until very hot.
Remove from heat, remove bag of mulling spices and add bourbon, whiskey or rum and ladle into mugs or glasses.
Garnish with a slice of orange and a cinnamon stick.
Mulled Cider
Ingredients
Directions:
Add apple cider to large pan. We tend to think fresh apple cider has just the right sweetness, but if you'd like a little more, add ¼ cup organic maple syrup and stir well.
Toss in the bag of mulling spice and gently heat on medium for 20 minutes or so until very hot.
Remove from heat and ladle into mugs, adding a cinnamon stick and a scratch or two of freshly grated nutmeg for garnish.
You may also like: