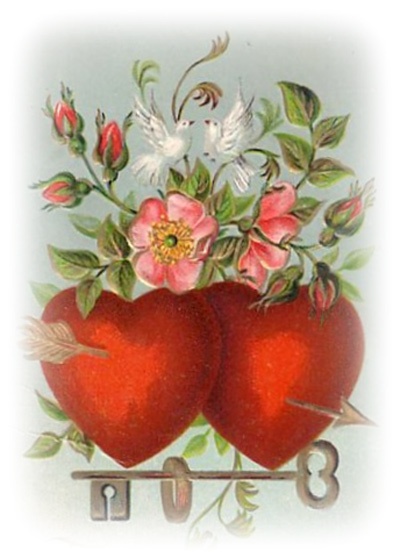 With Valentine's Day a few weeks away, there's still time to handcraft these decadent Cacao recipes! Giving chocolate on Valentine's Day is an old tradition, dating all the way back to the 1800's. Not only does it taste delicious, but numerous studies have suggested that the guilty pleasures of chocolate may not be quite so guilty after all. Cacao (Theobroma cacao), the raw material for chocolate, is high in flavonoids, antioxidants, and contains a host of vitamins and minerals.
From the 16th through the 20th centuries, medical texts reported no less than 100 medicinal uses for Cacao. Scientists are now rediscovering the benefits of this botanical. Cacao can positively lower cholesterol for those with high cholesterol, provides the same amount of antioxidant polyphenols as a glass of red wine, more antioxidants than most fruits, up to four times as many antioxidants as green tea, stimulates the production of natural antidepressants in the body (serotonin and endorphins), and contains phenylethylalamine and anandamide, two chemicals that elevate the mood, help increase focus, and give feelings of attraction, pleasure, and excitement. Plus, Cacao is a delicious source of magnesium, calcium, iron, zinc, copper, manganese, potassium, Vitamins A, B1, B2, B3, C, E, and pantothenic acid.
Our adoration for Cacao has been traced all the way back to 1900 BCE when ancient cultures in Mesoamerica enjoyed bitter beverages made from Cacao. The Olmecs, Mayan, and Aztecs believed that the beans had magical properties and reserved Cacao for sacred rituals and sacrifices to their gods. Those chosen for sacrifice by the Aztecs were often given a gourd filled with Cacao to cheer them up before being sacrificed, and the Aztec ruler, Montezuma, would consume chocolate for its aphrodisiac properties before entering his harem. Cacao beans were a form of currency in Aztec society, traded for food, livestock, supplies, and other goods. Since it was so valuable, common people were unable to afford it for consumption. After the conquest of these peoples, Cacao was brought to Spain. The bitter beans were not enjoyed by the Spaniards until they realized that sugar and honey could be added to make a sweet beverage. Cacao then quickly became a popular and fashionable drink throughout Europe. In the 1800's, a process was discovered for turning Cacao beans into solid chocolate confections. Chocolate shops soon sprung up throughout Europe, one of which was owned by the Cadbury brothers in England. In 1861, they created the first heart-shaped box for Valentine's Day, thus spurring the tradition still celebrated of giving heart shaped boxes filled with chocolates for Valentine's Day.
Cacao & Vanilla Body Polish
This scrub smells scrumptious and exfoliates skin, making it soft and smooth. It will leave a faint aroma of chocolate and vanilla lingering on the skin.
¾ cup organic granulated or brown sugar, or fine sea salt
¼ cup plus 2 TBSP organic Apricot Kernel, Sweet Almond, or Sunflower Oil (or other carrier oil of choice)
1 TBSP organic Cacao powder
1 TBSP organic Vegetable Glycerin or Honey
1-2 tsp organic Vanilla extract (Make your own! See recipe from this link)
Essential oil of choice (optional): Cinnamon leaf, Geranium, Lavender, Lime, Mandarin, Peppermint, Sweet Orange, Tangerine, Ylang Ylang, or other
Combine all ingredients in a bowl and mix well. Package in jars, and enjoy!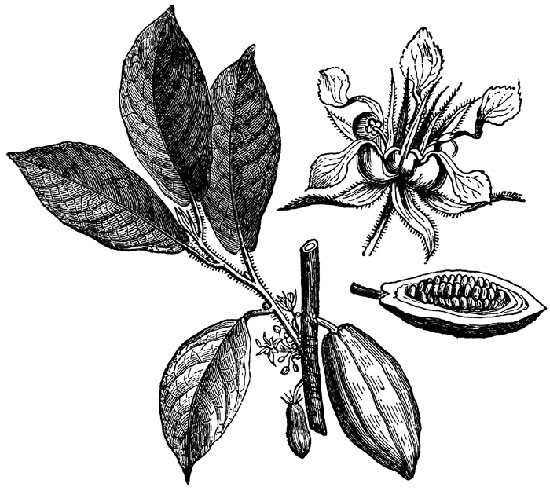 Creamy Cocoa & Ylang Ylang Massage Oil
Adding Cocoa Butter gives this massage oil a creamy consistency. It is wonderful for massages, but can also be used as a general body lotion for moisturizing the skin. This massage oil has the seductively sweet floral scent of Ylang Ylang flowers with undertones of Cocoa.
In a double boiler, gently warm the oils and Cocoa butter until the butter has melted. Remove from heat and allow the mixture to cool for a few minutes at room temperature. Then, add the essential oil and mix together until thoroughly blended. Pour into a bottle. The mixture will continue to thicken, so allow up to 24 hours for it to reach its final texture. Note: Use less Cocoa Butter if in colder climates, otherwise the massage oil will become almost solid. If it is too firm, simply re-melt and add more carrier oil. If you desire a firmer consistency, re-melt and add additional Cocoa Butter.
Sweet Orange & Cocoa Lip Balm
A wonderful lip balm with the uplifting aromas of citrus and chocolate. This recipe has an abundance of rich oils, perfect for protecting and conditioning lips during cold winter months.
Lip balm preparation: Coarsely chop the beeswax or use beeswax pastilles. Place beeswax, Cocoa butter, and oils in a small pot or glass Pyrex measuring cup and gently heat in the top of a double boiler until the beeswax and butters have melted. Once melted, remove from the stovetop and add essential oil and Vitamin E Oil. Immediately pour the mixture into lip balm tubes or jars. Allow to cool completely before placing caps onto the lip balm containers.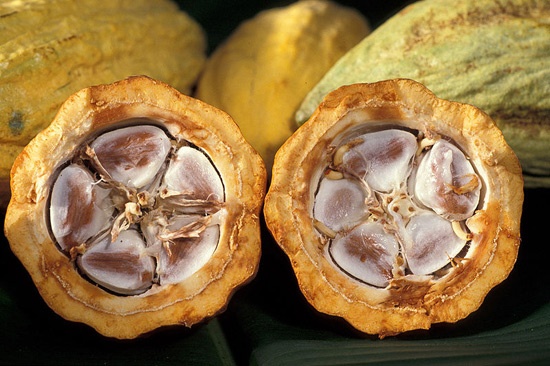 Cacao Hot Chocolate
I recently discovered how simple it is to whip up a decadent cup of hot chocolate at home with just a few ingredients. For Valentine's Day, try enhancing this recipe with Vanilla, powdered Rose petals, or a tiny pinch of warming Cayenne pepper.
1 TBSP organic Cacao powder
2-3 tsp. sweetener of choice - organic honey, maple syrup, agave nectar, or sugar.
1 cup organic milk (or milk substitute)
Heat milk or milk substitute in a pan until hot. Be careful not to scorch! Remove from burner, add Cacao and the sweetener of choice to taste, stirring until well dissolved. Use a whisk if desired for a frothier consistency. Pour into a mug and enjoy the pure chocolaty goodness, or add powdered herbs, spices, and flavorings. The Cacao and additional herbs or spices may settle a little as the beverage cools, but you can simply stir with a spoon if necessary.
Happy Valentine's Day!
~ irene
In need of more Valentine's Day pampering? Check out these other recipes and gift ideas from our blog:
Love Inspired Body Care Recipes: http://mountainroseblog.com/love-inspired-body-care-recipes/
Herbal Gifts to Love: http://mountainroseblog.com/herbal-gift-guide-valentines-day/