Valentine's Day is a day dedicated to love—love for a partner, for friends, or for family, yes, but it's also the perfect excuse for some self-love too. Simple to create, our plant-based recipes are perfect for pampering those whom we cherish. These sumptuous preparations are formulated to relax the body and mind, uplift the spirit, and incite feelings of closeness and love.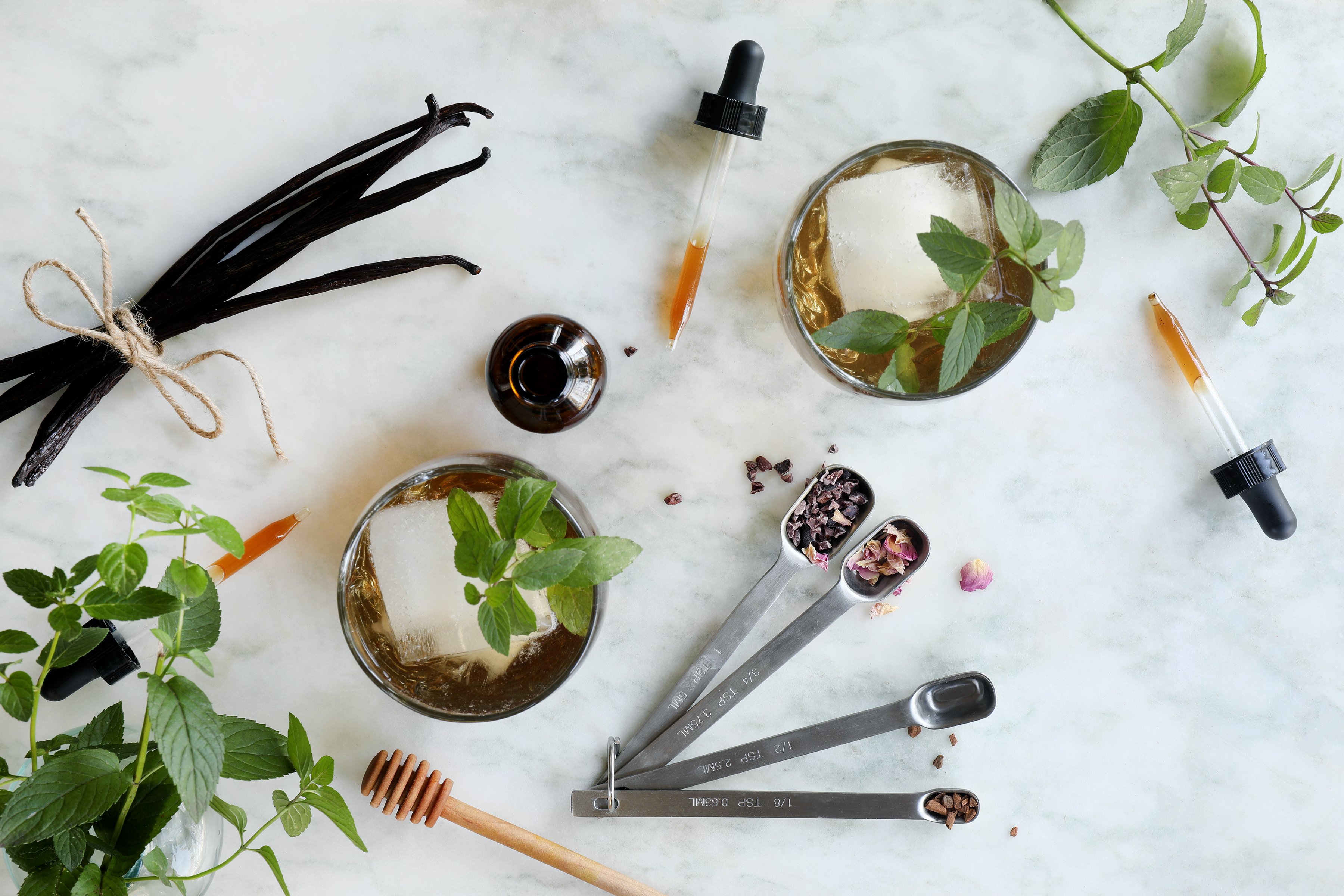 Love Elixir
Makes about 2 cups.
This delightful elixir is uplifting, warming, relaxing, and "opens the heart". Perfect for sharing with your sweetie, friends, or loved ones, it's also wonderful anytime that you need a delicious little mood lifter.
Ingredients
Directions
Combine brandy and dried botanicals (not the honey) in a glass jar, cap tightly, and shake.
Store the jar in a dark place and shake daily. After 4 to 6 weeks, the elixir will be ready!
Strain out and compost the spent botanicals.
Add honey and stir well until completely dissolved. Add more honey as needed to taste.
Transfer into glass bottles and label.
This elixir will last about a year and is delectable on its own, drizzled over ice cream, or blended into cocktails. Yum!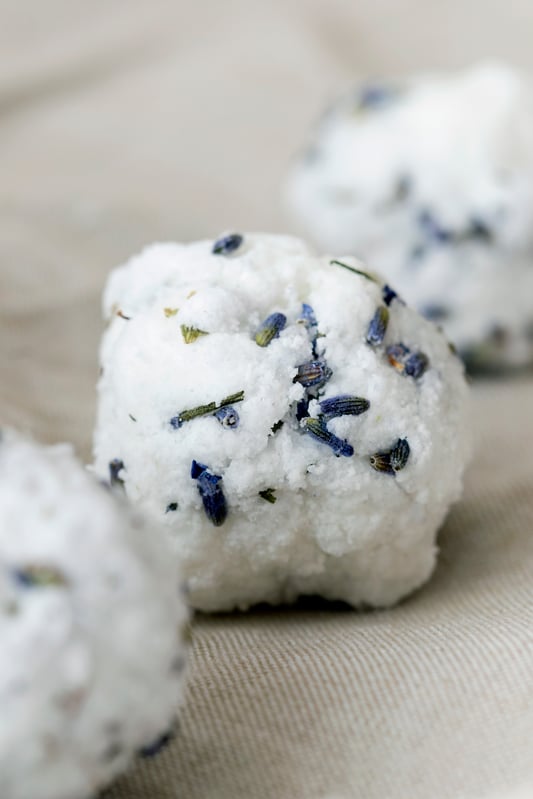 Floral Bath Bombs
Makes about 2 cups of bath bomb formula.
Enjoy a luxurious soak with these fizzy, aromatic bath bombs. Not only are bath bombs a fun addition to the bathtub, this recipe is also filled with skin-loving ingredients.
Ingredients
Directions
Combine baking soda, citric acid, and Epsom salt together in a large bowl.
While stirring, gradually drizzle in coconut MCT oil and essential oil a little at a time, mixing well.
Slowly spritz with witch hazel extract while stirring constantly until the mixture begins to clump together. The blend should be just moist enough to hold together when shaped with your hands.
Mix in the dried flowers of your choice (optional).
Firmly pack the mixture into bath bomb molds (see Pro Tips below for suggestions) and let dry 2 to 3 hours before removing from molds.
Allow the bath bombs to cure for one week before using them, then store them in an airtight container.
To use, simply add 1 to 2 bombs (depending on size) to a bathtub filled with warm water.
Pro Tips:
Constantly stirring will help stop the ingredients from fizzing too much.
Adding too much moisture or adding it too quickly will cause the blend to over-fizz in the mixing bowl or molds.
If you don't have bath bomb molds, you can use candy or soap molds, silicone molds, mini muffin tins, ice cube trays, or 1/4 cup measuring cups.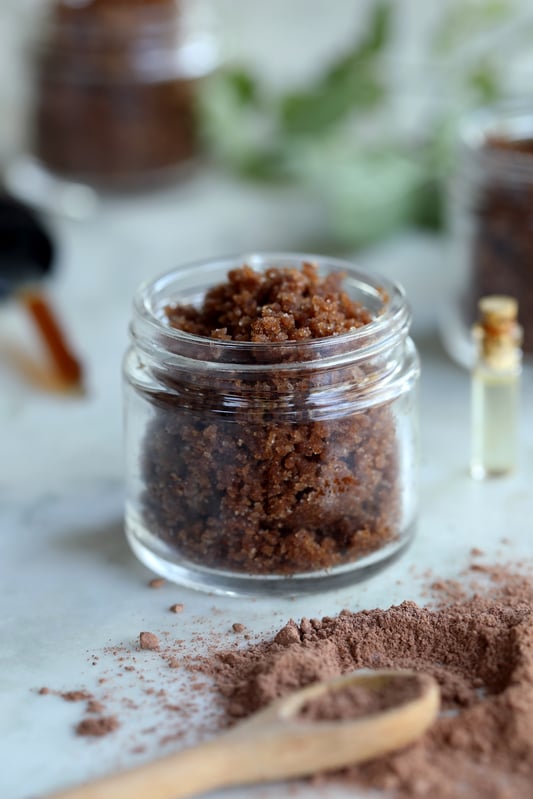 Brown Sugar & Vanilla Body Scrub
Makes about 2 cups.
This exfoliating scrub will leave your skin glowing and feeling silky smooth.
Ingredients
Directions
Blend sugars and cacao powder together in a bowl.
Add oil and vanilla extract, and mix well.
Transfer to airtight jars, and enjoy!
To use: With dry, clean fingertips, remove product from the jar. Spread over damp skin in gentle circular motions, and then rinse off with warm water. Do not apply to broken or irritated skin.
NOTE: The oil in this recipe will make your tub slippery, so watch your step!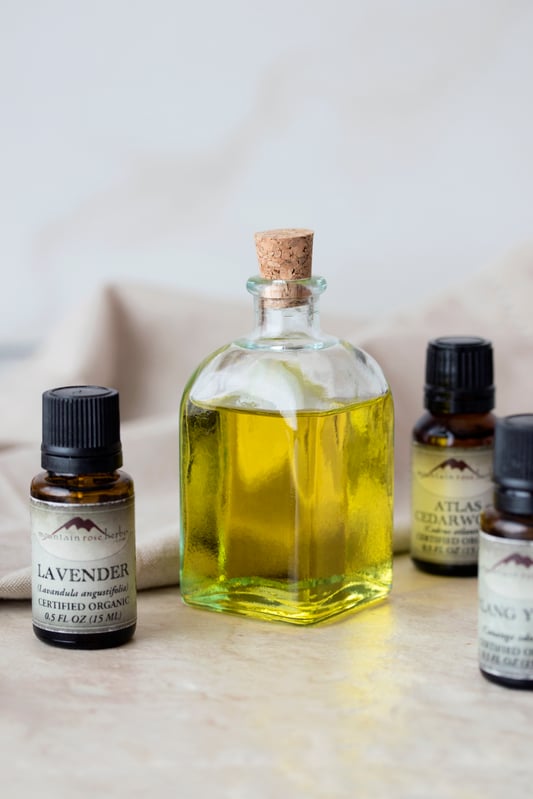 Lover's Delight Massage Oil
Makes 1/2 cup of massage oil.
A floral and earthy blend to help melt away stress and promote closeness.
Ingredients
Directions
Combine all essential oils in a glass bottle.
Add jojoba oil, and roll bottle between palms to blend oils.
Shake before each use, applying to skin as needed for a smooth massage.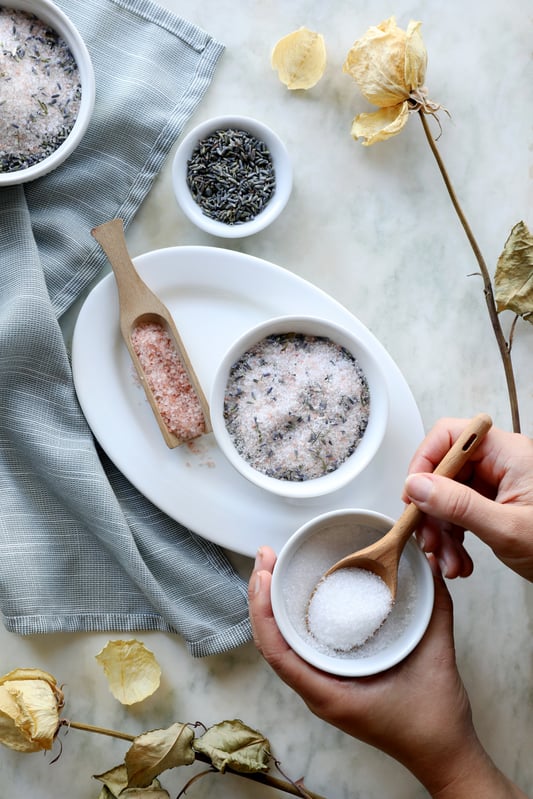 Sweet Lavender Bath Salts
Makes about 1 1/2 cup of bath salts.
Soak away tension and stress with these floral salts. This simple, relaxing blend is the perfect addition to any bath and will leave skin feeling soft and smooth.
Ingredients
Directions
Combine salts and baking soda together in a large bowl.
Add essential oil and lavender flowers, mixing well.
Package in a jar, or use right away.
To use, add to a warm bath and soak for 20 to 30 minutes.
Want More DIY Self-Care Fun?
You Might Also Enjoy: