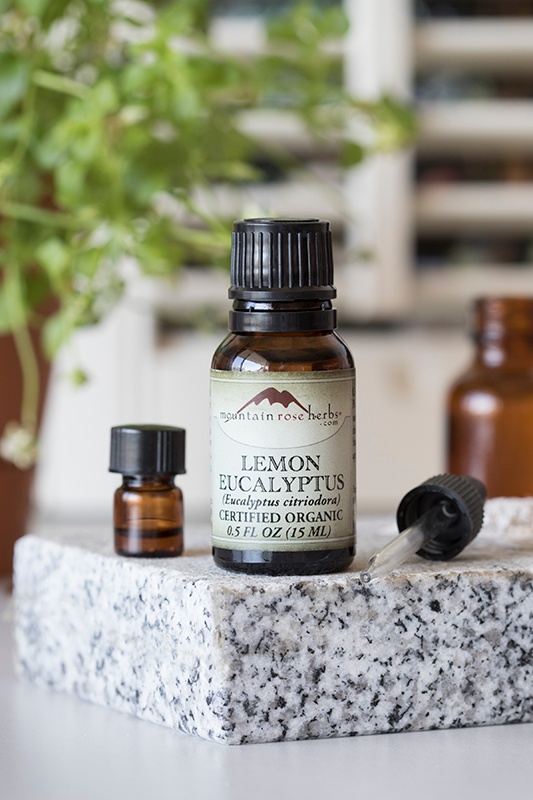 Lemon Eucalyptus is one of the many Eucalyptus species that has a prized essential oil. Its fresh scent is both uplifting and grounding and is sure to brighten your day! It's also found on the market as lemon-scented eucalyptus or lemon-scented gum oil.
Distilled from the leaves and twigs of Eucalyptus citriodora, this oil is almost colorless. Unlike the more well-known cineole-rich eucalyptus oils which have a bright, sharp aroma, lemon eucalyptus is mostly made up of citronellal and citronellol, giving it a softer scent that is fresh and slightly medicinal with heavy citrus notes (similar to citronella).


How is Lemon Eucalyptus Essential Oil Used?
In general, lemon eucalyptus essential oil is a safe oil for topical use and as fragrant ingredient. Its citronellal and citronellol content make it a great addition to bug sprays and linen sprays. One of our staff even puts a few drops directly on the brim of her hat while walking in the woods to keep bugs at bay. It's also a wonderful essential oil for use in soap formulations, carpet powders, and outdoor candles.
Lemon eucalyptus essential oil can be used similar to lemongrass, citronella, litsea cubeba, or combava petitgrain. We suggest trying it in the following recipes. Enjoy!