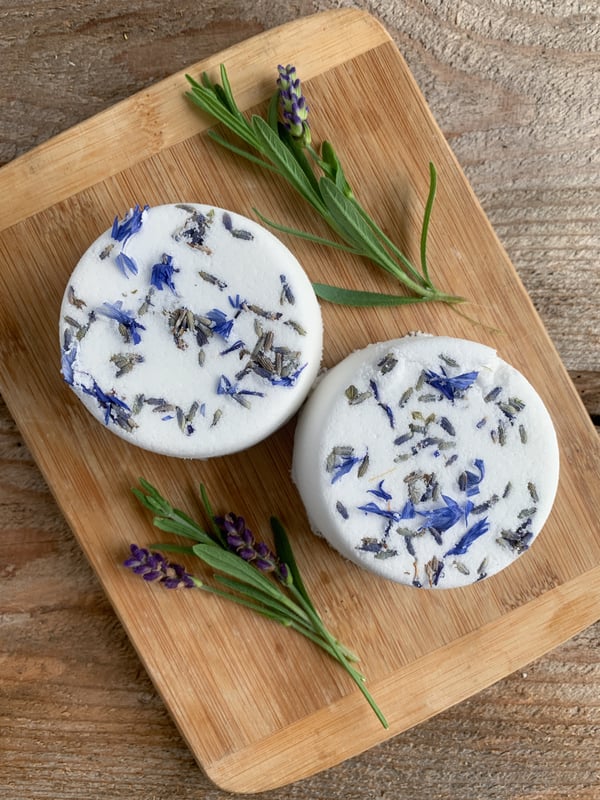 To many, the thought of making bath bombs is intimidating. It's true that the process takes a little more finesse than some DIY skin care recipes, but I've found that understanding the role that each ingredient plays helps me to consistently make the best bath bombs.
This recipe features moisturizing shea butter, creamy milk powder, and the soft, soothing scent of classic lavender essential oil. Baking soda and citric acid are the ingredients that actually make the bomb fizz! When the two combine in water, it sets off a natural chemical reaction that causes the bath bomb to give off the fun and invigorating show. Witch hazel acts as a binder to hold everything together while the bombs dry. Otherwise, you would wind up with bath bomb dust!
Now that you know the why of the ingredients, let's get to crafting so you'll have these fun fizzies in time for your next warm bath.

*This recipe was adapted from The Big Book of Homemade Products by Jan Berry and reprinted
with permission from the author.


DIY Lavender Bath Bombs
Makes 6 bath bombs.
Ingredients
Directions
Stir the baking soda, citric acid, and milk powder together in a medium mixing bowl.
Work out any clumps with your fingers.
In a separate bowl, combine the melted shea butter with the essential oil.
Slowly drizzle the melted butter into the combined dry ingredients while stirring with a whisk.
Break up any remaining clumps with your hands to ensure the butter is completely incorporated.
Squeeze a portion of the mixture into a ball shape with your hands.
If it crumbles, spray 2 to 3 spritzes of witch hazel into the mixture while stirring, then check again.
When the mixture holds together easily without crumbling, it's ready.
Sprinkle a small amount of dried lavender in the bottom of the mold (a measuring cup also works well).
Fill mold with the bath bomb mixture, pressing firmly as you pack it in.
Turn out the bath bomb from the measuring cup and onto a sheet of wax paper.
Allow the bath bombs to air-dry for several hours, then wrap in airtight packaging.
Pro Tips
There's a bit of a learning curve to creating bath bombs, so be prepared to make a test batch or two until you get the hang of them.
For best results, don't make them on a rainy or extra-humid day, and be sparing with the amount of witch hazel added to the recipe.
For added beauty, you can include flower toppers like dried rose petals or calendula flowers. Keep the amount of topping light, since it will need to be cleaned from the tub after the bath.
If you're allergic to milk powder or prefer to keep it vegan, try substituting 2 teaspoons of arrowroot powder or white cosmetic clay in its place. Shea butter can also be replaced with melted mango butter or coconut oil.
Be careful exiting the tub after using a bath bomb, as the tub floor may become slippery from the butter.
Looking for other fun skincare recipes on my blog?
You may also enjoy: