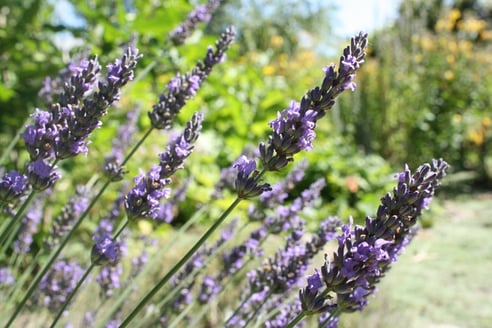 Oh, beautiful Lavandula!
A favorite among gardeners, perfume makers, crafters, and herbalists throughout history, Lavender enchants us with its whorled spikes of gorgeous purple flowers and unmistakable calming fragrance. Nurturing a deep obsession for this endlessly helpful plant is quite understandable, and Sarah Berringer Bader has turned her obsession into a life journey.
With a 5 acre lavender farm just south of Portland, Oregon boasting 5,000 plants, and her new Lavender Lover's Handbook detailing 100 different varieties, growing guides by region, troubleshooting tips, uses and recipes, the plant's history, and more, she's certainly become a Lavender expert.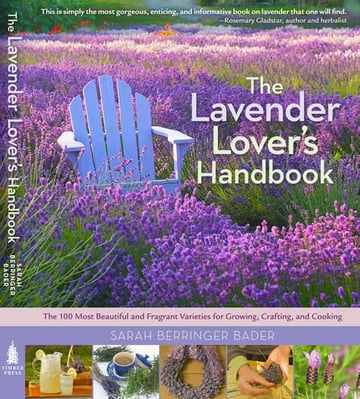 This book is a true treasure for anyone wooed by lavender's charms. Large full color photos grace nearly every page, displaying the amazing rainbow of diversity in this genus. From white and speckled to pastel pink, hot magenta to dark blue, bees and passersby alike would surely enjoy these eye-catching, aromatic plants in any hedgerow or garden.
Now, admittedly I'm crazy about Lavender, but the surprising variety of species and colors throughout these pages mesmerized me. As did the wealth of information Sarah provides. She recommends specific varieties to use for different projects like wreath-making, culinary recipes, flower bouquets, and huge garden "statement" plants. She also covers how to grow lavender from seed, soil preparation, proper pruning, harvesting techniques, and common pests.
After Timber Press sent a copy of the book for me to review, I had the pleasure of meeting Sarah at the Mother Earth News Fair in Puyallup this June. A sudden waft of lavender in the air announced her presence at our booth before she even said hello. Brimming with the happy and soothing spirit of her favorite subject, she merrily offered a few of her wonderful recipes from the book to post along with this review! With lavender flowering in triumphant rows all around town, now is the time to harvest and start making some of these fantastic creations...
Lavender Lover Recipes!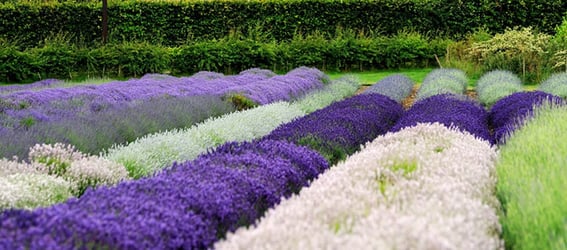 Lavender All-Purpose Cleaner
The word lavender comes from the Latin lavar, meaning to wash. Long before the antimicrobial properties of lavender were discovered, it was used in solutions for bathing and housecleaning. Now you can add it to an all-purpose cleaner made from common household ingredients to impart a pleasing aroma and all the disinfectant benefits.
2 tbsp white vinegar
1 tsp borax powder
¼ cup organic liquid castille soap
10 drops organic lavender essential oil
5 drops organic lemon essential oil or 1 tsp lemon juice
1. Mix the white vinegar and the borax together in a 16-ounce bottle. Fill the bottle ¾ full with hot purified water. Shake well until the borax is dissolved.
2. Add the liquid castille soap and the essential oils to the solution and shake well. Use as you would any other all-purpose cleaner.
Simple Lavender Syrup
Makes 2 cups
Simple lavender syrup is an easy and delightful infusion that enhances just about any drink. Pour some in lemonades and teas. Add a shot to your next margarita or cosmopolitan. Most recipes call for one ounce or one shot of lavender syrup per eight ounces of beverage. Adjust the amount you use according to taste. It will transform your beverage from average to exceptional. This recipe is borrowed from Sharon Shipley's The Lavender Cookbook.
1 cup distilled or filtered water
1 cup sugar
2 tablespoons whole organic lavender buds
1 strip lemon zest
Boil the water in a small saucepan and add the sugar. Stir constantly until the sugar is dissolved. Add the culinary lavender buds and the lemon zest and allow the mixture to steep, uncovered, for about 30 minutes. Strain the mixture through a fine-screened colander or cheesecloth. Lavender syrup will keep in the refrigerator for up to 2 weeks.
Lavender Chocolate Truffles
Makes about 3 dozen
Lavender chocolate truffles are a hands-down favorite and are usually gone within the hour!
6 ounces heavy cream
1 tablespoon organic lavender flower powder
6 ounces semisweet chocolate, chopped fine
Powdered sugar
4 ounces bittersweet chocolate, melted and cooled to 90F
Cocoa powder, 1 rounded teaspoon for each truffle
1. Over medium heat, mix the cream and the lavender together and bring to a boil. Remove from the heat and strain immediately into the chopped chocolate in a small mixing bowl. Let the mixture sit for 5 minutes without stirring. After 5 minutes, stir until the chocolate is completely melted and the ganache (chocolate mixture) is smooth. Cover the ganache with plastic wrap and chill until firm, about 2 hours.
2. Line a baking sheet with parchment or waxed paper. Scoop balls from the ganache with a melon baller dipped in powdered sugar. Quickly firm the balls between your palms and coat in the melted bittersweet chocolate. Roll in the cocoa powder to finish.
3. Place the truffles on the prepared baking sheet. Chill until firm, at least 2 hours. Truffles can be made 2 weeks ahead. Store them in an airtight container in the refrigerator. Dust them once more with cocoa powder before serving if needed.
Book details and ordering info can be found here: The Lavender Lover's Handbook by Timber Press.