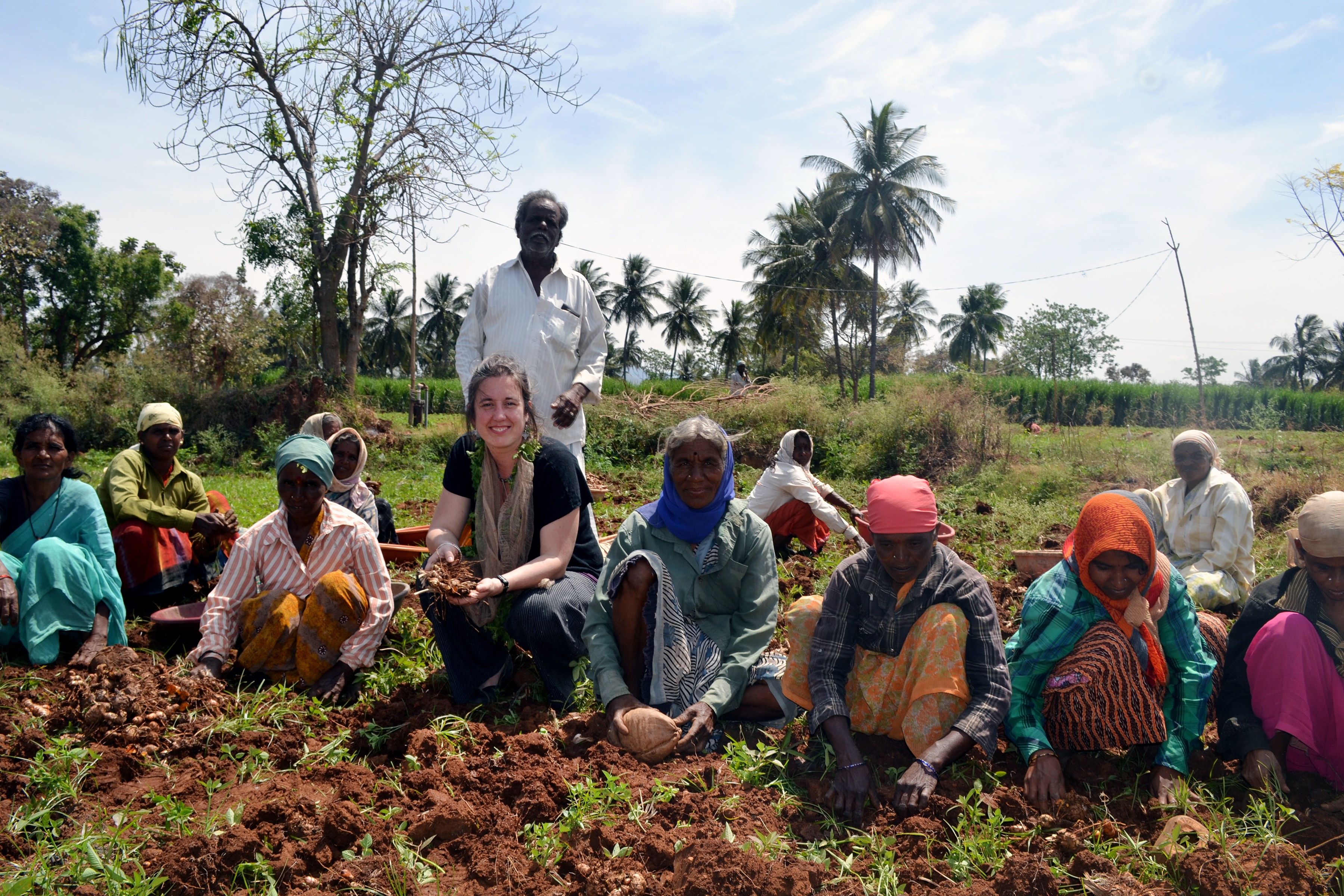 Chief Operations Officer, Jennifer, in our organic Fair for Life turmeric field post-harvest.
As the Chief Operations Officer for Mountain Rose Herbs, I regularly visit our Fair for Life Project in southern India. Most recently, I traveled to the state of Karnataka to meet our organic farmers and check in on important developments there.
As I stepped back onto the fertile red soil of India, memories of my last trip came rushing back, filling me with excitement. Memories of long, hot days and endless miles journeyed on backroads, walking in the fields with proud farmers who happily welcomed me. Being here again brought it all back. How it was such an honor to be invited to take chai breaks with the joyful workers and to join them in their homes for a spicy snack and to meet their children. On my first day back in India, I was flooded with joy to be around these welcoming communities again, in the rich, humid spice fields with the lush, tropical backdrop that only India can provide.
Southern India is a lush growing climate for some of the world's most valuable spices and plants including nutmeg, mace, black pepper, turmeric, tulsi, and ajwain. Mountain Rose Herbs has sourced from this region for decades, and for years we have worked with small, established family farms that grow exclusively for us. We've met on their soil and in their fields and learned intimately the successes and challenges of farming in Southern India. Our farmers are experts in organic farming, intercropping, plant selection, compost teas, and soil-building methods. Over the years, our relationship with our farmers has strengthened and deepened, and the amount they grow for us has also increased.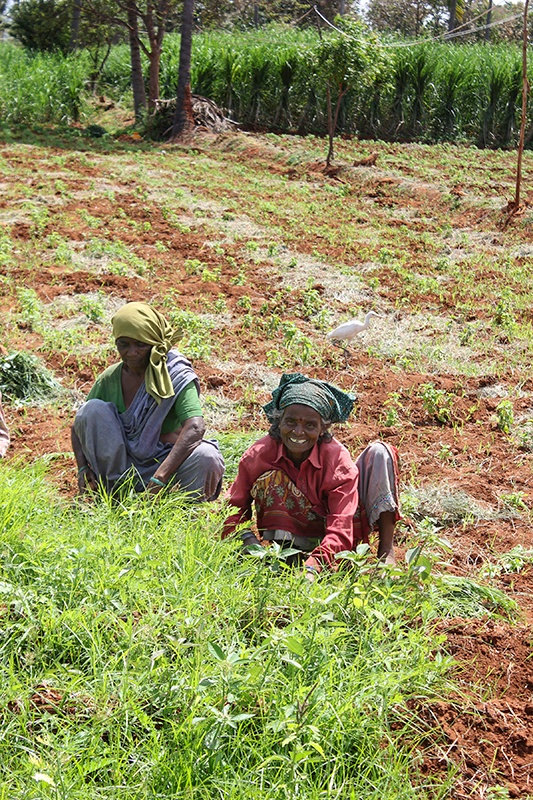 Two farmers prepare our certified organic Fair for Life turmeric field for replanting using scythes to hand weed overgrown areas.
In 2013, Mountain Rose Herbs decided to formalize this partnership in order to mandate a fair trade agreement, create greater transparency with our growers, and to help us gain a deeper understanding of their environmental, social, and human resource practices. Our goal was (and is) to promote equality and prosperity along the herbal supply chain, from the farmer to the consumer.
We determined that the best way to achieve our goals was to bring in Fair for Life, a Switzerland-based, third-party, fair trade certifier. Through their Fair for Life Social & Fair Trade Certification System, they offer operators of socially responsible and fair trade projects a solution for objective inspection and certification. They provide strict social and fair trade standards, and they offer incentives for continual improvement of social and fair trade conditions.
Fair for Life worked with us to set goals and benchmarks for attaining revolutionary change in labor relationships. The process includes ongoing review of the working conditions of permanent and seasonal employees, and establishing standards and requirements ensuring health and safety. These include access to clean drinking water, hand washing and sanitary working conditions, equal pay across the sexes, sick leave, time off, clear job descriptions, sustainable schedules, and family support.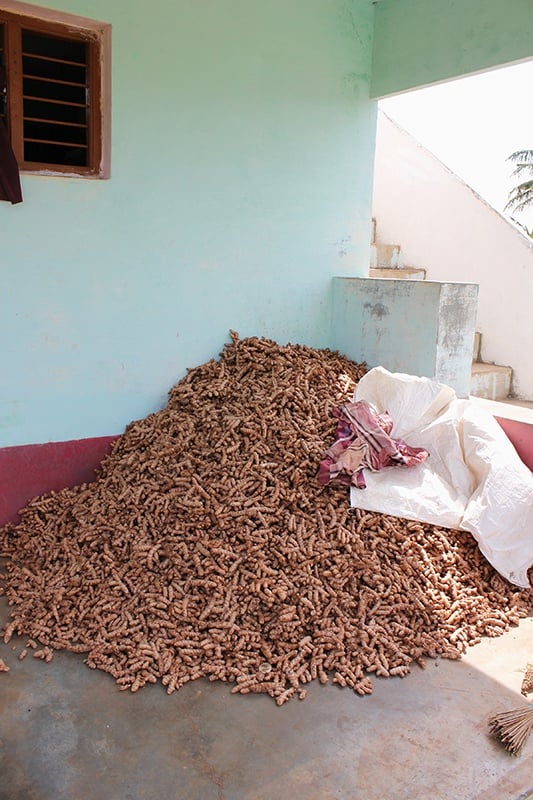 Our organic turmeric "fingers" have already been harvested, cleaned, and cured, and they now await transport to the drying and processing facility.
We play an active role in defining the standards and requirements, and we feel these standards are critical to the values we hold as a company—that all of our botanicals are produced in a healthy and sustainable manner for both people and planet. As the "mandator" of our own projects, we are involved in the inspections of the farms, and we offer support and guidance in meeting the criteria.
Mountain Rose Herbs funded the initial cost of certification for these farmers as well as the ongoing audit costs and travel time of Fair for Life agents. In addition, we pay a premium—an extra on top of the cost of the actual product—for all herbal harvests produced for us. This premium is at the heart of Fair for Life. It goes directly to the farmers and is used to fund innovations and improvements at the farm level. Mountain Rose Herbs and the farmers collectively decide how the money will be spent, taking into account the most crucial priorities and seeking to benefit the most people in those communities. The allocation of these funds is completely traceable by all parties: us, the farmers, and the auditors.
We contract with these farms in advance so the farmers know how much to grow, and as part of the agreement, we are guaranteed exclusivity in purchasing these fair trade, certified organic crops—the farmers can sell to secondary buyers once our needs are met. Our farmers understand our quality requirements and grow their crops to our specifications, which is one of the ways we ensure consistency.
There are multiple benefits to this model. By entering into long-term contracts and relationships, we are guaranteed stable pricing. The farmers benefit by having a stable income, not affected by fluctuating market prices, as well as having set standards and volumes. Both parties strive toward a long-term, mutually beneficial partnership promoting wellness and sustainability for the land, water, wildlife, farmers, and for our customers. When you purchase the spices and plants produced by these growers, you are directly supporting both the program and the farmers.
So where does the money go? Mountain Rose Herbs has helped bring teachers into farming groups to educate families on computer technology; to buy and set up public, shared computer stations with internet access; to build bathrooms with running clean water; to support village orphanages with custom-sewn school uniforms for the students; and to provide compost bins to all the farms to help naturally enrich the topsoil. In addition, we've helped deliver specially grafted nutmeg and mace trees to promote higher yields and disease resistance. Most recently, we supported rebuilding homes in a remote village where the main commodity is organic turmeric.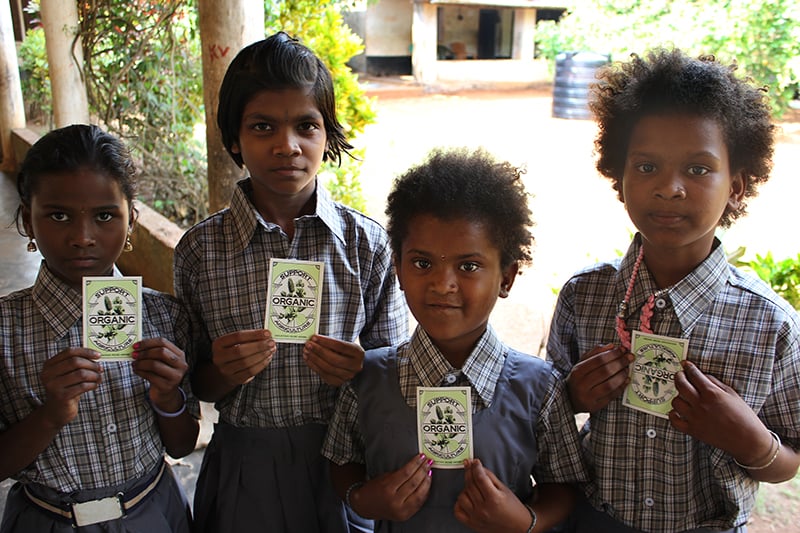 A portion of our Fair for Life premiums go to support the living and educational facilities for these children. The funds make it possible for each student to receive tailored school uniforms, backpacks, and school supplies.
It's exciting to see the interest and enthusiasm from neighboring farmers who want to get involved, many of whom are transitioning to organic. We feel this is a huge indicator that the project is a success.
As the fresh harvest arrives on our docks from the humid, remote, beautifully dense forests of India, we are always in mind of the farmers who grow our arjuna, brahmi, long pepper, smoked black peppercorns, cinnamon, green peppercorns, garcinia fruit, holy basil vana, Krishna tulsi, cayenne powder, whole chili, turmeric, and nutmeg. We look forward to watching the Fair For Life project grow and expand, and we will continue to bring you updates on our fair trade efforts.
Read the next Chapter on OUR FAIR FOR LIFE WORK IN INDIA:
You might also enjoy:

This farmer shows his approval for the Mountain Rose Herbs-funded Fair for Life Project. As a mandator, Mountain Rose Herbs absorbs all fees associated with the set-up and audits of this project. In return, we receive exclusive rights to the finished crops, direct oversight over how premiums are spent, and ongoing relationships with the farms, field workers, and community.