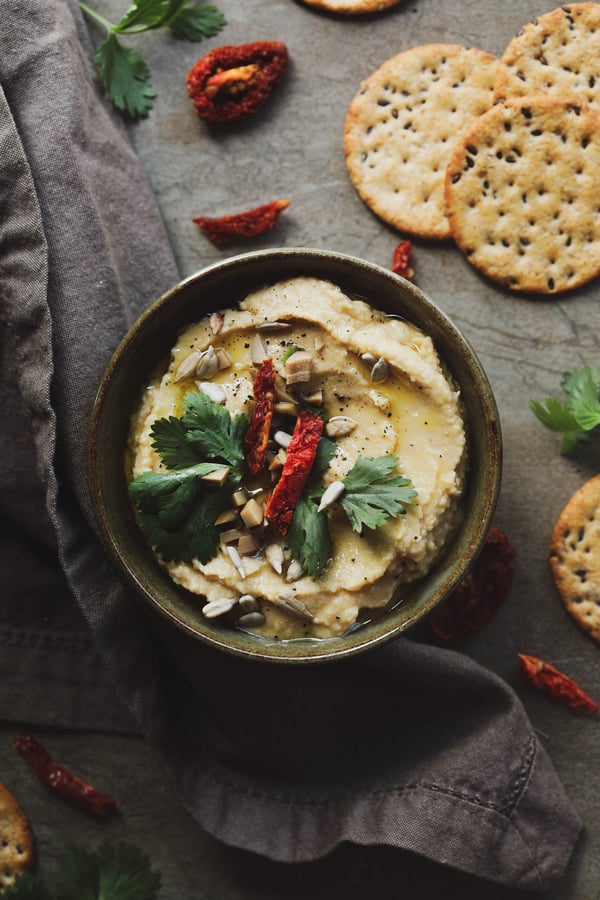 Hummus is yet another of those kitchen staples that is worth taking the time to learn how to make. It's versatile, economical, tasty, quick and simple to produce, and keeps in the fridge for at least a week. Look online and you'll find countless variations on hummus, but there seems to be some consistent ingredients across the board: chickpeas, tahini, lemon, garlic, cumin, salt, and olive oil.
You'll also discover that chefs and home cooks prefer different ways to blend and add ingredients. I'm not here to convince you of how it needs to be done; my goal is to provide you with a simple and basic hummus recipe, and to encourage you to play with proportions and get creative with adding other herbs and spices.
Classic Hummus Recipe
Ingredients
Directions
Add lemon juice, garlic, salt, cumin, and a splash of water to a food processor. Blend for 10 seconds.

Add tahini to the food processor, blend for another 30 seconds while slowly pouring in half of the remaining water.

Add chickpeas to food processor. Blend for another minute while pouring in the rest of the water.

Garnish with olive oil.

5 Unique Variations to Classic Hummus
Add 2 tsp.

organic matcha powder

to the recipe to create a fun, green hummus (with a caffeine buzz).

Add roasted red peppers and blend into the hummus.

Try different beans or cooked cauliflower as a replacement for the chickpeas!

Add

organic curry powder

for a fun twist on hummus.

Add lemon zest for some extra zing!
Pro tips:
Shell the chickpeas for extra silky-smooth hummus. It's the traditional way to make it and worth the extra work!

Prepare ahead of time, and let hummus sit for a couple hours before serving to allow the flavors to meld.
want more international recipes?
You may also enjoy: