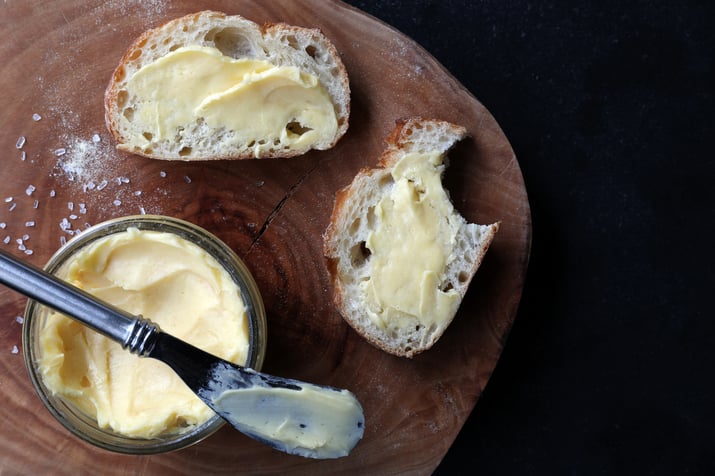 Infusing herbs into butter only takes a few minutes and is a tasty way to add an extra punch of flavor to your food. Herbal infused butters, also called compound butters, are decadent on steamed vegetables, warm dinner rolls, baked potatoes, pasta dishes, or incorporated into sautés and sauces. Here are a couple of my favorite recipes!
Classic Garlic Butter Recipe
Not only is this infused butter recipe a classic, but it's super simple to make! Typically when preparing this I use fresh garlic, although I found that organic garlic powder works just dandy (in fact, I found it even more flavorful than fresh). If you want to add a little something extra, sprinkle a bit of parsley or tarragon into the mix.
Ingredients
Directions
Place softened butter in bowl and add organic spices and sea salt.
Mash together with a fork.
Note: if you decide to use fresh garlic, chop or mince prior to blending with the butter.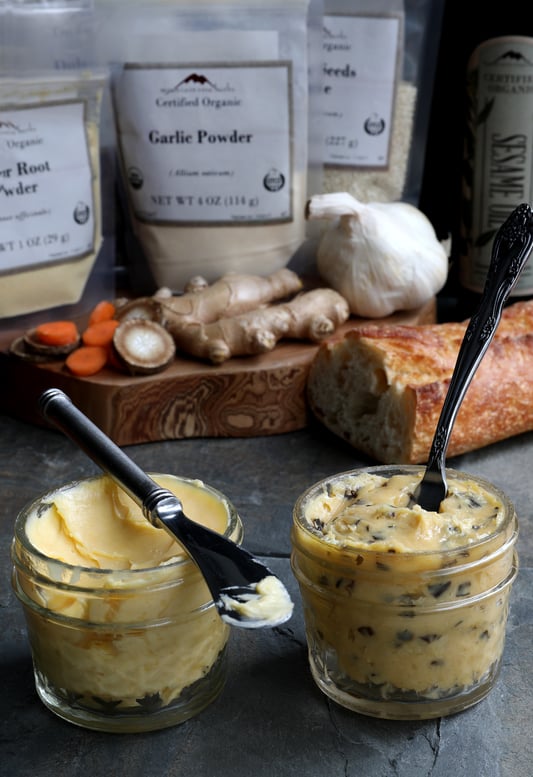 Toasted Dulse and Sesame Compound Butter Recipe
I was feeling a bit creative and challenged myself to make butter with our dulse flakes (a type of seaweed). If you're looking for a compound butter that's a bit more unique, this toasted seaweed butter is a must-try! It utilizes one of our basic five tastes ... umami. Umami-rich foods like soy sauce, miso, and seaweed offer a rounded, rich, and savory flavor. I enjoyed this delicious butter melted over roasted burdock root and carrots.
Ingredients
Directions
Preheat oven to 350 degrees.
Place dulse flakes and sesame seeds on a cookie sheet and roast for 12 to 16 minutes. Stir every few minutes so they don't burn.
While those ingredients roast, place softened butter in a bowl. Add garlic powder, ginger powder, soy sauce, and sesame oil.
Once the dulse flakes and sesame seeds are toasted, add those to the butter mixture and mash all ingredients together with a fork.
These butters will taste delicious right away, but the taste will improve if the flavors are allowed to develop for 24 hours in the refrigerator before using. You can store extra herb butter in the fridge or freezer.
Looking for more herbaceous culinary recipes?