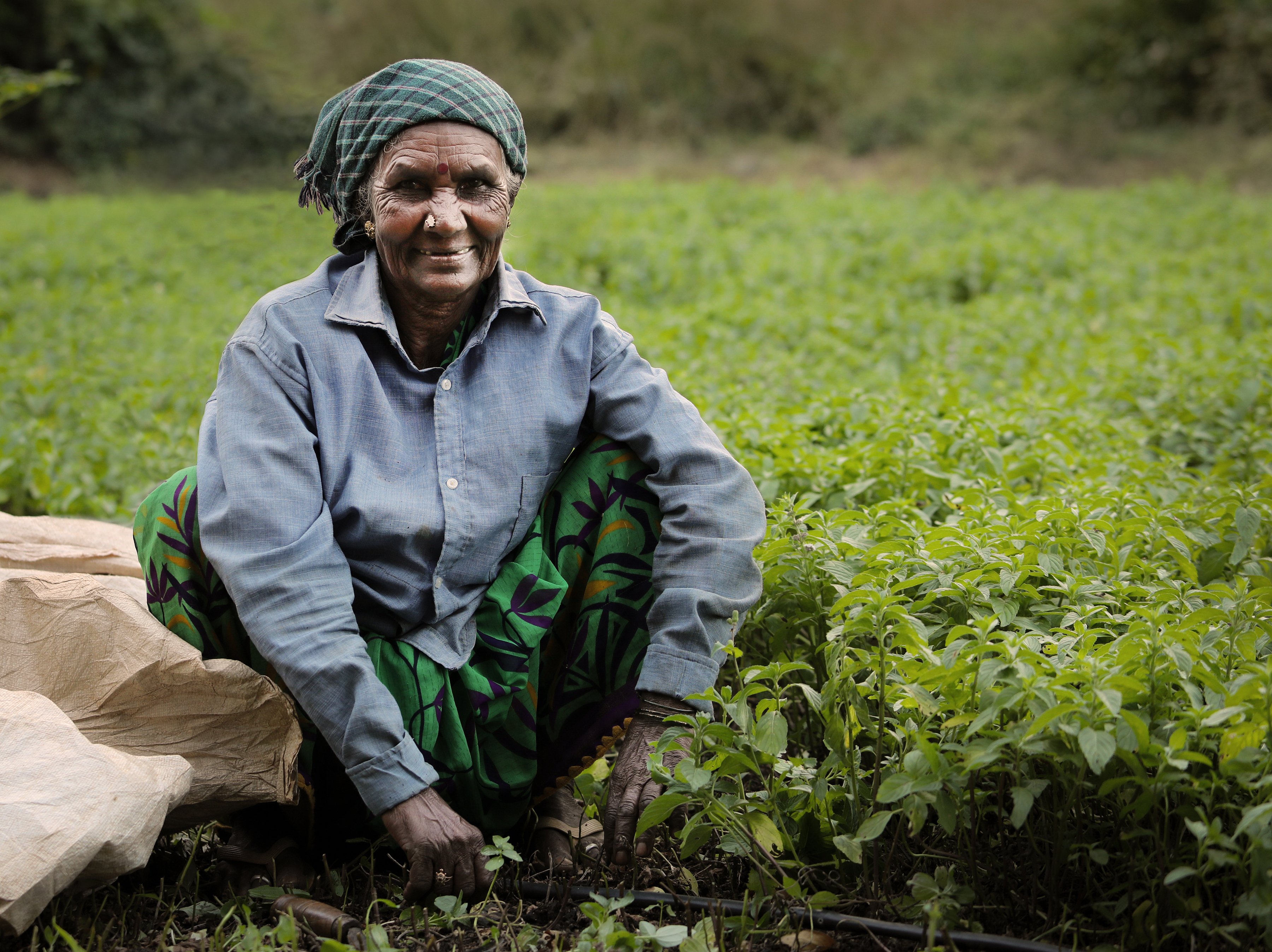 Women are the leading providers of agricultural work in many regions of the world, including in the fields of our organic farm partners in India. Learn how the Fair for Life fair trade program helps empower this female-led labor force through equitable wages, paid time off, and working conditions that are safe for farmers and the environment.
The United Nations and the International Monetary Fund have reported that empowering women to work in safe conditions, and for fair compensation, is perhaps the most efficient way for a nation to boost its economy, diversify industry, and contribute to healthier, more equitable, and more sustainable societies. However, not all jobs are created equal, and employment built upon entrenched gender imbalances risks further exploiting female workers, rather than fostering progress. With these high stakes in mind, fair trade organizations like Fair for Life have taken on the challenge of creating employment opportunities for women that ripple outwards to enhance entire communities.
Mountain Rose Herbs has been a certified "For Life" handler since 2010. While many fair trade certifications focus primarily on the production of finished goods, the Fair for Life program raises the bar by applying fair-for-all principles that ensure human rights and fair working conditions are maintained at each stage in the supply chain. Shaped by its goal of improving the position of marginalized social groups (including women) worldwide, Fair for Life's guidelines support and enrich the lives of thousands of small farmers and workers through fair pricing and through the establishment of special community "development premium funds," which workers and farmers can use to improve their social, economic, and environmental conditions. These funds can be deployed at the community's discretion to enhance the local economy (by investing in farm improvements, equipment, or employee housing), or to enrich the community directly (through the construction of schools, healthcare facilities, or vital regional infrastructure, such as roads and bridges).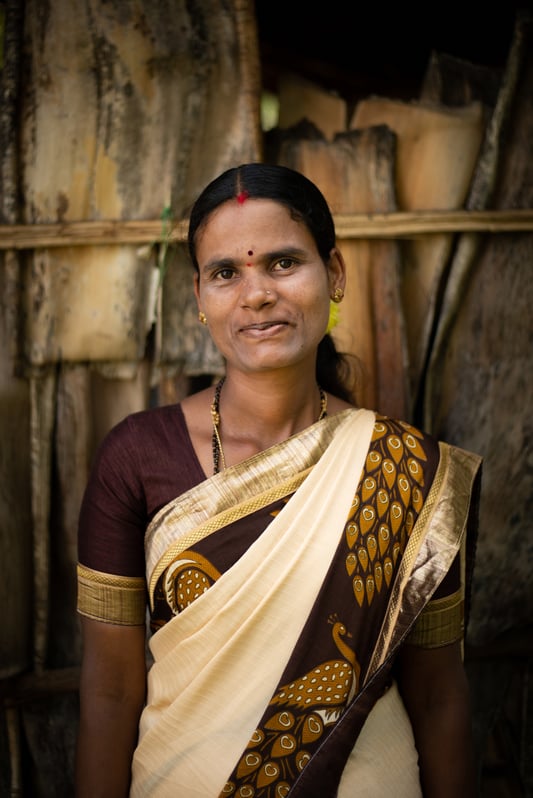 Our FFL program offers premium funds that support women and families by helping to finance education for girls, school upgrades in villages, and supplementary medical care.
One nation in which Mountain Rose Herbs has witnessed especially inspiring progress among its Fair for Life farm partners is India. The country's diverse topography and ecosystems make it an ideal region for the organic and sustainable cultivation of many prized organic botanicals, including spicy bird's eye chilis, cayenne powder, long pepper, and green and black peppercorns; Ayurvedic herbs like Brahmi, gymnema leaf, Krishna holy basil, turmeric, cloves, and nutmeg; and precious vanilla beans.
Women are key contributors in bringing these top-quality ingredients to market, positioning them to share in Fair for Life program protections and benefits in ways that have had immense positive impacts on their lives and the lives of their families. Fair for Life fair trade certified growing operations must set and enforce codes of conduct that respect and protect their employees, mandate gender equity in pay and treatment, provide paid medical leave and sick days, ensure safe working conditions, prohibit child labor, and provide education for the children of employees. These benefits and protections also extend to seasonal employees, who make up a major portion of the agricultural workforce but who are often excluded from programs designed around full-time employment.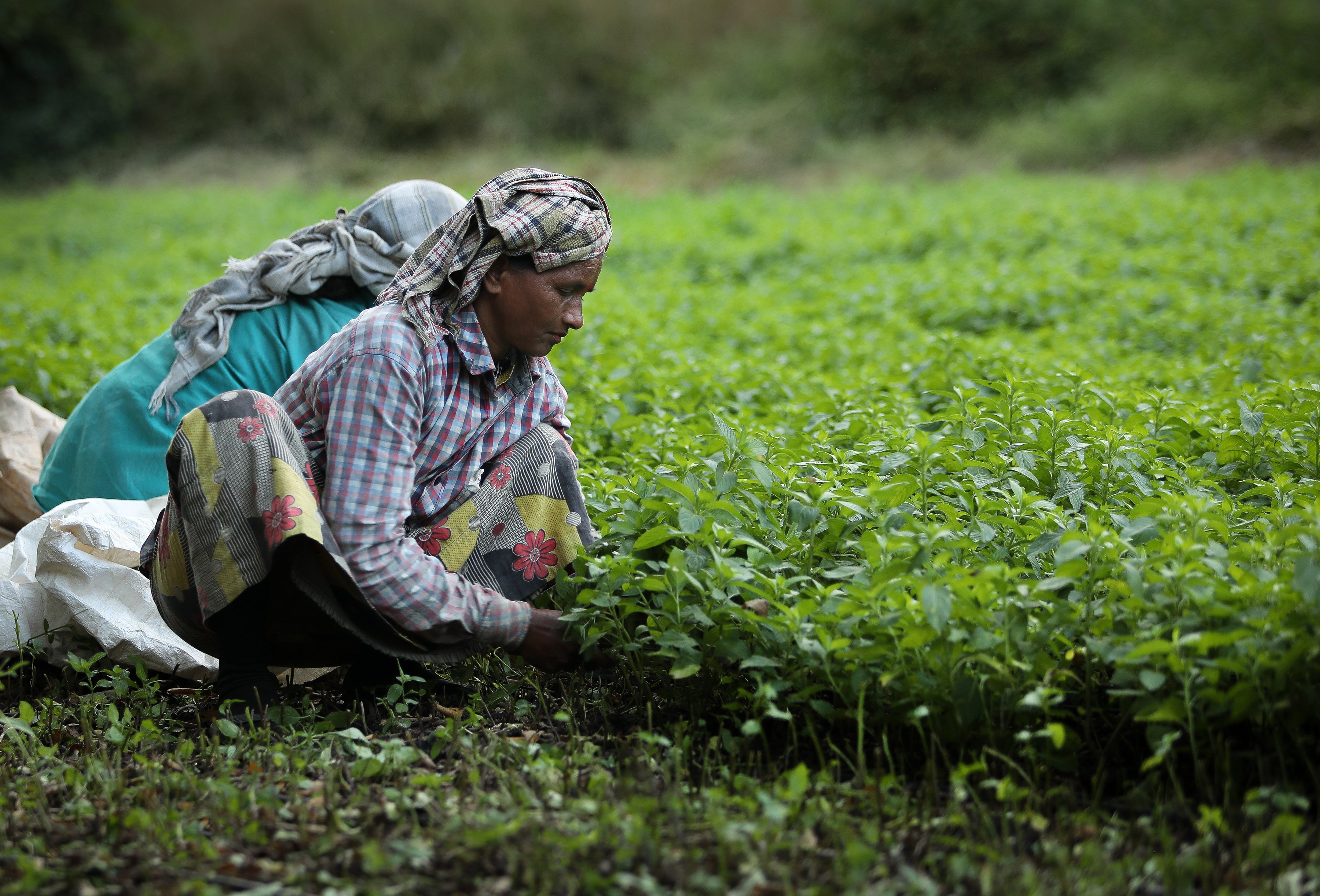 Every kilo of the organic mint harvested from this field in the southwestern state of Karnataka, India earns a development premium, which is distributed directly to the farming families who cultivate the crop (in addition to their wages).
The outcomes of Fair for Life's policies and development premium funds upon member families are inclusive and far-reaching. By enforcing pay parity for female farmers and providing funding for communities to invest in educational infrastructure, Fair for Life has helped hundreds of working parents move their children out of the workforce and into school, providing families and communities the means with which to purchase school supplies, desks, uniforms, and computers. Fair for Life funds may be used to help students access higher education as well—for example, the daughter of one of our Indian farm partners was awarded a portion of her community's benefit fund to enable her to pursue an undergraduate degree in microbiology. Women living in areas too remote for them to attend conventional schools may also access educational resources through online courses and other digital resources.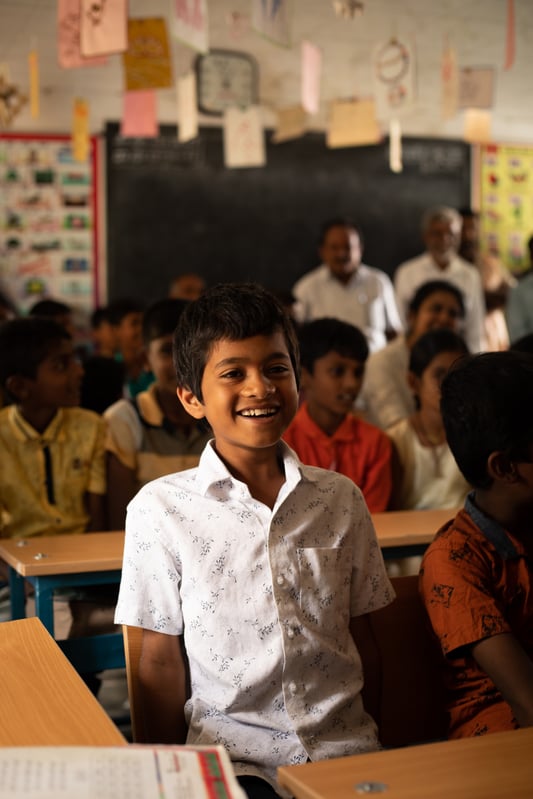 In 2019, Mountain Rose Herbs furnished this rural school attended primarily by the children of organic turmeric and ginger farmers with new bench desks and an overhead projector to assist in classroom instruction.
The other most significant portion of community funds is devoted to providing for the health of member families, another application that has the power to massively reshape the lives of women and those they support. For example, Fair for Life ensures that each farm site offers access to clean drinking water, thus eliminating a major cause of illness in rural India while also dramatically reducing the time and effort required for women to secure water for the daily care of their families. Having water available on-site also makes women and children of all ages safer, as the ability to travel only a short distance to access clean water reduces the risk of dangerous encounters with animal or human threats. Finally, Fair for Life premiums may be used cover costs outside of standard health care, such as specialist visits, surgeries, and access to OB-GYN health services for young women, expectant and new mothers, and their children.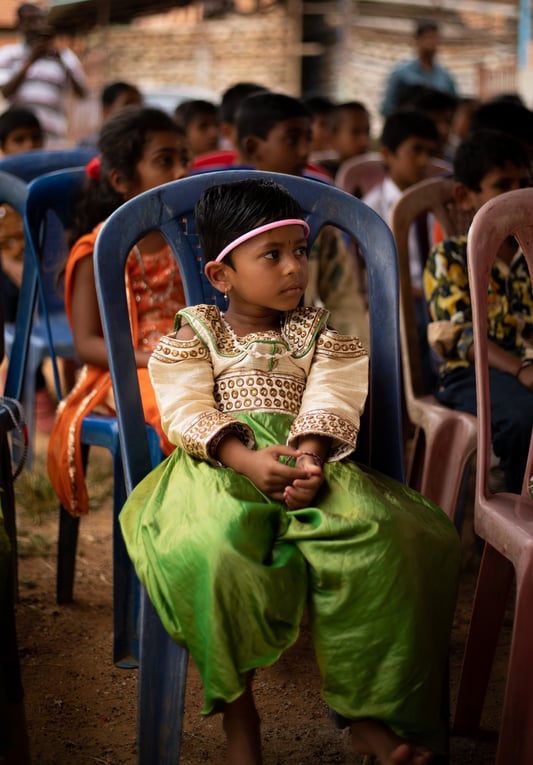 School children dressed in their best to join their parents to greet our Mountain Rose Herbs farm liaisons during a special visit. Our years of involvement with the FFL program have helped us build lasting relationships with farm families like these.
Mountain Rose Herbs has always aspired to place people and planet before profit, and sourcing botanicals from Fair for Life fair-trade growers offers an ideal method to support human and environmental well-being at the same time. We are grateful to our customers who share these values and who continue to promote just and sustainable growing practices by choosing fair trade ingredients. With the help of our mindful community of plant lovers, we look forward to providing our farm partners with the resources to make even greater strides towards equality and prosperity in the years to come!
Want More Fair for Life Success Stories from the Field?
You might also enjoy: