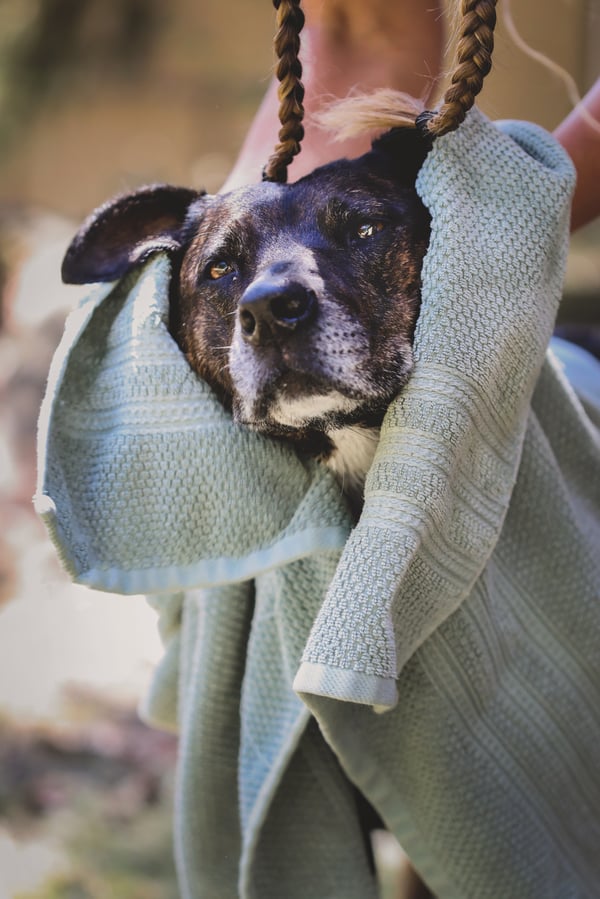 The 4-leggers in my household are not entirely pro-bath. Our terrier mix loves life after a bath; she runs madly about the house with pure joy. During the bath, however, she looks like we're torturing her. We're just grateful she stands still for it because her "little brother" is a corgi-mix built for escape. He is slippery and wily when wet and groans out his woes the entire bath time. And then there is the big queen-to-rule-them-all kitty who needs regular brushing and occasional "spot cleaning" assistance with her thick double coat because one cat tongue is simply not enough to manage it all. This crew loves to sleep on the foot of our bed, so whatever dirt and smells they've tucked away throughout the day end up on my handmade quilts. Simple answer: regular baths, right? The double-conundrum is that good pet shampoo is ridiculously expensive, and I am also on a quest to stop buying plastic packaging (apparently, there is a rule somewhere that dog shampoo must be sold only in plastic bottles that I cannot recycle here in Oregon). Fortunately, it's easy and inexpensive to make good homemade dog shampoo with gentle, sustainable ingredients I always have on hand.
Part of the joy of making homemade animal shampoo is that I can customize the recipe. I always add aloe vera gel to this shampoo as a skin-soothing component that brings hydration and shine to a healthy coat (please see pro tip about aloe vera and dogs). I also like to add lavender for the dogs because it's calming and relaxing for them and also helps soothe itchy skin. However, cats can be extra sensitive to some herbs, and I like to be more cautious with Queen Kitty, who is getting up there in years, so I use a tea-free version for her highness's spot cleaning. You can make this recipe with a tea base if you've got the time (as well as lavender, calendula and chamomile make good skin-loving options), or just whip it up with plain water when you're in a pinch.
A quick note about water hardness: I use one tablespoon of castile soap in this recipe to get a good lather here in Eugene, where the water is moderately soft. In the mountains where I grew up, the water was moderately hard, and everything required more soap. Where my sister lives, the water is very soft, and she uses half as much soap to achieve the same end. Adjust the amount of soap in this recipe according to the hardness of water in your area.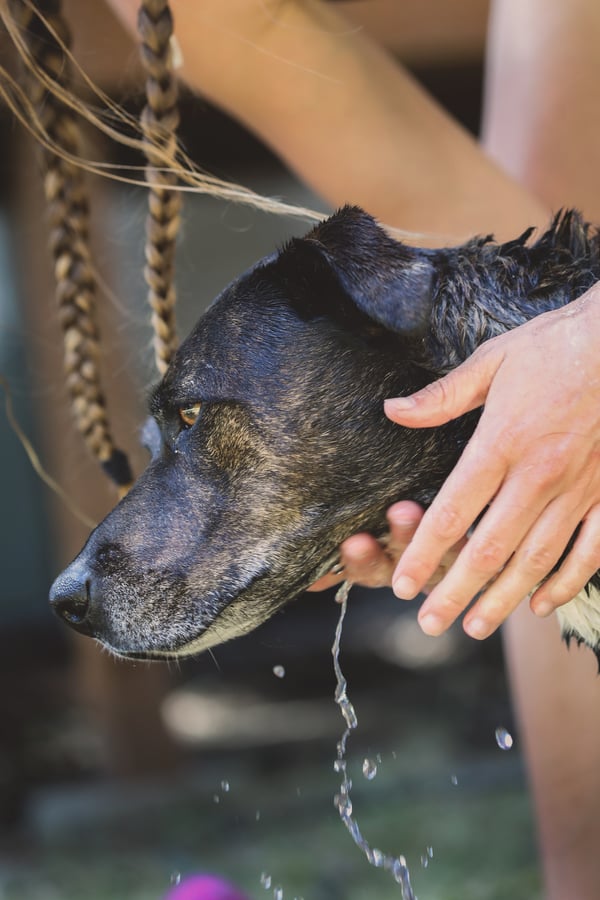 Optional Lavender Tea Base for Dog Shampoo
Makes about 2 cups tea.
Ingredients
Directions
Pour boiling water over dried lavender flowers in a vessel.
Cover and let steep until room temperature.
Strain out lavender flowers.
You can store tea in the refrigerator for a few days if not using right away. Reheat until just warm enough for dog's comfort.

DIY Organic Dog Shampoo

This amount makes enough to thoroughly wash both of my 30 lb. dogs, so would be good for one large dog. Adjust amount according to size and number of 4-leggers.
Ingredients
Directions
Thoroughly stir together lavender tea base or water with castile soap and aloe vera gel in a container that will be easy to use during dog bath. An upcycled plastic flip cap bottle or restaurant-style "squeeze" bottle work well; just add ingredients, cap the bottle, and shake to combine.
Pro Tips
In case you are harvesting aloe vera gel from your own plants, it is important to make sure you only use the gel and only use it topically with animals. If you cut open a leaf on an aloe vera plant, the gel is surrounded by a juice, which is the leaf's latex. The saponins in that latex cause vomiting in dogs when ingested. Fortunately, it's bitter, so they don't tend to like it, but because dogs often lick themselves after a bath, you want to make sure you're using just the gel, not the whole liquid from inside the leaf. For this reason, I don't trust myself enough to harvest my own aloe vera gel for use in this shampoo recipe. I purchase a non-GMO, filtered, cold-pressed aloe vera gel because I know it's safe for my beloved dogs and their feline overlord.
If your dog has gotten into something particularly smelly, a diluted vinegar rinse before shampooing can help!
How to Use Homemade Dog Shampoo
Acquire one wet dog.
Shake or stir shampoo to recombine ingredients.
Squeeze or pour shampoo onto wet dog and get busy sudsing up that pup. Avoid eyes, nose, and mouth for the same reasons we avoid them ourselves (soap tastes bad and burns mucus membranes).
Rinse thoroughly and then dry.
After all of that, 4-legger deserves a treat.

Want a softening coat conditioner for your pup?
You may also enjoy: