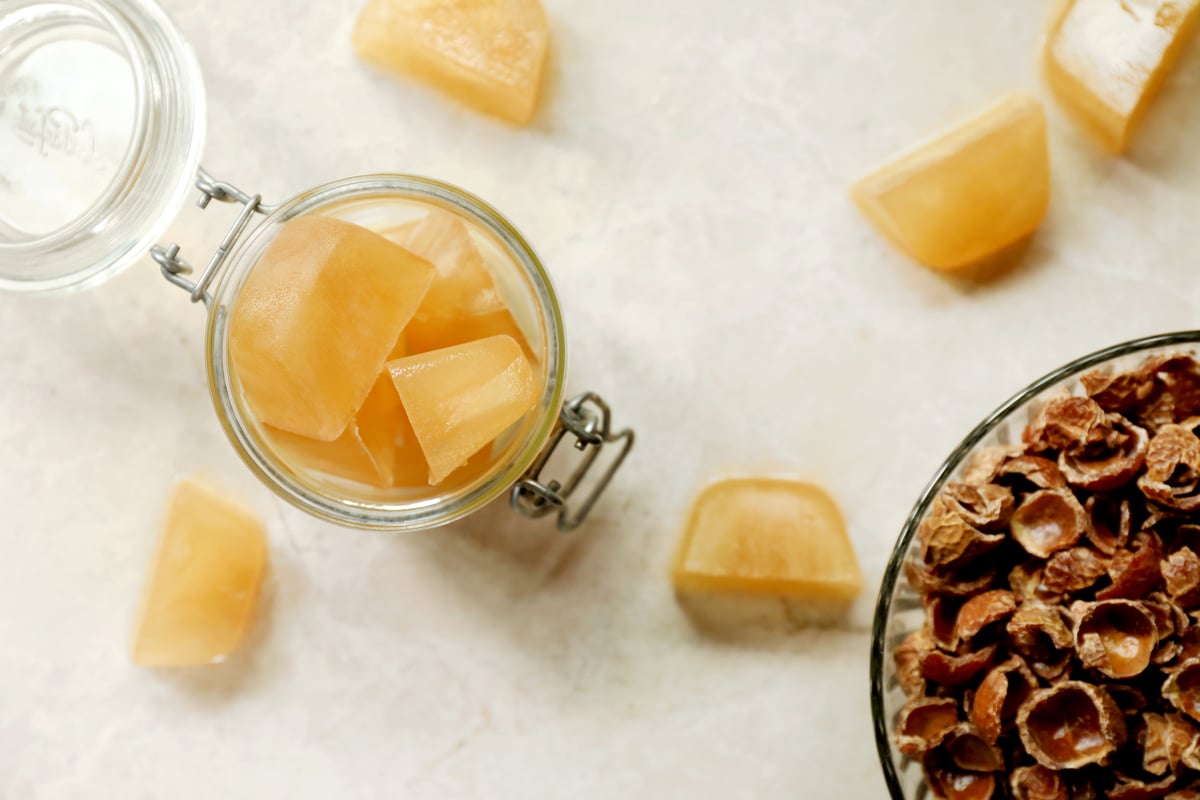 I have to admit, it was really difficult for me to believe that soap nuts could actually work. My skepticism caused me to walk by them at my local natural grocery store for years. I liked the idea of an all-natural laundry solution, but I figured soap nuts would not be effective enough to take on the stains and scents of my active lifestyle and dirty gardening clothes.

That attitude persisted until about four years ago, when I first started working for Mountain Rose Herbs. Colleagues and customers alike raved about soap nuts, so I decided to give them a try. I'm really glad that I did, and my wallet and septic system thank me daily (yes, soap nuts are generally considered septic tank safe)!
While many people enjoy the common method of using whole, deseeded soap nuts, I prefer to make them into a liquid detergent. It is an added step and requires a bit more forethought, but I believe the liquid can dissolve more completely and disperse more evenly throughout each laundry load, which makes me feel more confident in the cleaning process.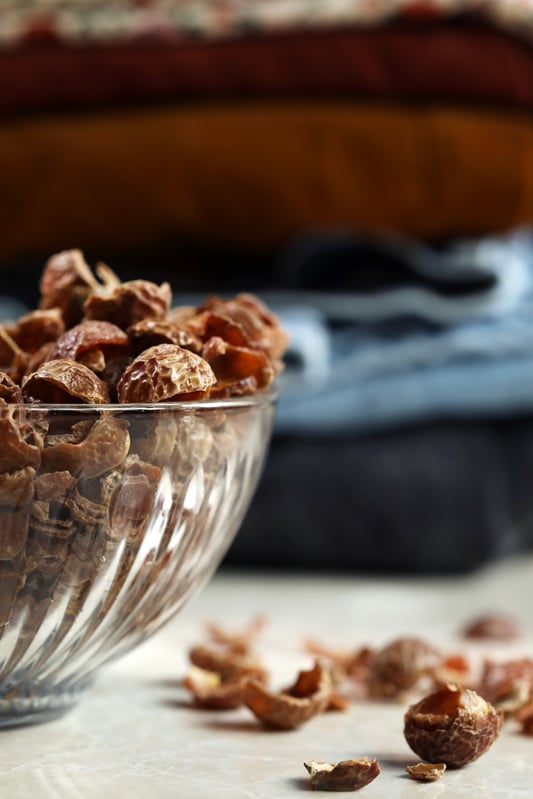 Soap Nut Liquid Laundry Detergent Recipe
Makes about 4 cups.

Ingredients
Directions
Add soap nuts to a pot and pour hot water over them.
Let steep for at least 30 minutes.
Cover the pan and let simmer over low heat for another 30 minutes.
Strain liquid into a bowl and set aside.
(Optional) You can reuse the soap nuts for another small batch by adding another 1.5 quarts of water, simmering for an additional 30 minutes, and adding the new batch of strained liquid to the previous batch.
Once the solution has cooled, you can add essential oils of your choice (see suggestions below).
To use, add four tablespoons of homemade laundry liquid to an average sized load of laundry. You can also add one or two tablespoons of borax powder per load if you have more heavily soiled clothes.
Pro Tips
Shelf Life & Storage: Like most DIY preparations with a high water content, this liquid is not shelf stable for very long. It is recommended that you store the mixture in the refrigerator for no longer than 3 to 4 weeks. However, I do have quite the life hack for you! Freezing the detergent into ice cubes will make them last a really long time, and they will be pre-portioned for use. Since each tray is a bit different, you'll have to determine how many cubes you'll need per load. Silicone ice trays help the cubes pop out very easily, and then you can store them in a re-used freezer bag. Just be sure to mark them, because while some people in your household may deserve it, you don't want anyone involuntarily washing their mouth out with soap!
Essential Oils Are Optional: If you decide not to use essential oils, the wash water will smell a bit like apple cider, but after drying, this will dissipate.
Straining Is Recommended: This is one I learned the hard way—I thought it would be a good idea to extract as much soapy goodness as possible out of the soap nuts by blending them in the liquid. This proved to be a foamy mess, and I would suggest not doing that. I did have a mighty clean blender and invented another soap nut use in the process, though (stay tuned for that recipe…).
Only use deseeded soap nut shells, because the seed itself can stain fabric.
Some batches of soap nuts may be cut smaller than others. If this makes it difficult to estimate the quantity of whole soap nuts, it measures about one heaping cup.
10 Best Essential Oils for Laundry
Want to Skip the Prep Step?
You might also enjoy: