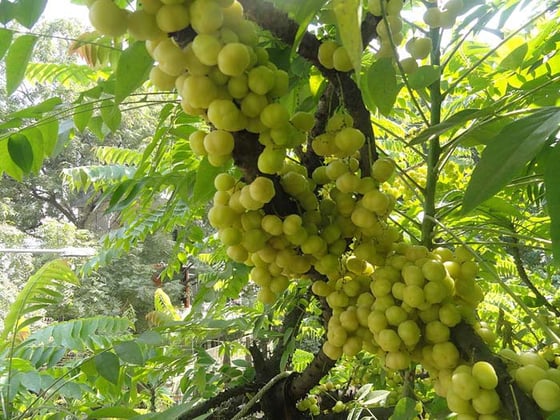 Amla, also know as amlaki or Indian gooseberry, is the fruit of a small to medium-sized deciduous tree native to India. The berries are greenish yellow and have a fibrous inner texture. Their peak harvesting season is in the autumn, which is when these little berries are collected by hand.
In Hinduism, the amla tree is considered sacred to the goddess Lakshmi. A much-beloved staple of traditional Ayurvedic medicine, amla is considered a cooling pitta herb. It is one of the three ingredients in Triphala powder. This Ayurvedic blend is made of Amlaki (Emblica officinalis), Haritaki (Terminalia chebula), and Bibhitaki (Terminalia Belerica).
Mountain Rose Herbs offers two types of organic Amla. A traditionally processed whole Amla, and a dehydrated cut and sifted Amla. Both processes result in a sour, bitter, and astringent tasting dried fruit that is known for its ascorbic acid and Vitamin C content.

This whole organic Amla is traditionally dried in the sun - just like raisins. This process can take 10-15 days, and results in a dark brown almost black looking chunky fruit. Besides removing the seeds, the fruit does not go through any further processing. We also offer this same air-dried fruit in a powdered form, Organic Amla - Powder.
Our whole and powdered Amla can be made into capsules or used directly in smoothies, slurries, or other medicinal, culinary, or beverage preparations of your choice. This traditional air-dried material is also used to make natural dyes and inks. It has also been used to formulate hair care products such as shampoos and oils to nourish the hair and scalp.

Our dehydrated organic Amla also has the seeds removed from the fruit, but undergoes a much quicker drying process that only takes 1-2 days. This dehydration exposes the fruits to temperatures no higher than 104°F, which results in a color that is closer in appearance to the fresh fruit. This process also preserves some of the wonderful Vitamin C content that makes Amla so desirable. At 2000 mg per 100 grams, dehydrated Amla has 4 times the amount of Vitamin C than the traditional air-dried material. Thus, making it an ideal choice for your favorite medicinal, culinary, and beverage creations. The dehydrated pieces will easily re-hydrate in water, creating a fibrous texture similar to dehydrated apples with a much tarter taste. We don't recommended using the dehydrated material for dyes and hair care products though. For that, stick with sun dried.
Visit our website here to learn more about this amazing fruit!