September is traditionally a harvest month, an ideal time to finish gathering goodies from your garden and transform them into provisions that will provide nourishment and enjoyment all winter long. Here are some simple herbal products that you can create and enjoy throughout the winter months. Make extra and you'll have a head start on the holiday season, they make wonderful gifts!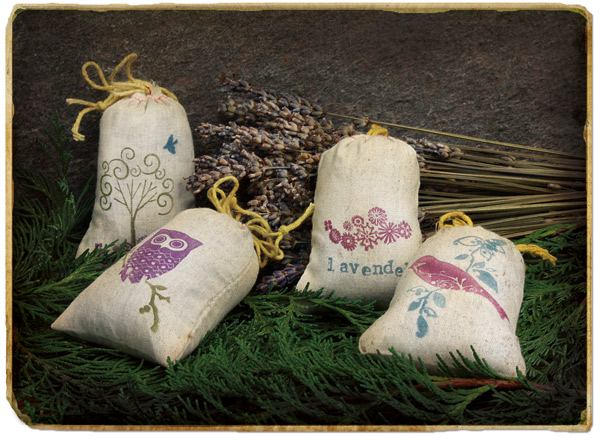 Herb Sachets
Quick to make and so useful! The lingering herbal aromas that herbal sachets impart are perfect for tucking into dresser drawers, and clothes smell wonderful when tossed with sachets in the dryer.
Dried Herbs and/or Spices: I often use Lavender or Cedar Tips, but any fragrant dried herb or spice can be used. Try Eucalyptus, Lemongrass, Lemon Verbena, Rose petals, Rosemary, Peppermint, Chamomile, Spearmint, or whichever herbal aromas inspire you!
Bags: I used cotton muslin bags from Mountain Rose Herbs, but you can also make your own bags with cotton or muslin fabric. Sometimes, I'll stamp the sachets with images of birds or botanicals (especially if giving as gifts).
How to: Coarsely grind herbs and spices in a coffee grinder to release their scent. Whole or broken herbs and spices work well too, but will not be quite as fragrant as when they're ground. Stamp the bags if desired, then stuff with herbs and spices. You may add a few drops of essential oil if you wish for a stronger aroma.
Fresh Bath Bouquets
One of the simplest, yet most delightful bath treatments! If you have a bounty of fresh flowers and herbs in your garden, save a few sprigs for this decadent and medicinal bathing experience.
Pick fresh herbal sprigs from the garden. Some favorites include Calendula, Chamomile, Echinacea, Eucalyptus, Lavender, Lemon Balm, Lemon Verbena, Peppermint, Red Clover, Rosemary, Sage, Spearmint, Thyme, and Oregano. Bundle the botanicals with twine, and hang under the faucet allowing water to run through the herbs. Once the tub is full, you can allow the herbs to float freely in the bathtub or simply enjoy their beauty as they hang from the faucet.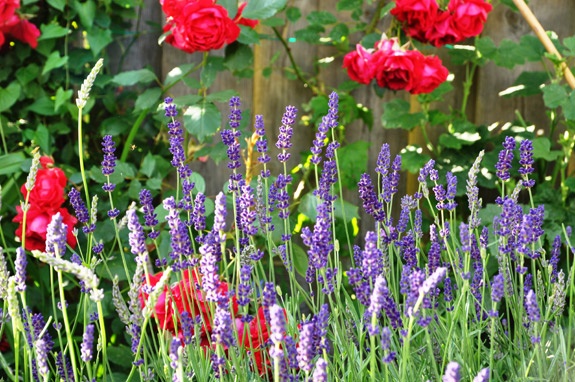 Garden Cologne
Utilize your favorite scents from the garden to make colognes that can be misted all around the home. A relaxing cologne could include Roses, Chamomile, and Lavender. Or, mix a rejuvenating blend from Rosemary, Peppermint, and Sage.
Herbs: Fresh or dried organic botanicals of choice
Vodka
How to: Combine all ingredients in a glass mason jar and add vodka until the liquid rises above the herbs by at least 1". Cap tightly and shake once or more per day. After 2-6 weeks, strain the flowers and pour the resulting cologne into a glass bottle with a mister top. Note: the vodka will take on the color of the herbs, so be wary of darker colors that may stain light-colored linens or clothing.
Herbal Syrups
Herbal syrups are luxurious atop pancakes, waffles, ice cream, cakes, fresh fruit, crepes, or when stirred into lemonade, iced tea, or cocktails. You can even mix them with soda water to create herbal sodas.
Herbs and Spices of choice, some options are: Basil, Lavender flowers, Lemon Balm, Lemon peel, Lemon Verbena, Lemongrass, Orange peel, Peppermint, Rose petals, Rosehips, and Spearmint.
Organic sugar
How to: Bring two cups of water to a boil and then add two cups of organic sugar. Allow the sugar to dissolve, then remove from the heat and add fresh or dried herbs. Cover the pot, and allow the herbs to steep until the mixture cools. You can remove the herbs sooner if the syrup reaches the flavor that you desire before it finishes cooling. Or, you can allow the mixture to sit overnight if you prefer a stronger syrup. Once you are satisfied with the flavor, strain out the herbs and pour the remaining liquid into pretty glass bottles. The syrup should last for at least 6 months if stored in a refrigerator.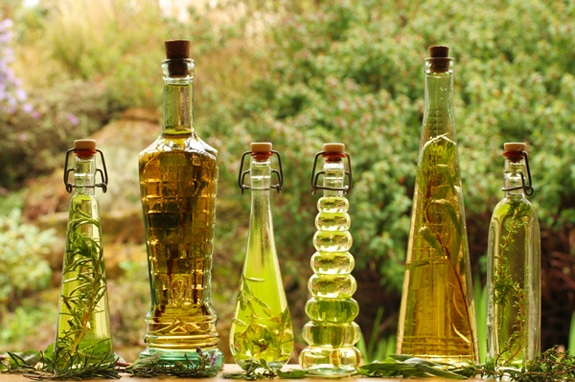 Herbal Infused Vinegar
When vinegar is infused with herbs, it adds a special twist to salad dressings, marinades, dipping sauces, vinaigrettes, and any other recipe utilizing vinegar.
Vinegar: Distilled white vinegar, apple cider vinegar, wine vinegar, or rice vinegar. Use milder vinegars when infusing delicate herbs and stronger flavored vinegars for robust herbs.
Organic herbs, either fresh or dried. Some options are: Basil, Cayenne, Chamomile flowers, Chili Peppers, Chives, Coriander seeds, Cumin, Dill, Garlic, Lavender, Lemon Balm, Lemon peel, Lemon Verbena, Marjoram, Mustard seeds, Orange peel, Oregano, Peppermint, Rose petals, Rosemary, Sage, Summer or Winter Savory, Tarragon, or Thyme.
How to: Start by sanitizing a glass bottle or jar (instructions are in the link below). Wash fresh herbs and pat dry (omit this step if using dried herbs). Place the herbs or spices into the sterilized glass container and fill with vinegar of your choice. 3 TBSP dried herbs/spices or 3-4 sprigs of fresh herbs per pint of vinegar is usually a good amount. However, this depends upon the strength of the herb, spice, and vinegar used, so experiment with more or less. Cover the container tightly with a non-corrodible, nonmetallic lid, and place in a dark, cool place to steep. Allow the vinegar to infuse for 2-4 weeks, or until the desired flavor has developed. Once finished, strain the herbs out, and pour the infused vinegar into sterilized bottles or jars. Fresh sprigs of herbs, dried herbs, whole chili peppers, peppercorns, and berries can be added before sealing to make the bottle more attractive and to further enhance the flavor. Label with the ingredients and date, and you're finished! It's best to keep vinegars stored in a cool, dark place and use within 4-6 months or keep the vinegar refrigerated to retain the flavors longer. If you notice mold, cloudiness, signs of fermentation, or anything else that looks unusual, discard immediately. For more information about making infused vinegar, this informational sheet from the Oregon State University Extension Service is wonderful: http://extension.oregonstate.edu/lane/sites/default/files/images/flavored_vinegars.pdf
Herbal Infused Sugars and Salts
Herbal infused sugars and salts are a fun way to turn salt and sugar into something special! Use in the same manner as unseasoned sugar or salt, or use as a finishing touch to any dish.
Just imagine Lavender sugar sprinkled over Crème Brule, Lemon Verbena sugar sprinkled over shortbread cookies, or Chamomile sugar stirred into a mug of warm mint tea.
Herbal salts are a versatile ingredient delightful in soups, sauces, stews, and roasted vegetables or meats. Savory Rosemary salt may be sprinkled over homemade focaccia, Basil salt atop freshly sliced heirloom tomatoes, Sage infused salt on roasted root vegetables, or enjoy a margarita dressed up with a Chili Pepper salt rim. Yum!
Organic sugar or salt
Dried organic herbs of choice. Some options are: Basil, Cayenne, Chamomile flowers, Chili Peppers, Chives, Coriander seeds, Cumin, Dill, Garlic, Lavender, Lemon Balm, Lemon peel, Lemon Verbena, Marjoram, Mustard seeds, Orange peel, Oregano, Peppermint, Rose petals, Rosemary, Sage, Summer or Winter Savory, Tarragon, or Thyme.
How to: Use 1 part herb or spice to 4 parts salt or sugar. Crush the herbs in a mortar and pestle, or whirl in a food processor or coffee grinder. Allow to infuse for 2-4 weeks, then remove the herbs and spices. The sugar or salt will be infused with the delectable flavor and aroma of the herb. Package in pretty, airtight glass bottles, jars, or tins.
More recipes and inspiration:
For information on drying herbs from your garden, see this article: The Low Tech Art of Drying Herbs
Happy harvesting!