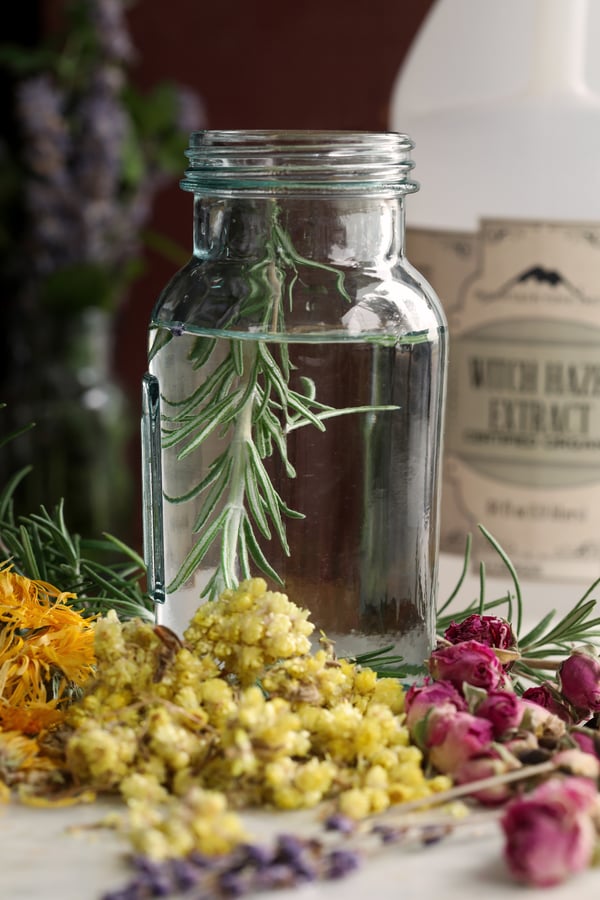 When Europeans arrived on the east coast of what was to become the United States, they found that the indigenous people regularly made an astringent decoction by boiling the leaves and twigs of a particular deciduous, flowering shrub. These Native Americans were making the decoction from Hamamelis virginiana, or American witch hazel, and they used it extensively for a wide variety of health supporting applications and skin irritations. Today, high-quality witch hazel, distilled as an extract, is still beloved as a gentle skin toner and astringent. It is a key ingredient the best DIY and over the counter toners, cleansers, makeup removers, after sun sprays, etc. Additionally, the extract's naturally low pH helps balance the typically high pH of soap, so it makes a wonderful after-wash refresher that is suitable for most skin types and can be used alone or incorporated with other ingredients. And, best of all, because witch hazel takes on the properties of whatever herbs you infuse it with, you can customize it for your skin's specific needs!
Pure Organic Witch Hazel
Hamamelis virginiana is a large flowering shrub (or a small tree, depending on how you look at it) in the Hamamelidaceae family. Indigenous to the Northeastern United States, this species of witch hazel tends to grow as a dense, multi-stemmed clump about 12 to 15 feet tall and wide, although it can reach more tree-like proportions up to 30 feet. It is particularly easy to spot in the autumn because after its leaves have dropped, it blooms with golden, threadlike flowers.
Unfortunately, the commercial witch hazel extracts found in grocery stores and cosmetics aisles today tend to contain more alcohol than witch hazel, which can be overly drying to the skin and can add a sharp sting. There are some witch hazel extracts marketed as alcohol-free, but these are a water-steam distillation that creates a hydrosol, rather than a potent extract. Witch hazel hydrosols are incredibly soothing and add toning qualities, but to get the best effects of witch hazel, we prefer a double-distilled, low alcohol, organic witch hazel extract. Mountain Rose Herbs' witch hazel is 86% organic witch hazel extract and 14% organic alcohol, making it a more soothing option without the alcohol sting or scent.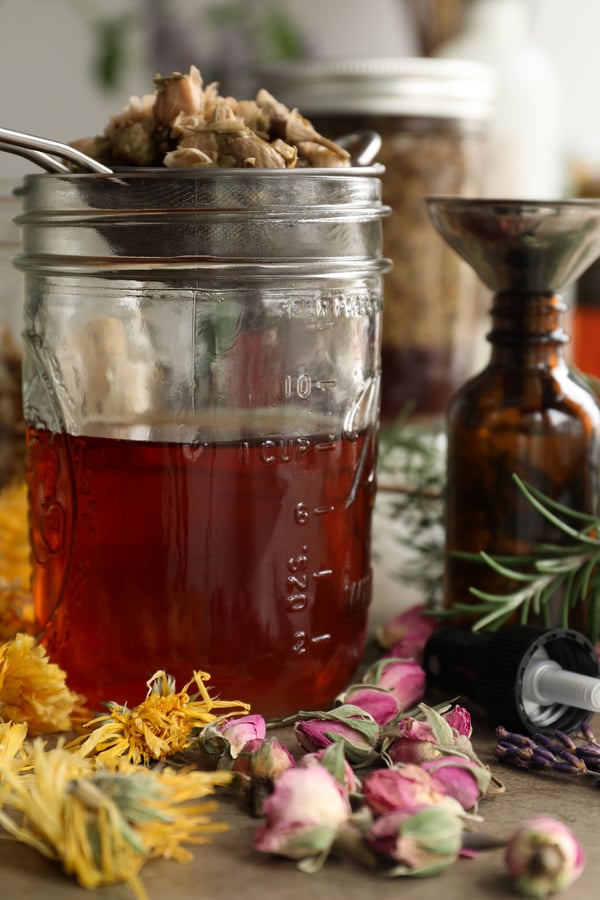 skin-loving herbs to infuse in witch hazel

How to Infuse Witch Hazel
Ingredients
Directions
Place the dried herb(s) in a clean, sealable glass jar and cover completely with witch hazel extract. Make sure extract covers the herbs by at least 1-2 inches.

Cap tightly with a nonmetallic lid, or if using a metal lid, put a piece of waxed paper or parchment between the jar and lid before sealing.

Shake to blend and set aside for a few minutes. Check back after a bit, and top with more witch hazel extract as necessary to keep herbs fully covered.

Place in a cool, dark place.

Allow to infuse for two weeks, shaking the jar daily. You will notice that the witch hazel will quickly take on the scent and color of the herbs. Add more witch hazel as necessary to keep herbs fully covered.

Once finished, strain the herbs out using cheesecloth. Squeeze to get every drop of goodness. Discard herbs.

Pour infused witch hazel into a clean, sealable jar.

Because witch hazel is not recommended for internal use, clearly label the jar so there are no mistakes.

Depending on which botanicals you used, shelf life can vary significantly, from several weeks to several months. For best results, store in the refrigerator.
Pro Tips
Although witch hazel is considered generally beneficial for all skin types, if you haven't used it before, it's important to do an initial skin patch test to make sure your skin reacts well. You may find that it works better for you to dilute it with a hydrosol.

Some herbs should not be applied to broken or abraded skin. Before you infuse witch hazel, do the appropriate research to make sure you are choosing herbs that match your goals.




Looking for some cooling after-sun witch hazel relief?
You may also enjoy: