The folks here at Mountain Rose Herbs love to make our own natural body care products. These fun DIY self care projects allow us to ensure that we are using only the highest quality organic and natural ingredients to create safe and beautiful goodies for friends and family, proving that the journey to well-being can be both natural and stylish. There are lots of simple ways to jump into DIY makeup, but we're especially fond of one cosmetic category that's easy to make and apply: natural blushes.
One of our favorite resources for learning how to make makeup is the wonderful read Hello Glow by Stephanie Gerber. This book is perfect for beginners and seasoned body care enthusiasts alike! Featuring a collection of more than 150 recipes for the face, body, and hair, Hello Glow contains beautiful photographs that will guide and inspire you on your path to natural beauty.
Here are two of Stephanie's simple recipes to give your cheeks a pop of healthful color with the help of organic beet root powder, a gorgeous ingredient for helping you glow inside and out!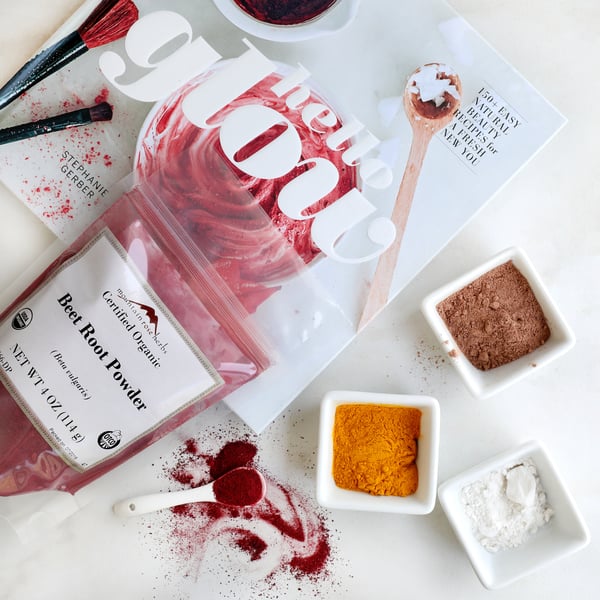 All-Natural Customizable Beet Root Blush
Ingredients:
Directions:
Add the arrowroot powder to a bowl.
Start with one tablespoon beetroot powder, then add more until you like the color. Equal parts beetroot and arrowroot will give a lighter blush, while a 2-to-1 beetroot to arrowroot ratio will give you a darker, more true pink. Experiment with mixing equal parts turmeric, beetroot, and arrowroot for a peach-colored blush, or add cacao powder to darken the hue.
Mix the powders with a spoon to break up clumps, then transfer to a lidded jar and store in a dry place.
To use, just dip a brush into the powder, tap off the excess, and apply to the apples of your cheeks.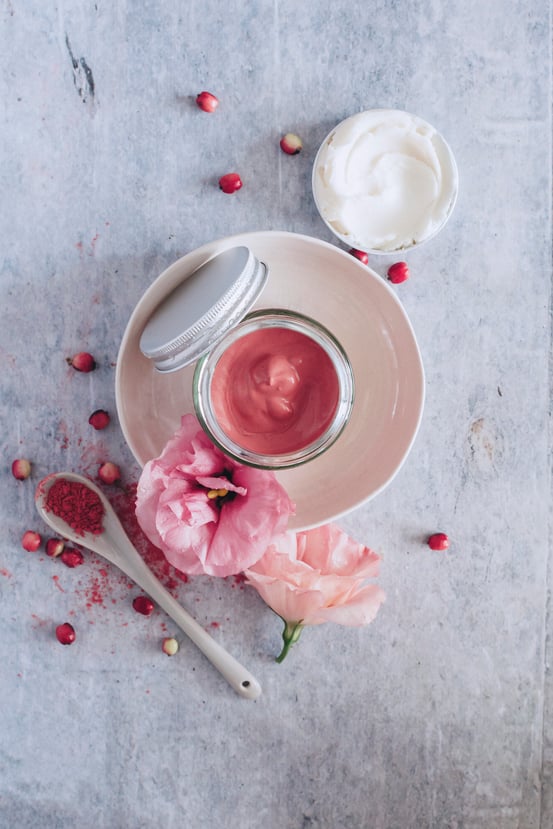 Cranberry Lip Gloss and Cheek Stain Recipe
Ingredients:
Directions:
Heat 2 inches of water on low in small saucepan.
Add coconut oil to a small, heat-safe glass bowl and place on top of saucepan.
Once coconut oil has melted, add cranberry and beet root powders. Let mixture stand for one hour to infuse oil, monitoring the saucepan and adding more water if needed. Remove from heat and let mixture cool slowly.
Strain the warm oil through cheesecloth into a small bowl. Press gently on the solids to extract as much of the oil as possible.
Stir in shea butter. It should melt easily if the oil is still warm. If it is not, slowly warm it up before adding shea butter.
Let mixture cool, stirring to keep the color particles suspended.
When the mixture has solidified, gently beat it with a spoon until light and creamy.
Transfer to a small jar with a tight-fitting lid and use as needed.
This gloss melts easily, so it's best not to keep it in your pocket! If you live in a warm climate, you can add the beeswax to firm up your gloss and add more texture. Gently melt 1/2 teaspoon beeswax pastilles into the coconut oil after straining and before adding the shea butter to give it a more balm-like consistency. We recommend using this gloss within six months.
Want more natural body care ideas?
You may also be interested in: