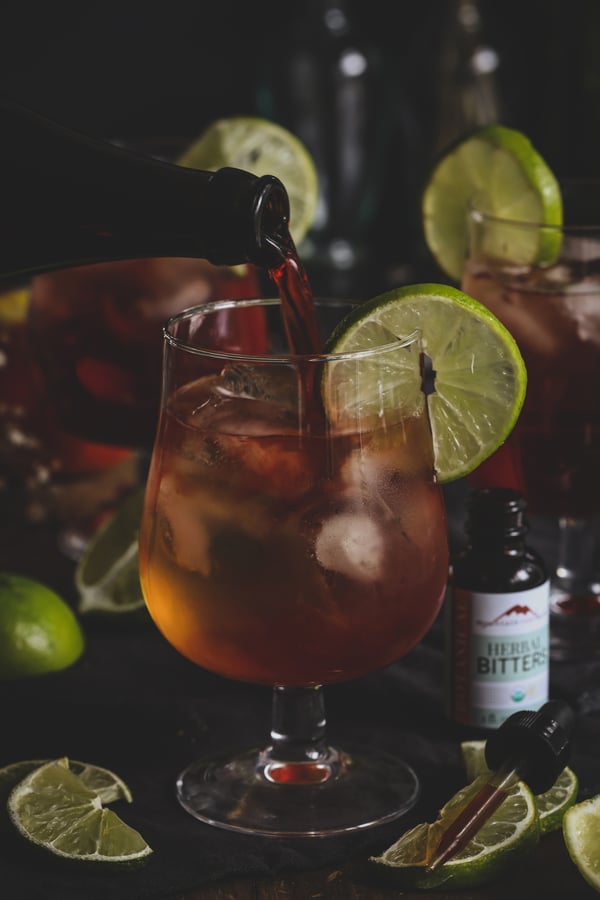 Spring is the perfect time for a simple, satisfying craft cocktail. This cassis cider cocktail brings authentic flavors and intentionality to the bar cart, beginning with ingredients that make you feel good. Finnriver's special release, Black Current Social Justice Cider (available in the NW Cider Club Discover Washington Box) lends a deep garnet color, with semi-sweet fruit and tannin structure. Herbal bitters, from Mountain Rose Herbs add bright flavor elements, while supporting digestive function. The result is a delightful craft cider cocktail with pre-meal digestif qualities that can lead seamlessly into your evening meal. Finnriver's Social Justice Cider Project also shifts energy towards greater equity and justice in our society by raising awareness of BIPOC (Black, Indigenous, People of Color) projects designed to create positive transformations in our communities, and by sharing resources with the groups doing this vital work.
Cider—the alchemy of apples, yeast, and time—offers a taste that is both familiar and versatile. From youthful days spent in sun-soaked orchards to refined cage-and-cork finished bottles of sparkling wine, the familiar apple comes alive during fermentation. If feeling good is the goal of this libation, cider is the inspiration.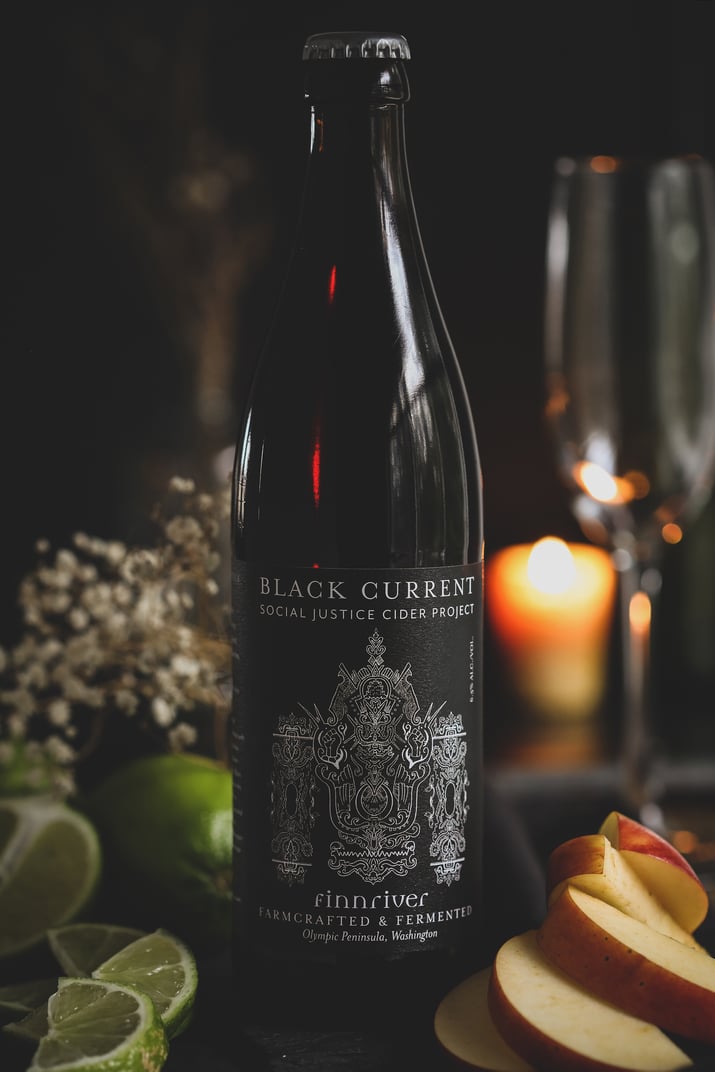 Reminiscent of Kir Royale and anchored in cassis aperitif lore, this cocktail blends black currant cider, sparkling white wine (or sparkling cider!) and whiskey, finishing with a vibrant dash of herbal bitters and lime. Perfect for welcoming the longer evenings of spring and especially well-paired with fresh fruit or crostini with soft goat cheese.
In this cassis cider cocktail, dark fruit cider offers a sensible, earthy grounding with room for bright effervescent bubbles to loft upward. Whiskey layers in richness and bark notes, brightened and complimented by a thoughtfully selected bouquet of herbal bitters. Finally, fresh lime amplifies the tannic, tartness of black currant, intersects the viscosity of whiskey and provides a zest that makes the whole glass come alive.
Cassis Cider Cocktail Recipe
Makes two 5 oz. drinks
Ingredients
Ice
2 oz. bourbon whiskey (port-barrel finished)
1 dropper Mountain Rose Herbs' Botanical Bitters
4 oz. Finnriver Social Justice Cider or other black currant cassis cider
4 oz. Prosecco (or sparkling cider)
1 organic lime
Directions
Fill each glass half way with ice.
Divide whiskey and bitters between glasses, gently stir.
Divide hard cider and sparkling wine between glasses.
Squeeze 1/4 lime into each glass.
Slice remaining half of lime and garnish each glass with a lime slice.
Enjoy!


Pro Tip
Sub sparkling cider for white wine or substitute sparkling water for a lower carb, lower alcohol version




Looking for more botanically-inspired cocktail recipes?

You may also enjoy:

How to Make Vermouth + Cocktail Recipe
Herb-Infused Summer Cocktails and Mocktails
What are Digestive Bitters and How Do They Work?