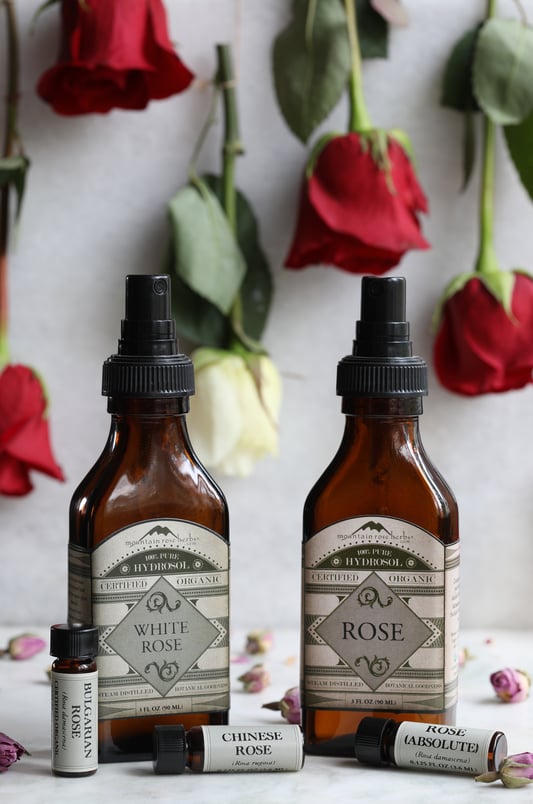 As a sensual scent, rose is associated with love and the heart. It promotes closeness and emotional balance, and its sweet, floral notes can be found in an array of scented products. From luscious lotions and skin care, to sweet perfumes and warming diffuser blends, this versatile ingredient makes a regular appearance. Use this helpful guide to sort out the subtle differences between the natural rose essential oils and hydrosols we offer, so you can find the perfect rosy ingredients for you and your budget.
How Rose Essential Oil is Made
Did you know that it takes 60 roses to craft one drop of steam-distilled essential oil? Rose oils and hydrosols are made only once a year. Because of this, weather can greatly impact the yield of an extraction. The roses we use are usually hand-harvested in the morning, their petals plucked only when their oil content is at its highest, and then transferred directly to stills. We work closely with our long-time distillers prior to harvest to ensure we have plenty of rose-scented goodness until the next season.
Blending Rose Oils
Rose oils are considered a middle note, so they do not need a whole lot of base note support. They can be overpowered and lost in an aroma blend, so you will want to take that into consideration. Both the oils and hydrosols blend well with other florals like geranium, ylang ylang, and chamomile. They can be combined with woody earthy notes like sandalwood or patchouli, and are wonderful compliments to resinous oils like myrrh or frankincense. Rose is fun to blend with, so don't just limit yourself to our suggestions. Follow your nose!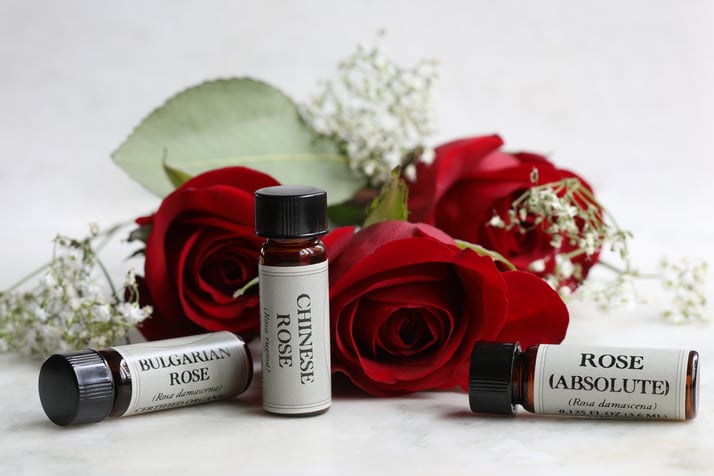 All About Rose Essential Oils and Absolutes


Botanical Name: Rosa damascena
Aroma: This classic scent is sweet and floral with deep, round notes that give it a rich body.
Appearance: Clear, translucent to almost colorless.
Uses: Rosa damascena is the most commonly used rose species for extraction. This steam-distilled oil can be used in fragrance and diffuser blends, and it makes a luscious addition to skin care products for normal-to-dry skin.
Botanical Name: Rosa rugosa
Aroma: This rosy floral is soft and rich with powdery top notes and a honey-like sweetness.
Appearance: Translucent reddish amber.
Uses: Chinese rose embodies the rosy scent that we all love. It has deeper notes than the Bulgarian oil that we offer, and it may be preferred if you like a scent that is heavy and sweet. Steam-distilled, this rose oil can also be used for fragrance and diffuser blends. It can be incorporated into body care recipes, but it may slightly affect the color of your finished product, depending on the recipe.
Botanical Name: Rosa damascena
Aroma: A sweet and floral rosy scent that resembles the distilled oil with a fuller body.
Appearance: Translucent burnt-red.
Uses: Rose absolute is extracted from the same species of flowers as our Bulgarian essential oil. However, this material goes through a solvent extraction using alcohol. This method creates more oil than a steam distillation, making it a bit more economical for diffusing. Rose absolute has a classic rosy aroma, but it is filled with tenacious base notes that are rich and long-lasting. Absolutes are best saved for diffusion and room sprays. We do not recommend using them for body care products.

Botanical Name: Rosa damascena
Aroma: Beautiful rosy notes that are sweet and floral.
Appearance: Clear, translucent liquid.
Uses: Our rose hydrosol comes from the exact same stills that our Bulgarian essential oil is made in. The hydrosol and oil have strikingly similar scents. Hydrosols are a very cost effective way to incorporate aromas into water-based skin and hair care recipes, and they can be used as a replacement for water in recipes. Rose hydrosol makes a wonderful facial toner. Just spritz as is or add in a few drops of essential oil. It's ideal for all skin types and is often found in formulas for dry or mature skin.
Botanical Name: Rosa alba
Aroma: Its rosy notes are soft and delicate. White rose hydrosol offers a lighter floral scent than Rosa damascena.
Appearance: Clear, translucent liquid.
Uses: White rose hydrosol can be used in all the same ways you would use our rose hydrosol. It brings a lighter floral scent that is not as strong, yet still beautiful and enchanting.


Looking for More Helpful Info Before You Purchase?


You may also be interested in: