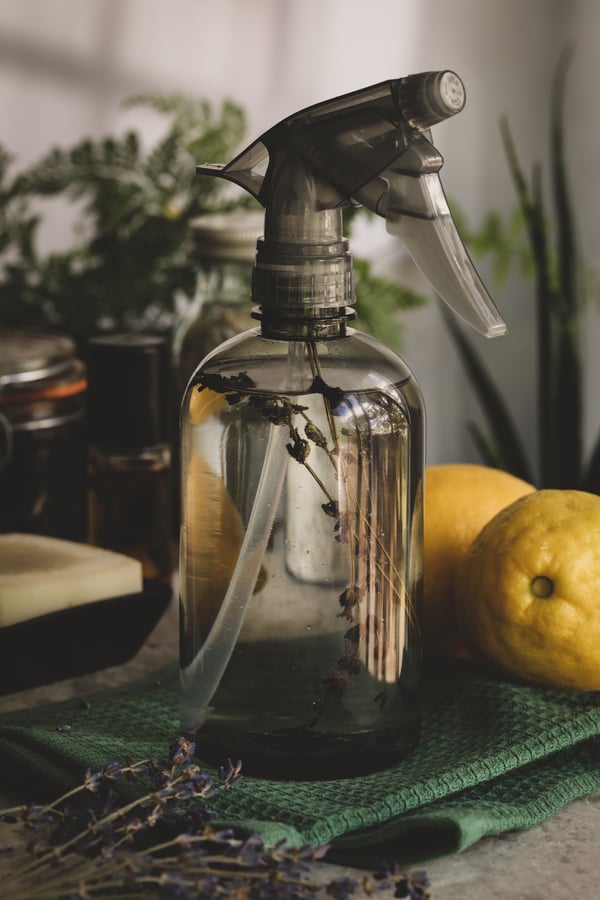 Lately I have been thinking a lot about how to reduce the presence of plastic in my life. With the recyclability of plastics becoming more and more of a question mark, and a disheartening one at that, the place that I keep arriving at is to just try as hard as I can to remove plastics from the equation altogether. The kitchen was the first place I started with my sustainability makeover. I slowly began to change my shopping habits so that I would wind up with less leftover single-use plastics at the end of the week. It wasn't easy but it was incredibly liberating; it eased my conscience a bit to know that I was able to take steps toward a greener lifestyle. As my interest in living more sustainably snowballed, I began seeing problems everywhere I looked in my house, particularly with my cleaning products, and especially with my bathroom cleansers.
Cleaning products are the unsung heroes of a sparklingly clean bathroom and we tend to become very loyal to the products that we know work. Unfortunately for them, I was on a mission and my loyalties were being called into question. With my new passion for earth friendliness raging, I quickly vetoed all of my old standbys. Whether it was due to excessive plastic packaging, or questionable ingredients, they all had to go. Thus began the exciting process of bringing more sustainability to the bathroom! After some trial and error, here are a few DIY cleansers that I have found especially nice to use.

DIY Bathroom Surface Spray
Ingredients
Directions
Combine all ingredients in

16 oz. spray bottle

and shake well before each use.

Use this aromatic solution for bathroom counters, cabinets, blinds, tile, sinks, tubs, and fan blades.
Pro Tip
I purchased a glass spray bottle, but you could also upcycle an old plastic bottle.

Vinegar should not be used on granite countertops as it can have adverse effects on the sealant.
Mirror and Glass Cleaner
Ingredients
1 part distilled white vinegar

1 part distilled water
Directions
Fill an upcycled or glass spray bottle with equal parts of water and vinegar and shake gently to combine.

Spray directly on mirror or glass

Use balled-up newspaper, microfiber cloth, or material of choice, and wipe in circular motions until dry and streak-free. The vinegar scent should dissipate after a few hours, but a few spritzes of an aroma spray can sometimes aid in this process.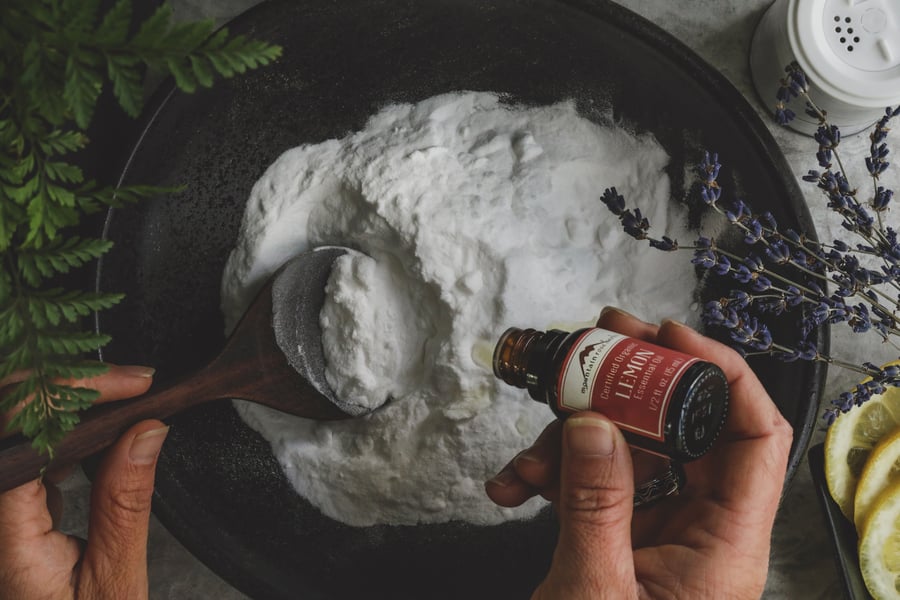 Homemade Fizzy Toilet Bowl Powder
Ingredients
Directions
Using a wooden or non-reactive spoon and a glass or stainless steel bowl, combine dry ingredients.

Drop in essential oils and mix thoroughly

Transfer to cardboard shaker top bottle for easy dispersal.

Sprinkle desired amount of powder directly into the toilet bowl and watch it fizz! Then scrub and flush.
Pro Tips
Mix in a well-ventilated room. You may also want to wear a mask while mixing if you are sensitive.

Please keep out of the reach of children and pets!

This mixture is not toilet-exclusive. Mix some powder in with hot water to create a solution that can be used in tubs, showers, sinks, or even for floor mopping.
Want to bring sustainability into other areas of your home?
You may also enjoy: