Scents surround us everyday, everywhere, but we often find ourselves lacking the language to adequately describe them. Those who craft fragrances for aromatherapy or simple enjoyment often borrow from the lexicon of music to characterize different scents, and familiarizing yourself with the concept of these "fragrance notes" can help you create harmony and balance in your own essential oil blends.
Our sense of smell is one of the most subjective and evocative ways through which we perceive our world. We associate odors with our feelings and memories, which can further complicate the task of describing them. That's why aroma aficionados follow some simple guidelines related to the elements of a chord in music—another medium which, appropriately, we also tend to link with our feelings and memories.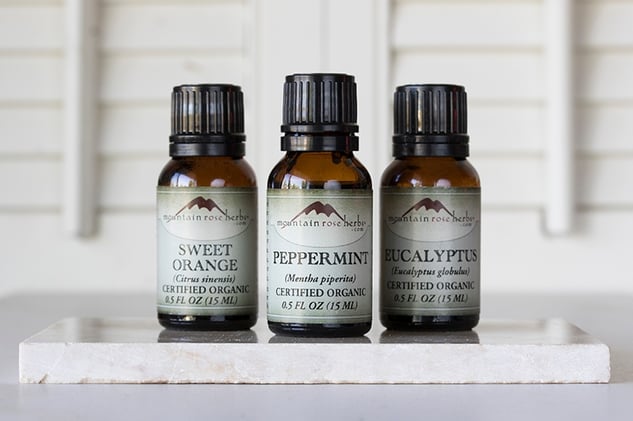 Three Fragrance Notes Defined
What Are Top Notes?
Top notes are the first impression of an aroma. They are usually light and sharp, and evaporate quickly, sometimes within 5 to 10 minutes. Sniff your blotter right away to pick up on the top notes. Some essential oils that are considered top notes are: citrus oils (orange, lemon, grapefruit), neroli, peppermint, and eucalyptus.
What Are Middle Notes?
The next aroma that you will experience is the middle note or the body of the oil/blend. These notes are the main part of the aroma and may last up to 2 hours. Some popular middle note essential oils are clary sage, geranium, tea tree, and juniper.
What Are Base Notes?
The final note to an aroma is the base note. Sometimes referred to as the dry out note, fixative note, or bottom of the aroma. These will start to appear within a couple of hours of putting the oil/blend on the blotter, and can sometimes last for up to a day. Some classic base notes come from vetiver, cedarwood, patchouli, and ylang ylang.
Every aroma combination or single essential oil has elements of all three notes (top, middle, and base). A particular oil may be classified as a top note, but will still contain some characteristics of the other two, all working together in harmony. Hopefully, this information helps to make their complex beauty a bit easier to find and to understand.
Want to learn more about essential oil blending?
You Might Also Enjoy: