There is a growing recognition on the part of conscientious consumers about the sources of the botanical products they purchase, both in regard to where their favorite herbs come from and how their own purchasing behaviors impact environmental sustainability. This increasing awareness that there are people and places tied to every item we buy involves not just knowing where a botanical comes from, but also acknowledging the context in which it is harvested.
Forest Farming vs. Wildharvesting
In America's forests, wildharvesting has long been the way that people sourced valuable woodland botanicals like ginseng, black cohosh, and goldenseal. Now, however, the available supply of these non-timber forest products (NTFPs) is being augmented through intentional propagation, a practice known as "forest farming." Through a combination of direct plantings of forest botanicals and the tending of existing plant populations to improve their numbers and viability, woodland agriculture offers the promise of much greater control over the stewardship of botanical sites and the quality of the botanicals cultivated on them. Not only does forest farming provide a clear, consistent supply chain, it also empowers consumers to play an active role in supporting the future of threatened species, ecosystems, and communities.
Forest Farming in Appalachia
Many woodland botanicals are sourced and harvested in Appalachia, in areas that have long been economically stressed. Historically, the true wealth of the region—the "green capital" of the trees and plants growing throughout its forests—has not necessarily been channeled into the hands of the people who live there. But now, with the greater recognition on the part of consumers and companies as to how raw materials are sourced, forest farming and its inherent promise of better prices may provide an avenue toward environmentally focused economic development in the region.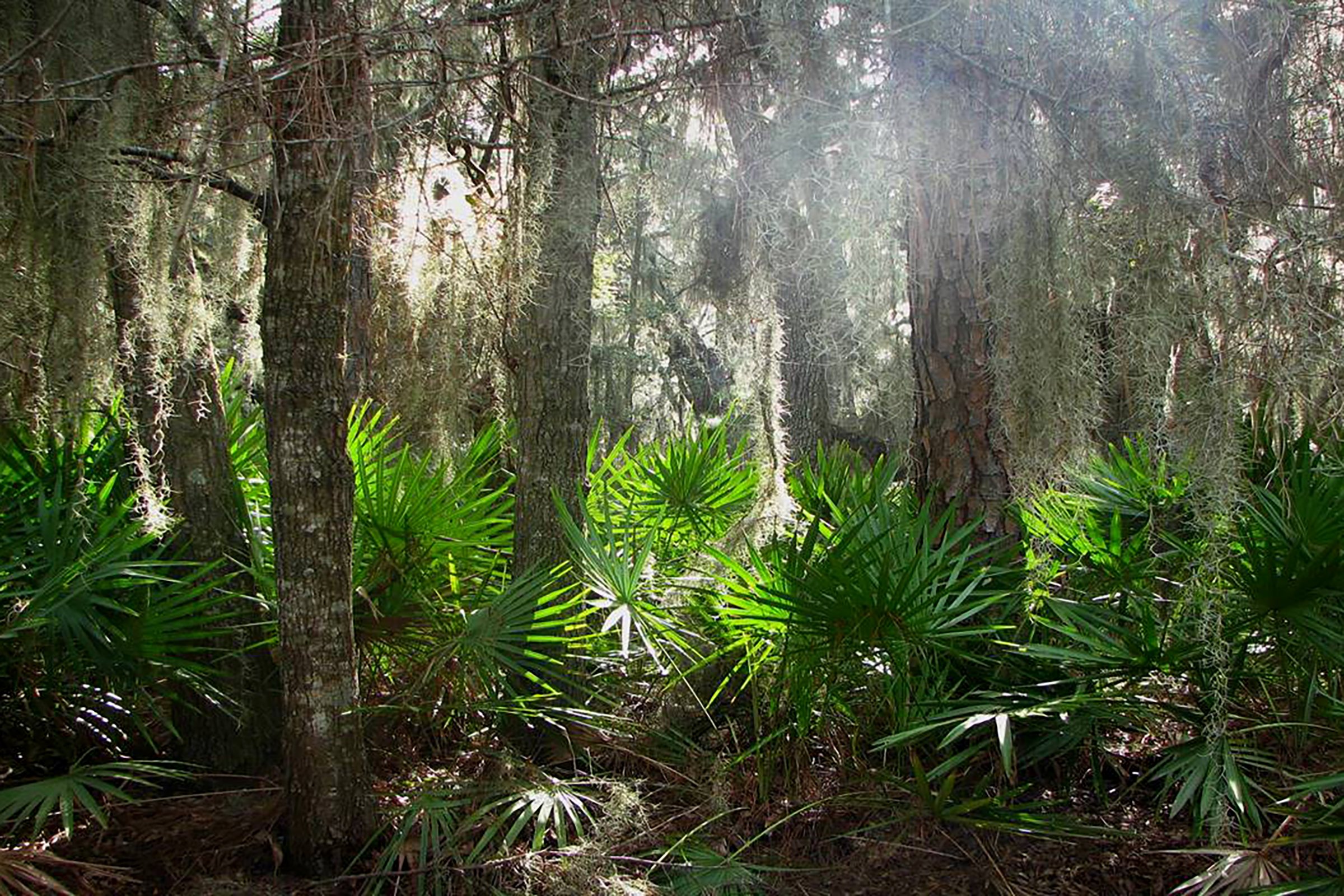 Saw palmetto is cultivated for eventual selective harvest within the boundaries of one southern Appalachian forest farm. (Photo credit: Eric Burkhart)
The Challenges of Forest Farming
One of the most obvious up-front challenges facing this budding industry is the time lag inherent to cultivating slow-growing perennial woodland plants. A forest farm established today will likely not render a saleable harvest for four to six years. Uncertainty about how to support operations during this waiting period, as well as how the market may change over time, can make the initial investment seem like a risky proposition for landowners and other people interested in forest farming, especially those with already limited financial resources.
Additionally, because woodland agriculture is not well defined or long established, forest farmers do not yet have access to some of the basic, critical support structures that the government has put into place for field farmers: for example, insurance. Best practices for these systems are also still in their formative stages, imparting an experimental and uncertain quality to these new agricultural endeavors. This shortage of economic and educational support systems presents difficult hurdles for those interested in investing in forest farming.
While these practical challenges are important and undeniable, they are also inevitable to any new industry and can be overcome over time through research and experience. The greatest challenges are the directional ones that lie ahead, those which will shape the industry for generations to come.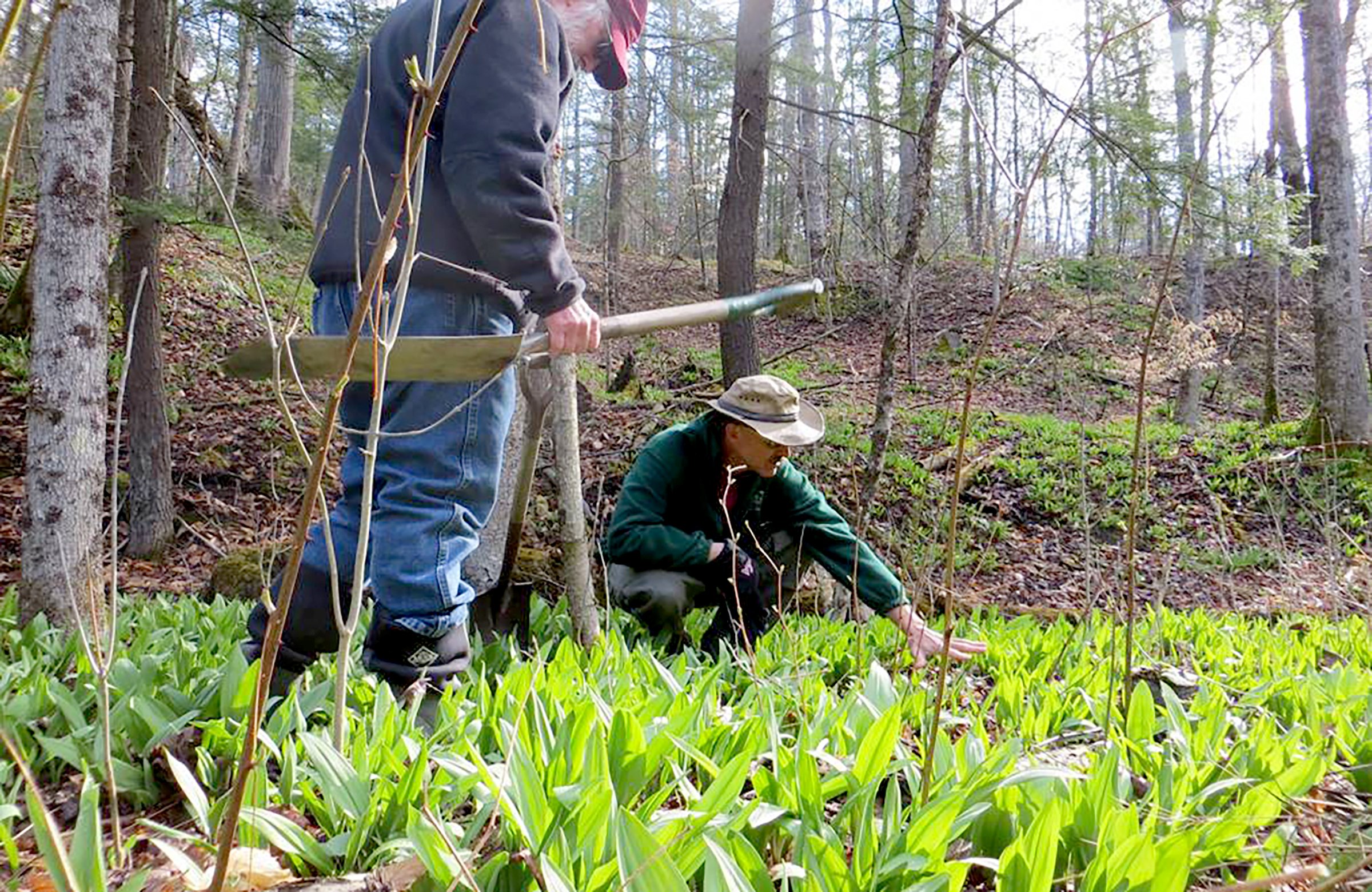 Forest farmers tend to a crop of ramps, a delicious wild onion variety native to Appalachia, within the plants' natural setting.
We know that the market for NTFPs is substantial, since the demand for them has sustained a sizeable independent wildharvesting industry for generations. But because the wild collection of NTFPs has long been seen as recreational and of little consequence and value in the worldwide herb market, generations of these traditional suppliers have been marginalized. As we move forward with forest farming, it is imperative that we build in systems to ensure that these wildharvesters are able to access new opportunities and possibilities. And as interest in intentional forest farming grows throughout the region, we must enable new and existing systems of production to move forward together, building a reputation for traceability, sustainability, and integrity that benefits the entire agroforestry market, from producers to consumers.
Supporting Forest Farming with Mountain Rose Herbs
Allies like Mountain Rose Herbs and United Plant Savers have been leaders in the burgeoning forest farming movement and are actively helping to formulate a process that balances environmental sustainability with economic development and social justice—bringing together the people, the plants, and the products to create better outcomes for all three.
By buying these botanicals at higher price points and demonstrating how this kind of economic development could pay off, Mountain Rose Herbs is helping to define the next steps for the entire herbal products industry, namely, by providing solid evidence that environmental sustainability can be a sound and responsible business practice. Through the purchase of forest-farmed, forest-grown products, they have shown that it is possible to grow this industry.
Furthermore, their willingness to commit to being long-term customers for sustainable forest botanicals helps absorb some of the risks new Appalachian forest farmers face, which aligns with Mountain Rose Herbs' own mission to help forge a better future for the region's people and plants.
Similarly, in the midst of this economic development proposition, United Plant Savers brings the conservation piece of the forest farming equation to the table in a very powerful way. They have a long history of working to conserve plants throughout Appalachia, and they have been a key driver in terms of defining next steps and best practices that can help put the industry on track for a bountiful and sustainable future.

Organizations like Appalachian Sustainable Development support regional farming by establishing community resource networks and food hubs like Appalachian Harvest.
Learn More & Get Involved
There are many resources available for folks interested in learning more about and/or supporting forest farming initiatives. Nongovernmental organizations such as United Plant Savers, Rural Action, and Appalachian Sustainable Development have worked to make information available to the public and to provide workshops and training to current and potential producers. Universities and their extension services also provide fact sheets and other types of publications around the particular plants and some aspects of management.
The Appalachian Beginning Forest Farmer Coalition is a network of forestland owners, universities, governmental and other organizations that share the common goals of improving agroforestry opportunities and capabilities; providing education and relationship building; increasing awareness of forest-grown medicinal plants; and supporting conservation efforts through stewardship of existing native botanicals. The coalition provides a beginning farmer and rancher development program and training events, and it also acts as a clearinghouse for agroforestry information. With a membership of over 1,000, we have trained more than 750 people in forest farming practices over the last three years.
Want to Get Involved with Sustainable Agroforestry?
You may also enjoy: