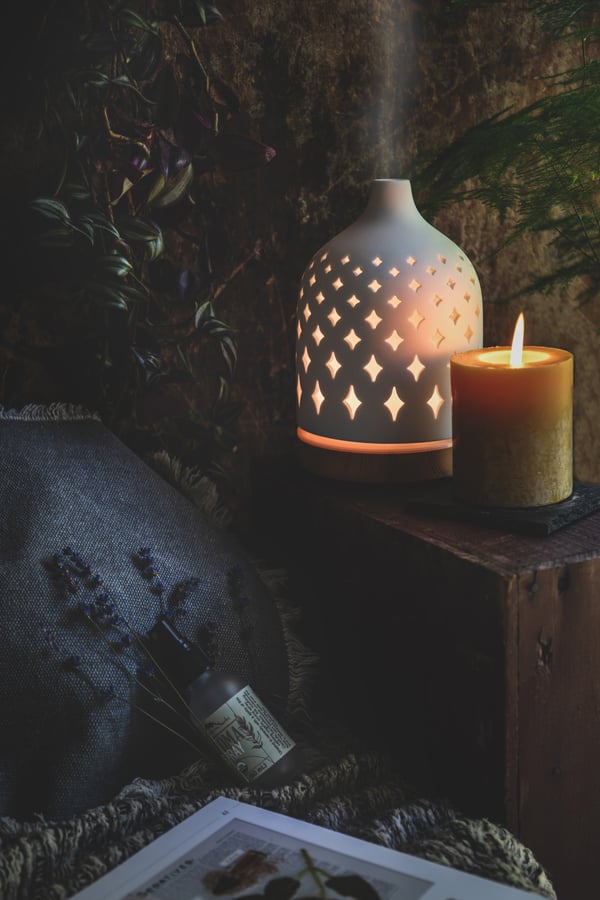 Dear sleep, I'm sorry we broke up this morning. I want you back! ~ Anonymous
We all know that getting adequate sleep on a regular basis is important for good health and attitude. Good sleep habits are linked to a whole variety of wellness goals: improved concentration, better organization and productivity, healthy body weight, better physical performance, heart and brain health, increased immune function, and more. We also know that lack of sleep on a regular basis worsens depression, impacts blood sugar, antagonizes inflammation, and affects our ability to participate in healthy social relationships. As we're all figuring out how to re-engage with our world, finding ways to sleep peacefully and to create a healthy schedule is more imperative than ever. Happily, incorporating pure, natural essential oils into your bedtime routine is a wonderful way to let your body and mind know that it's now okay to rest.
How to Use Essential Oils for Relaxation and Sleep
There are several effective ways to use essential oils to help you sleep. Diffusers are a common, excellent option. However, if your diffuser is the beautiful sort that lights up and flashes and changes colors, don't use that feature when trying to create a restful atmosphere; that "dance-party" mode translates in the brain as wake up! It's the same reason experts recommend keeping your cell phone(s) out of your bedroom; you need to give your brain permission to rest instead of always keeping some part of it on alert. Place the diffuser in the bedroom as you lay down. And/or, if you are an evening bather, run the diffuser in the bathroom as you unwind in the shower or soak in the tub.
Other ways to bring the aromatic assistance of essential oils to your bedtime routine are homemade room sprays, linens sprays, and restful massage blends. We have also found DIY herbal dream pillows to be a wonderful, gentle addition to a good night's sleep.
Remember, essential oils are pure and potent, and can cause skin sensitization. Never use essential oils undiluted or in the eyes or mucus membranes.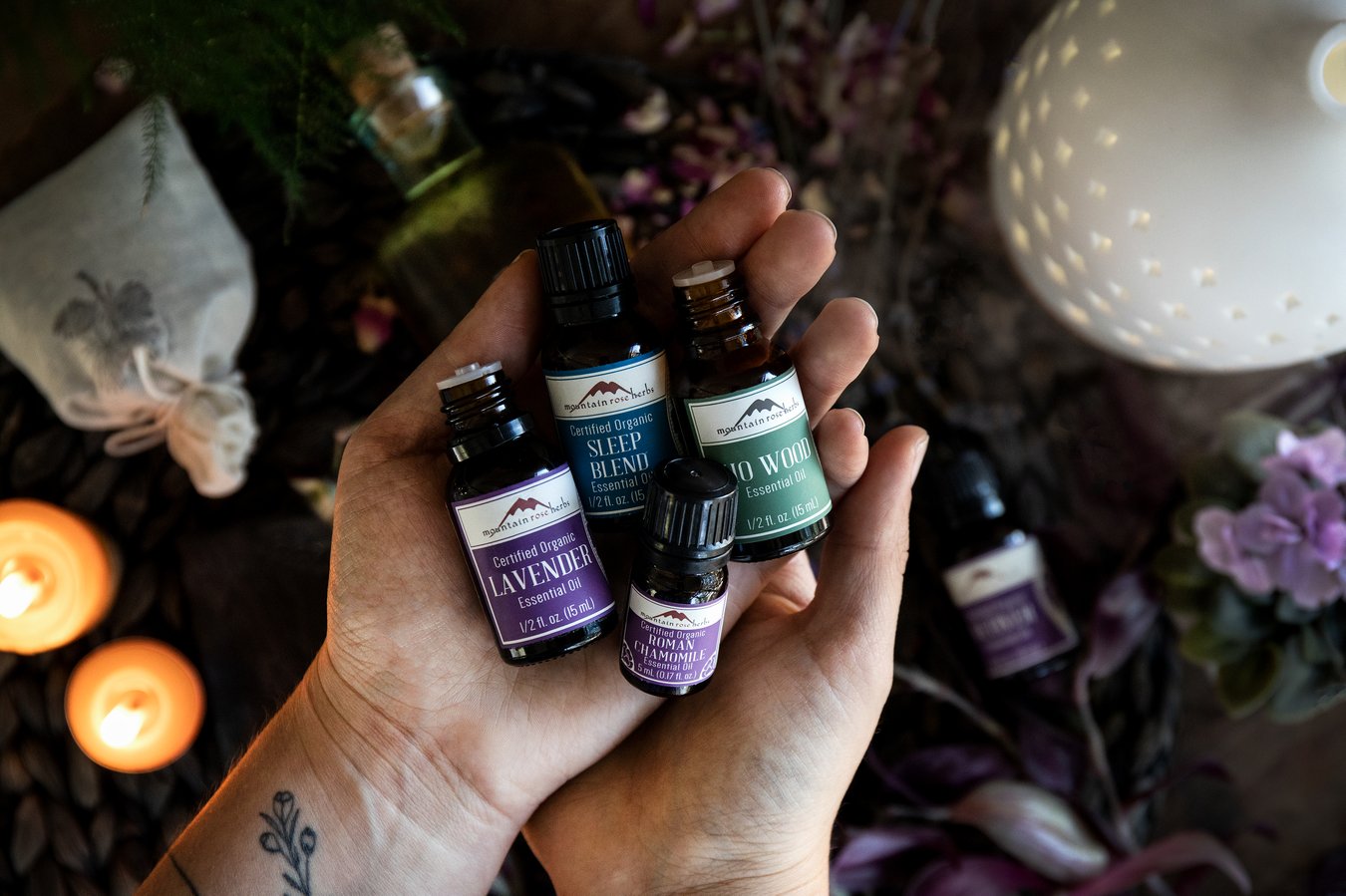 Best Essential Oils for Sleep
Bergamot—Organic bergamot (Citrus bergamia) is primarily grown for its citrusy, floral essential oil that has both sweet and bitter notes. The oil is cold pressed from fruit peels and then fractionated to remove the phototoxic constituents. While other citrus oils are said to be energizing, bergamot stands out for its calming properties.
Clary Sage—Steam distilled from the leaves and flowers of Salvia sclarea, organic clary sage is a middle note with a naturally calming bittersweet aroma. Clary sage is often used in meditative practices to release stress and promote calm and relaxation.
Ho Wood—Similar to rosewood, but produced from a much more renewable source, ho wood oil is a middle note that is steam distilled from the bark and twigs of Cinnamomum camphora. Its warm, woody aroma is widely used in the most relaxing blends.
Lavender—Organic lavender essential oil may be the best known "relaxation" herb on the planet. This middle note oil is steam distilled from the flowers of Lavandula angustifolia and has an unmistakable floral-herbal aroma that is widely loved around the world.
Roman Chamomile—Steam distilled from the flowers of Anthemis nobilis, middle note, organic Roman chamomile has a light scent with restful, wholesome notes of honey and apple that help you drift happily off to sleep.
Sleep Blend—We make our organic sleep essential oil blend in-house in small batches. This combination of organic essential oils has a dreamy floral softness and subdued green notes designed to foster a calming atmosphere and help you feel at ease.
Vetiver—Organic vetiver essential oil is steam distilled from the roots of Vetiveria zizanioides and brings long-lasting aroma and earthy, calming qualities to your bedtime routine. It is noted for supporting good breathing so your body can fully relax.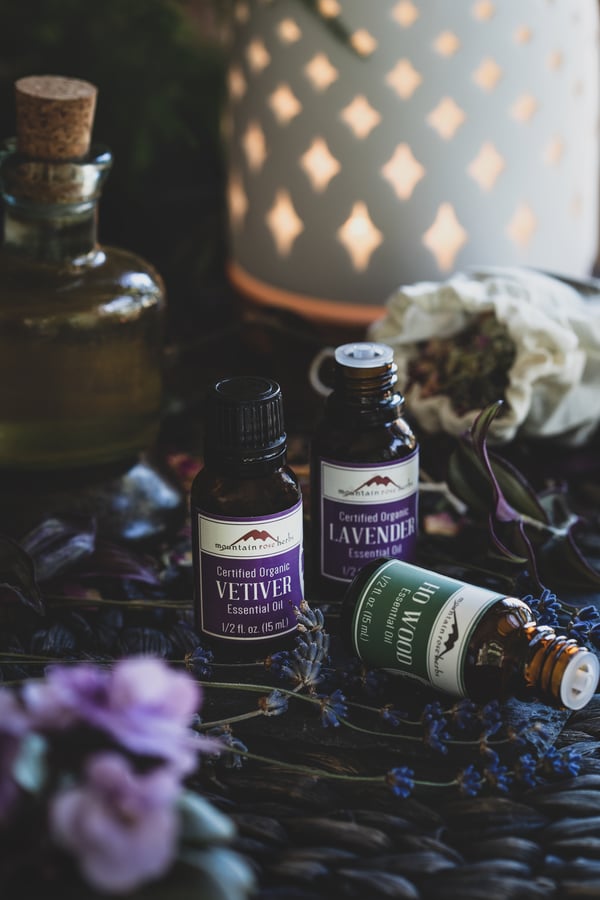 Essential Oil Diffuser Blend Recipe for Sleep
You can scale this simple blend according to the directions for the diffuser you are using.
Ingredients
Want More Wellness Tools to Help You Get a Good Night's Rest?
You may also enjoy: