The olfactory magic of essential oils is a very personal journey. In many ways, the power of scent and the power of devotion are bound inextricably together. They can illicit passionate and intoxicating sensations, pure comfort and relaxation, or a feeling of deep connection. Each of these oils celebrates this communion of the senses with earthy, sensual essential oils that have been crafted to inspire closeness and affection. We invite you to relax your hard-working mind, envelop your senses, enhance your self-appreciation, and create memorable moments through scent.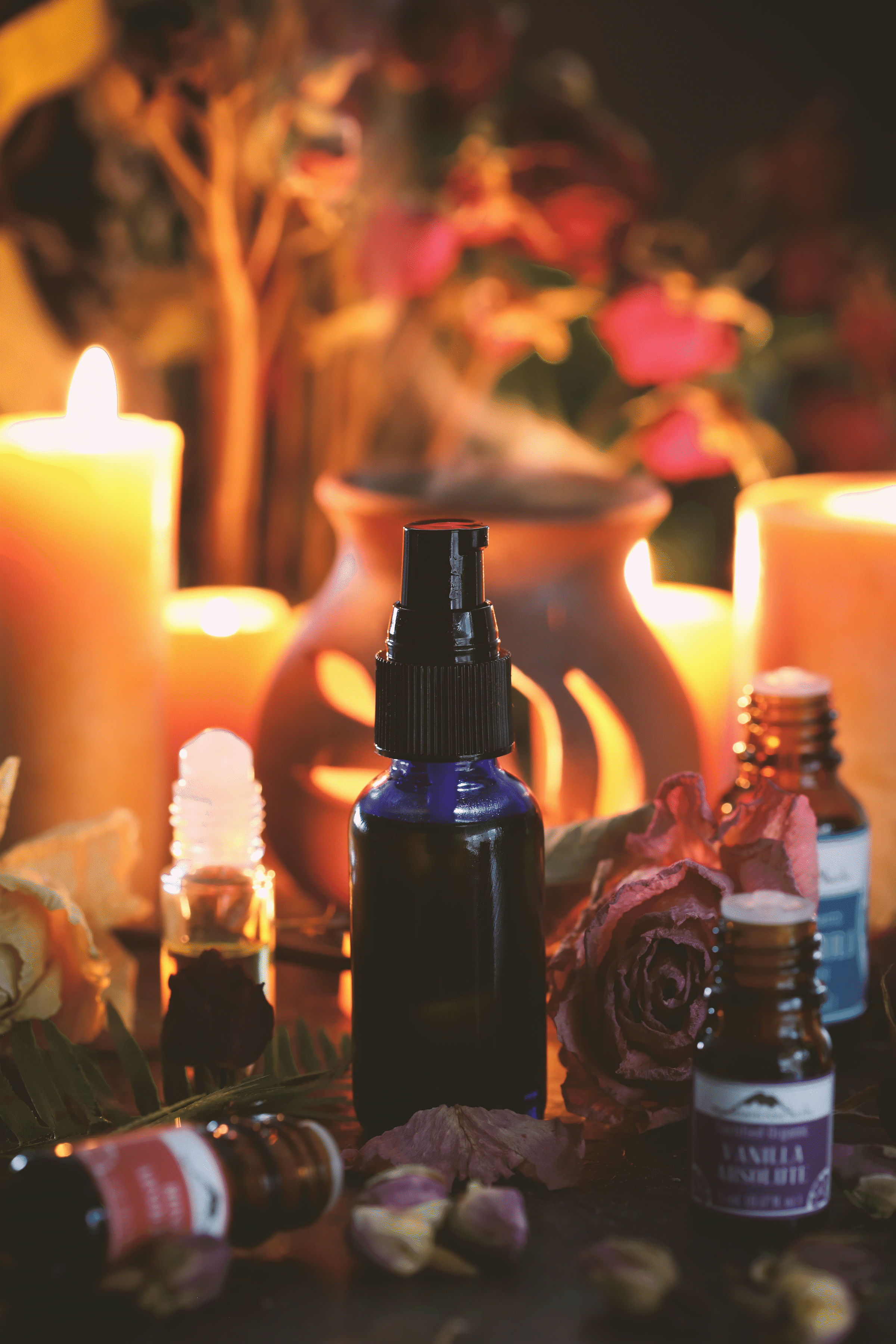 These oils can be used as single aromas or blended for use in diffusers, massage oils, perfumes, and body care recipes to support a relaxed state of mind and to open the emotions.
Australian Sandalwood (Santalum spicatum)
Distilled from sustainably cultivated trees, Australian sandalwood oil is a wonderful alternative to Indian sandalwood. The tenacious aroma has warm, resinous notes and a well-rounded earthiness. This oil is beloved in skin care oils and perfume. Blend with patchouli for a heady and grounding scent in lotions or a diffuser. Use with ylang ylang for a transformative full-bodied massage blend. Steam distilled from roots and heartwood.
Clary Sage (Salvia sclarea)
Captivating clary sage has a green and bittersweet aroma with soft floral notes. It eases restlessness to arouse a sense of well-being and calm. The herbal notes blend well with earthy patchouli in perfume or diffusers. Combine with sandalwood in creams and oils for a lovely bouquet that makes skin happy. Its drier notes will lessen the sweetness in other oils such as palmarosa or geranium. Steam distilled from leaf and flower.
Palmarosa (Cymbopogon martinii)
A fresh aroma with sweet, floral, and citrus notes often compared to rose. It is emotionally soothing, up-lifting, and helps diminish anger and promote closeness. A rosy oil in perfumes, salves, and other body care recipes. Blend with ylang ylang for a luxurious massage oil. Combine with sandalwood for an earthly and floral perfume or bath oil. Steam distilled from grass.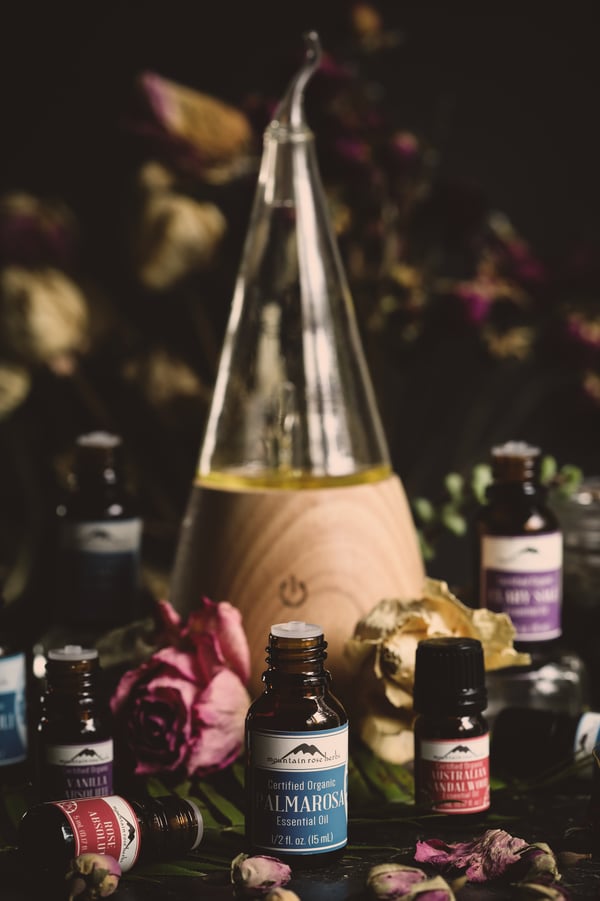 Patchouli (Pogostemon cablin)
Patchouli is smoky, earthy, and warm with subtle notes of spice. Alone it can be rather pungent but diluted in carrier oils or blended with other essential oils allows its elegance to shine. Like good wine or a good relationship, it is considered to improve with age. Diffuse to create a relaxing atmosphere that encourages harmony. Mix with palmarosa for a sweet, earthy, spicy aroma for skin serums or creams. Steam distilled from leaves.
Ylang Ylang (Cananga odorata)
The sweet and floral aroma of complete ylang ylang supports a positive mood. It inspires romance and closeness while fostering relaxation from daily stressors. Its fruity and tropical notes blend beautifully with clary sage creating a sweet and herbal balanced blend for diffusers and massage oils. Mix with patchouli for harmonious perfumes. A blend with sandalwood and rose creates a seductive fragrance that is both balancing and calming. Steam distilled from flowers.


Other Organic Precious Oils to Inspire Connection:
Jasmine Absolute (Jasminum grandiflorum)
Sensuous jasmine awakens feelings of warmth and purity. On its own, jasmine shines bright, but when blended with aromatic companions such as coriander, orange, rose, or sandalwood, this oil will dazzle you with its enchantment. This oil works especially well in massage oils or in perfumes.
Rose Absolute (Rosa damascena)
Rose is the quintessential symbol of love and is closely associated with the heart. Emotionally soothing, it promotes closeness and balance. Blended with sandalwood and yang ylang, it provides a fragrance that is both seductive and calming. To support but not overwhelm a rose blend, add mandarin, amyris, or palma-rosa.
Vanilla Absolute (Vanilla planifolia)
Vanilla is one of the most alluring aromas found in nature. Its sweet decadence swirls with a deep and sultry floral note to bring a soothing sensation to the mind and body. Able to stand on its own or offer itself as a base note in blends, it is a very versatile oil to have in your passion toolkit. Vanilla mingles softly with frankincense, orange, rose, or patchouli to create a comforting ambiance.
Want to invite more love into your skin care routine?
You might also enjoy: