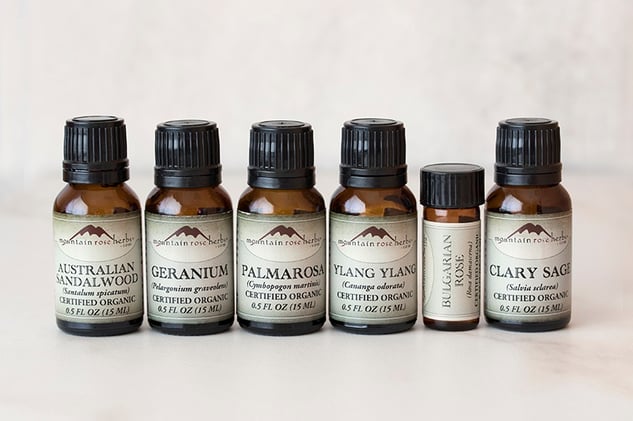 Powerful and intoxicating, essential oils can arouse feelings of love, passion, and attraction. They can enhance your self-appreciation, strengthen bonds with others, and create a memorable moment through scent. Whether you are pampering yourself or spending time with a friend or family member, essential oils can be combined to create luxurious perfumes, massage oils, diffuser blends, and so much more.
Our favorite essentIal oils for love

Organic Australian Sandalwood Essential Oil
Distilled from sustainably cultivated trees, Australian sandalwood oil is a wonderful alternative to Indian sandalwood. With a complex aroma that is slightly sweet, resinous, woody, and warm, this spiritual oil is calming, grounding, and romantic. Sandalwood is often blended with patchouli for a sensual note.
Organic Geranium Essential Oil
Sweet and heavy, geranium presents an aroma that is strongly floral, so a few drops go a long way. The scent encourages emotional balance and feelings of love and positivity. It blends well with sandalwood, patchouli, vanilla, and clary sage.
Organic Palmarosa Essential Oil
This floral aroma is sweet and heavy with a rosy, geranium-like scent that is rounded and grounding. Palmarosa is an uplifting and balancing fragrance that encourages closeness. Blend with geranium to create a scent that can be complimented with vetiver for a masculine note or mandarin to emphasize the feminine.
Organic Rose Essential Oil
This quintessential symbol of love creates an oil that has a sensual aura that is associated with the heart. Rose promotes closeness and emotional balance. To support but not overwhelm a rose blend, add mandarin, amyris, or palmarosa.
Organic Ylang Ylang Essential Oil
This rich and complex oil has a floral aroma that is sweet and heavy. One drop will go a long way, as this intoxicating scent is long-lasting. A blend of ylang ylang, sandalwood, and rose creates a seductive fragrance that is both balancing and calming.
Organic Clary Sage Essential Oil
This calming scent has a pleasantly herbaceous and bittersweet floral bouquet. Clary sage is emotionally calming and blends well with lavender and citrus oils. Its drier notes will lessen the sweetness in other oils such as palmarosa or geranium.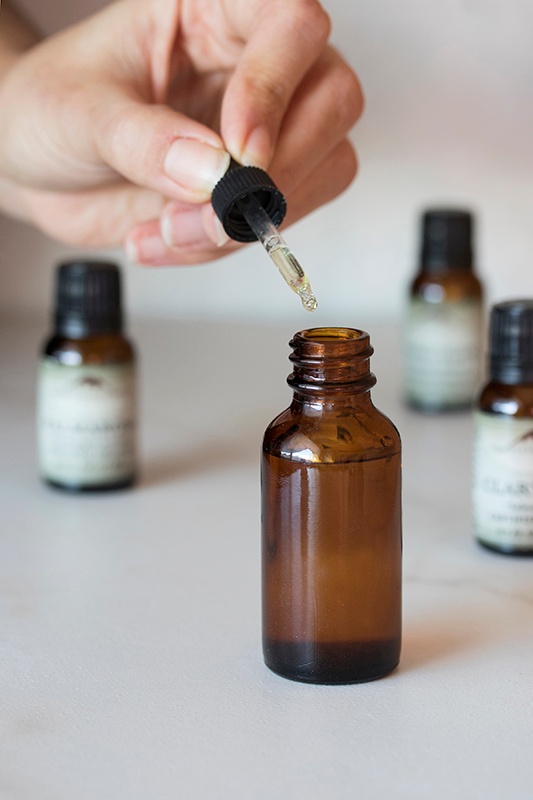 Pure essential oils are highly concentrated and should always be diluted with a carrier such as organic vegetable oil or incorporated into a finished product like massage oil, lotion, or aroma spray. We always recommend diluting essential oils for topical use. Read our dilution guide for recommended proportions or enjoy these easy recipes:
Basic Massage Oil
1 oz. carrier oil of choice
6 drops essential oil or blend
Directions:
Combine ingredients in a glass bottle with screw cap or pump top.
Invert bottle to blend before each use.
Easy Aroma Spray
12 drops essential oil or blend
Directions:
Combine ingredients in a glass bottle with mister top.
Shake before use and spritz as needed.
Find more tips on blending essential oils or master potions