Our Mountain Rose Herbs farm liaisons regularly travel to visit our family farmers. On a recent trip to Europe, David (one of our farm liaisons) met Frank (a fourth-generation farmer) and got to see his fields first-hand.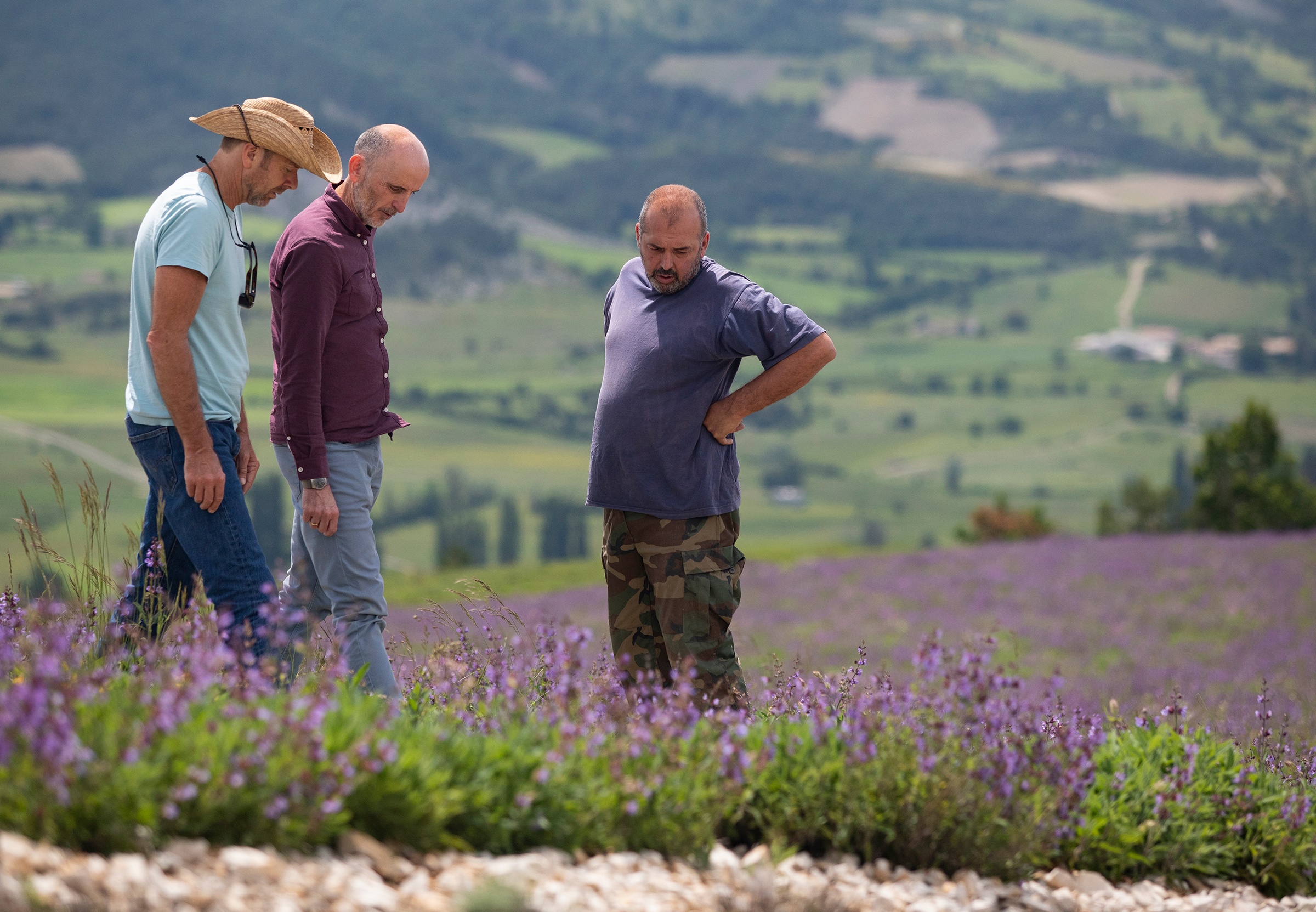 David (left) meets with farm partners Bernard (middle) and Frank (right) in a European sage field.

Conifer-covered peaks provide the backdrop for this stunning, high-altitude European farm where tidy rows of tall, purple blossoms run to a cliff's edge. The organic sage has gone to flower, which wouldn't be ideal if the plants were to be dried and used for their leaves, but this botanical is destined for the distillery. Months after the plants first begin to flower, they will be harvested. At that time, the naturally occurring essential oils will be at their most concentrated, poised for the complex process known as distillation, which creates the certified organic and pure sage essential oil our customers treasure.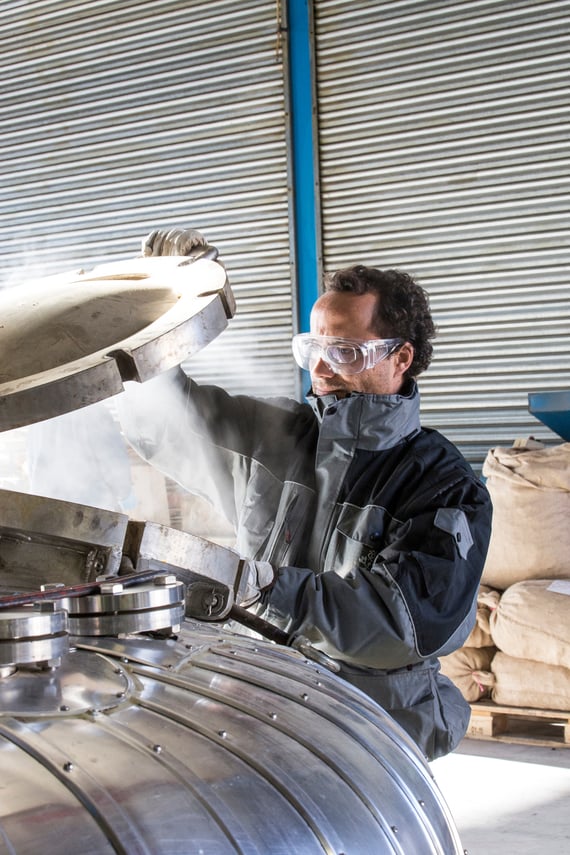 One of our expert distilling partners in France oversees the process that creates essential oils.
We love handcrafting plant-based goodies for our shop, but we leave essential oil production to distillers we know and trust. While the thousands of constituents found in botanicals worldwide are naturally occurring, the compounds aren't all necessarily innocuous when concentrated into a finished essential oil. That's why we work with expert distillers, whose relentless ingenuity and impressive know-how, allows them to focus on making safe, high-quality essential oils. In many cases, their wisdom is gleaned from chemical engineering degrees and knowledge passed down from the parents and grandparents before them.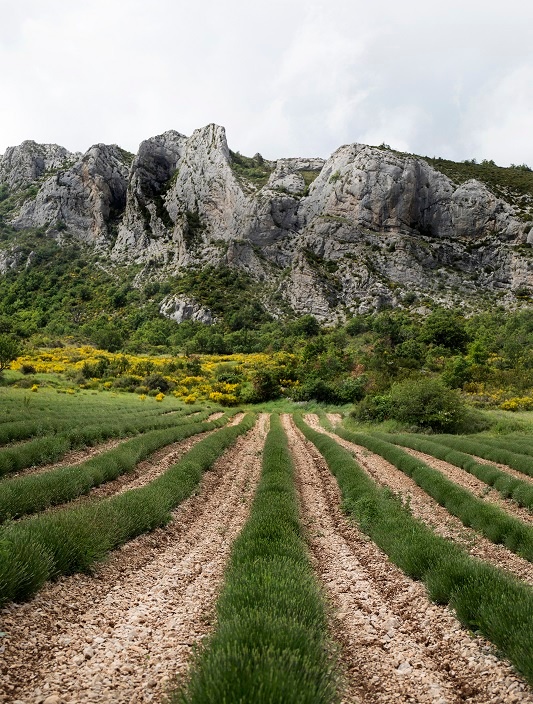 Rows of lavender just before bloom on this picturesque certified organic farm in Provence.
The best oils also aren't possible without plant lovers like Frank. His 114-acre farm of sage and other aromatic herbs is 100% organic—he converted to organic in 2006 after deciding he was finished using pesticides and chemical fertilizers, a choice driven by a desire to maintain his family's health and the health of his soil.
Frank shows David the technique he uses to gauge a plant's readiness for harvest, running his hand across its stem and petals to release its intense, herbaceous fragrance. After a deep, contemplative inhalation, the farmer nods his head with approval at the scent, which will eventually make an excellent bottled essential oil.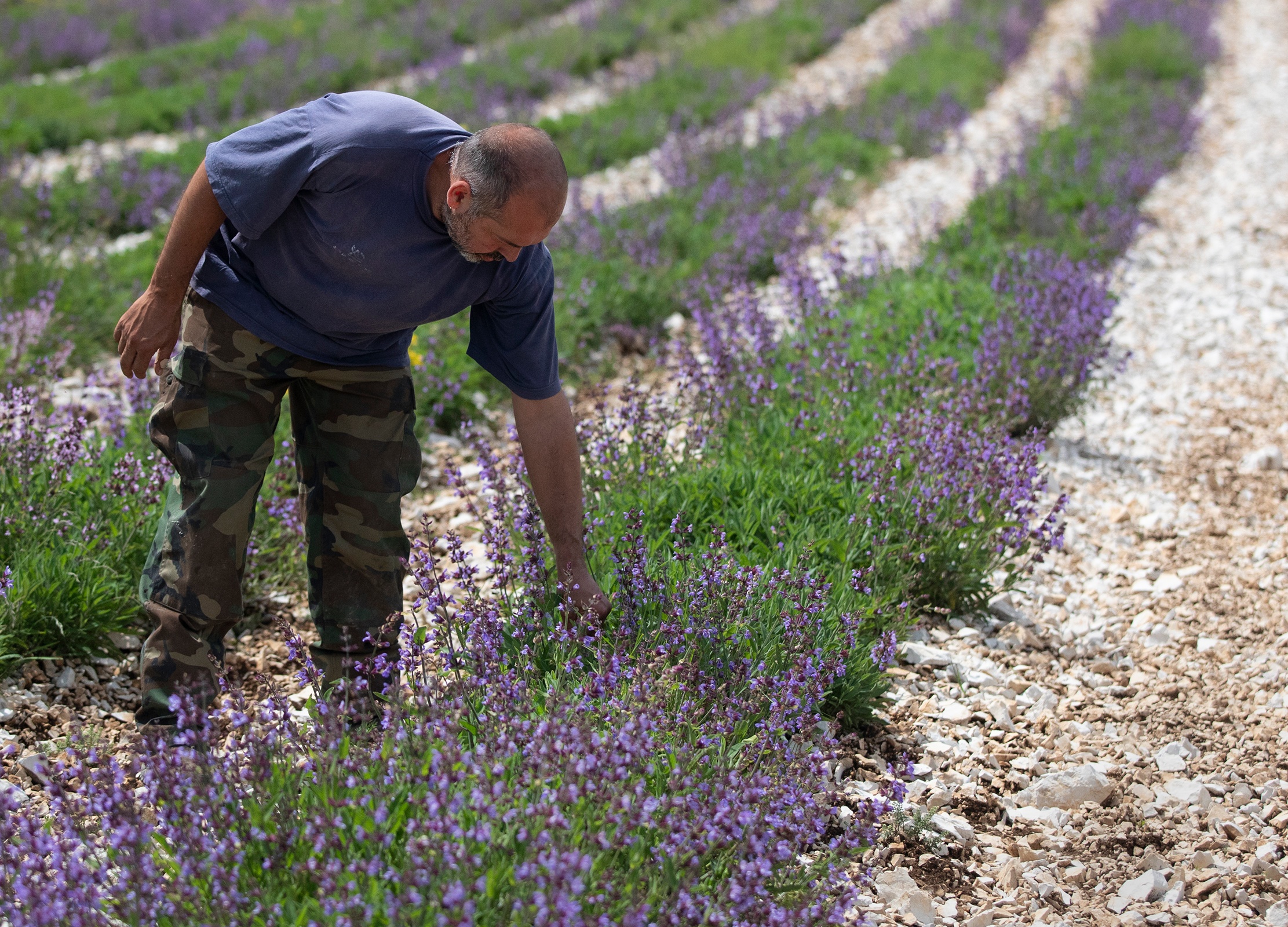 Frank checks the fragrance of his organic sage plants in rural Europe.
Frank's grandparents first started cultivating this land. Growing up, Frank helped his mother, Denise, with the family farm, which was then used mostly for dairy goats. Denise still lives on-site with Frank and his family, but she has since retired from the hard work farming requires.
When he took over the farm in 1982, Frank decided he'd rather grow aromatic herbs than raise goats. The sage and other fragrant plants he now lovingly cultivates (like lavender, hyssop, and thyme) are tended specifically for essential oil production. His picture-perfect organic sage fields are adjacent to rocky hillsides where thyme and lavender grow wild. These plants have coexisted here as long as Frank can remember and are the ancestors of the planting stock now used in his field—specific cultivars honed over generations. He also credits the sun exposure, fertile soil, and slope angle here for making these acres such bountiful land for aromatic botanicals.
Jokingly this modest man adds, "The oils are the best because of me."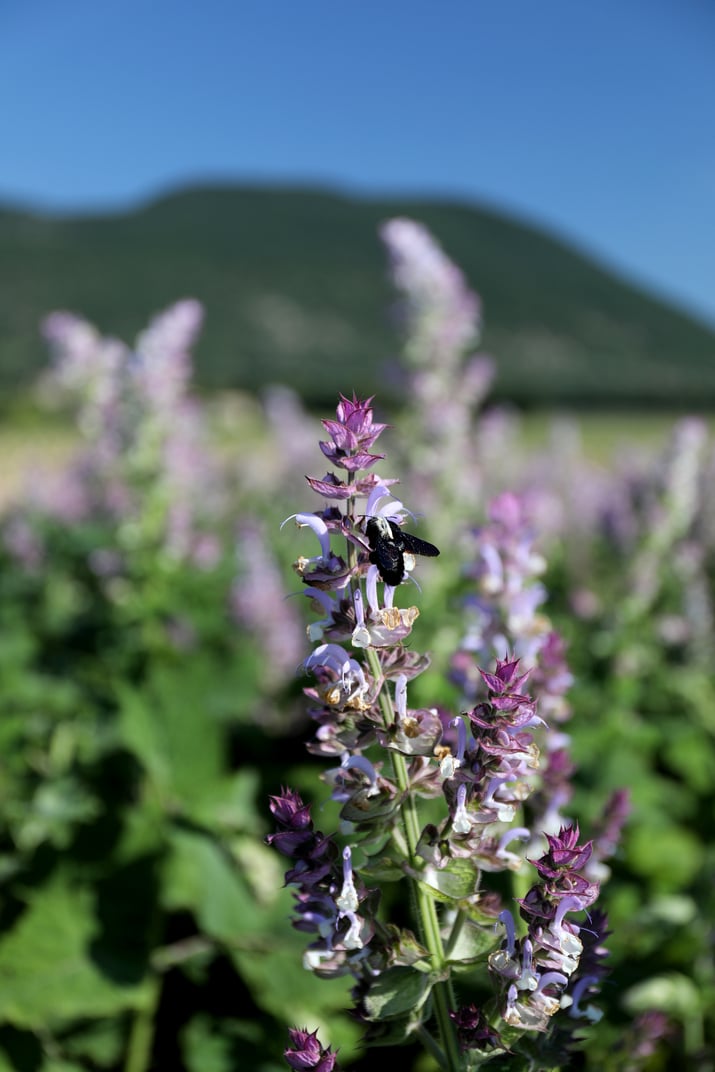 Organic clary sage blooming in Provence is a pollinator favorite.

want to learn more about our essential oils?
Want to read more about our farms?

You may also be interested in: