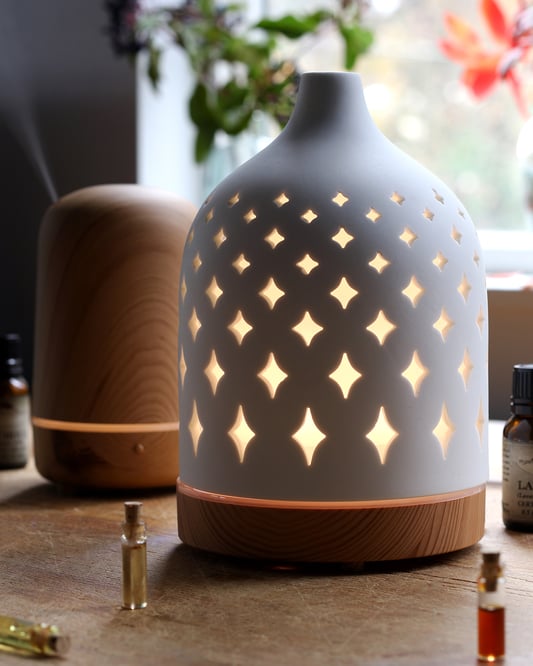 Essential oil diffusers are a cornerstone in the world of aromatherapy. When I first learned about diffusers, I incorrectly associated them with products simply meant to deodorize a space, like a scented hanging air freshener for your car, for example. The truth is however, that these little devices can transform living spaces and influence overall states of being through the power of aromatherapy.
These incredible accessories can diffuse single or a combination of essential oils into fragrant aromas that fill the room they occupy. We will cover five diffuser types to help navigate some of the differences to each. Hopefully, this guide will assist you in selecting the perfect diffuser to fill your life with aromatic goodness.
Ultrasonic Water Diffuser
These diffusers are perfect for small to medium spaces like a kitchen, living room, or office. Ultrasonic diffusers create a fine mist by using ultrasonic vibrations and water to dispense essential oils into the air. The mist is created without the use of heat, which is a nice option for those who prefer not to use open flames.
To use, add water to the reservoir (usually a little over three ounces), add drops of essential oil per diffuser directions, and turn on. Most ultrasonic diffusers have continuous and intermittent settings, and optional color-changing lights built in. Try our new Light House Ultrasonic Diffuser or Supernova Ultrasonic Diffuser.
Waterless Diffuser
A waterless diffuser disperses essential oils without the use of heat or water. Instead, an atomizer creates super fine particles of essential oils which are then distributed into the air. When using a waterless diffuser, you'll get nothing but pure essential oil aroma filling the air around you. Like an ultrasonic diffuser, a waterless device is ideal for medium spaces, and can even fill slightly larger rooms with aroma.
Most waterless diffusers consist of a motor and a glass reservoir. To use, add essential oils directly to the glass reservoir according to the manufacturer directions, and turn on. Our Ziba Waterless Diffuser has a high and low diffusion setting and an optional color-changing light.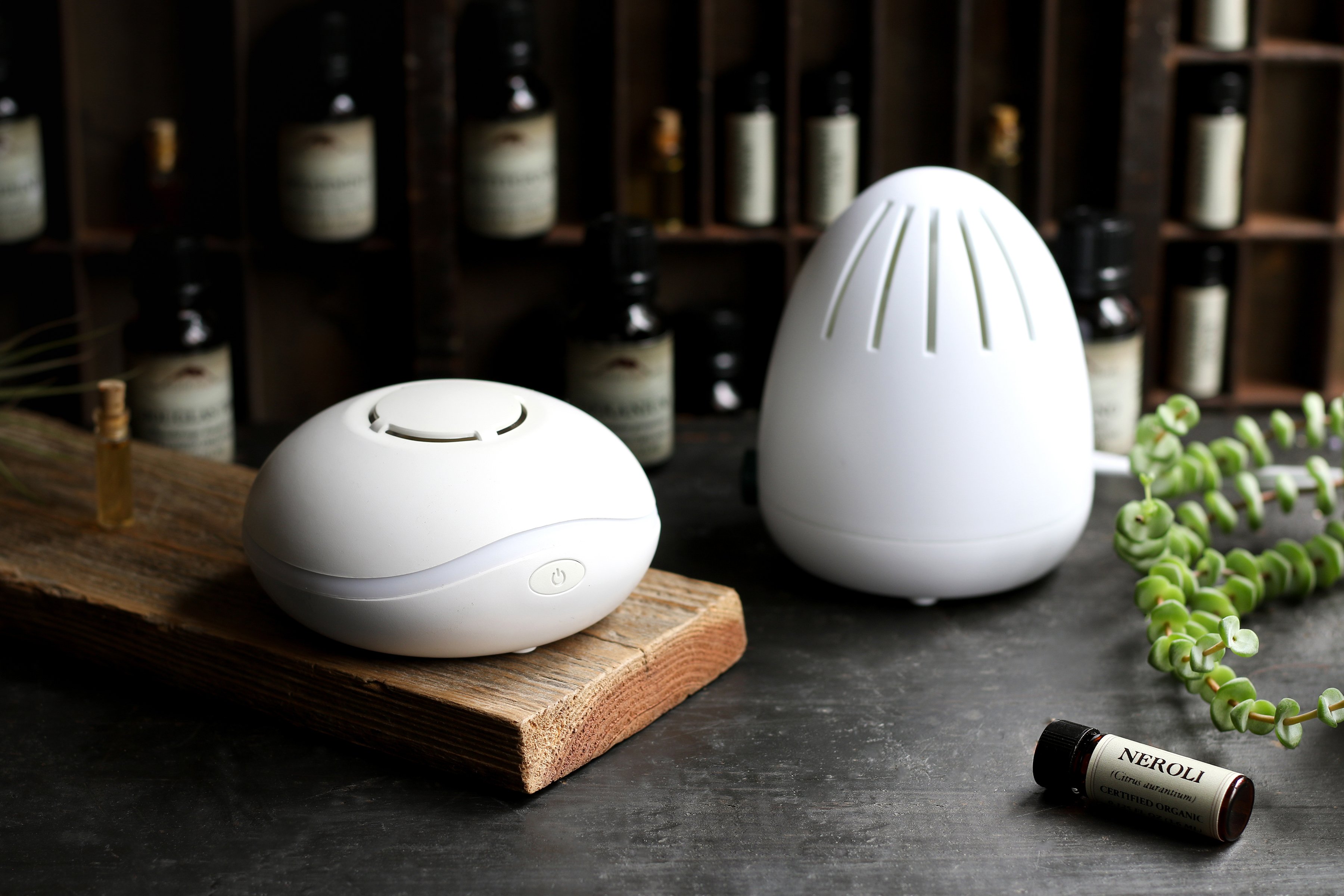 Electric Diffuser
Electric diffusers use a small absorbent pad to hold essential oils over a passive heat source. These pads can be used multiple times with your favorite essential oil or blend. You can also refresh a pad with a different essential oil for some on-the-spot blending. The pads should be disposed of when they become too saturated or start to break down in any way.
To use, carefully drop essential oils onto the pad and then turn on the device. Most electric diffusers have one simple setting that offers continuous diffusion.
Our classic Electric Aromatherapy Diffuser uses passive diffusion and is ideal for smaller spaces like a bathroom or an office desk. The Aromatherapy Fan Diffuser utilizes a small fan to disperse aromas, and can either be plugged in or battery operated. Both these diffusers have pad refills available in their product profiles.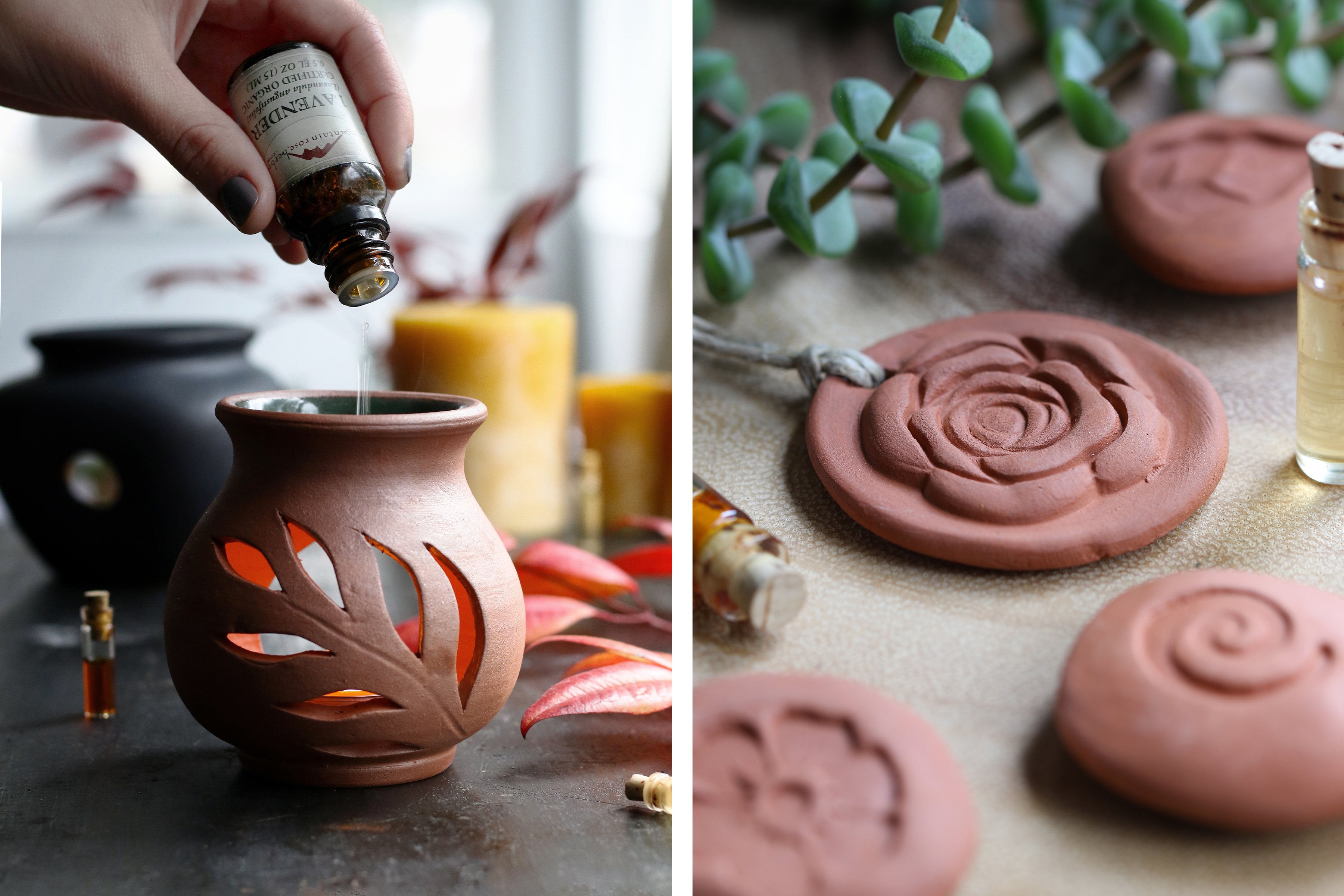 Tea Light Diffuser
Excellent diffusers for aroma and ambiance, tea light diffusers use the heat from a candle to gently warm water, causing your favorite essential oil blend to softly fill an area with its cozy aroma. Great for smaller spaces, these are perfect to use in place of a scented candle and add a relaxing element to any table or counter top.
To use, carefully fill top reservoir with water, add a few drops of your favorite essential oils, and light the tea candle at the diffuser's base. In a few minutes, aroma will slowly begin to fill your space. Please be sure not to leave this diffuser lit and unattended when in use.
Choose from either our Terra Cotta Tea Light Diffuser which features an elegant cut out leaf design and an earthy terra cotta hue, or our Black Ceramic Diffuser, which creates a lovely back drop to a glowing tea light with its smooth matte black finish. Choose from either of our beeswax or soy wax tealights.
Terra Cotta Pendant Diffuser
Made from pure terra cotta, these diffusers are a more subtle option for smaller spaces. Terra cotta is known for its absorbent and porous properties, which makes it the perfect medium for soaking up essential oils. When placed in a warm location, passive heat then slowly releases the essential oil from the terra cotta.
To use, place 5-6 drops of essential oil into the center of the terra cotta pendant. Once the essential oil has been absorbed, place this diffuser in a space where it will be exposed to passive heat (like sunlight or a warmer location). Depending on the oils that you use, the aroma can last anywhere from a few hours to multiple days. We love using these diffusers either hanging in the car or from a lamp, inside a cabinet or drawer, from a windows ledge, or even placed near a wood stove.
Love the Aroma of Palo Santo?
You May Also Be Interested In:
Adding Essential Oils to Your Morning Routine
How to Create Your Own Essential Oil Blends
How to Use Essential Oils Safely