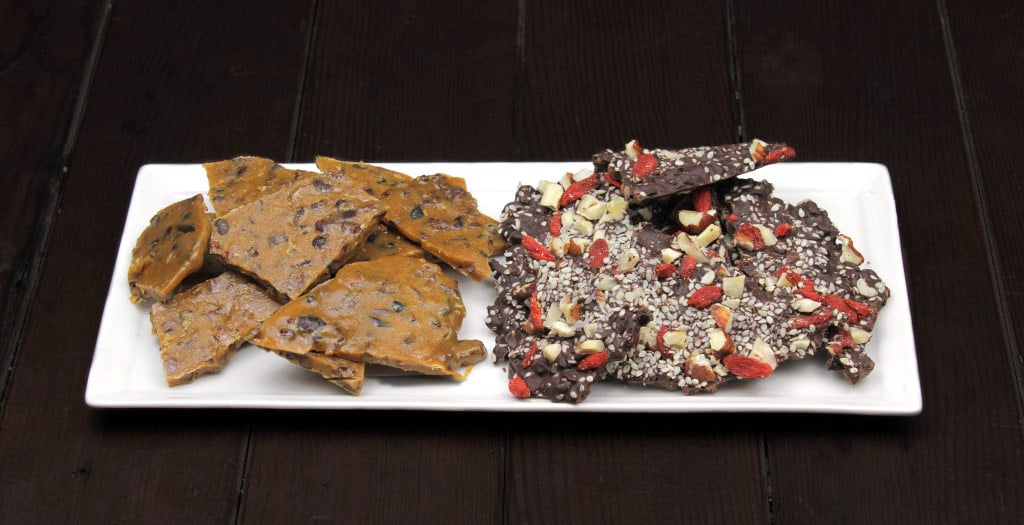 Who says sweets and treats have to be junk food? I've never thought of myself as a great candy maker, but I felt inspired to create some sweet recipes for gifts, and for satisfying those everyday sweet cravings using healthier organic ingredients.

There's a fair amount of science involved in making candy and I have learned that a candy thermometer is a must! It also helps to measure out your ingredients in advance and have them ready. If you follow these measurements and temperature directions, you will have some amazing treats to share!
Vanilla Maple Cacao Brittle
Ingredients
Directions
Prepare baking sheet by lining with aluminum foil and coating with butter.
In a large saucepan, combine the sugar, butter, maple syrup, and water, and place over medium heat (as in a double boiler.) Stir until the sugar and butter dissolve.
Using a candy thermometer, cook the candy until it reaches 335 degrees (168 C.) Stir occasionally. The candy will get quite dark and have a strong smell. It will also look a bit foamy. Keep an eye on it so it doesn't boil over.
At 335 F, remove the pan from heat and immediately add in baking soda and salt. This will cause a foaming reaction, but stir in well.
Add the cocoa nibs and vanilla pod seeds and stir well (I like to measure out the nibs on a saucer and then scrape the vanilla seeds on top. This way, I can add them all at once.)
Scrape out onto the pan and spread thinly. Let cool for a few seconds and then carefully spread as thinly as possible. Allow to cool to room temperature. Break into small pieces and store in an airtight container
Coconut Milk Caramels
Ingredients
Directions
Line bottom and sides of a 8 x 8 inch square baking pan with foil or parchment and brush with coconut oil.
Combine coconut milk, molasses, and sea salt in a 4 quart sauce pan. Heat over medium low heat, stirring constantly until the coconut milk is combined. This should only take a few minutes. Remove from heat and set aside.
In a large saucepan, add sugar and water and stir well. Cook over medium high heat with a candy thermometer in it until the sugar turns a light golden color and the temperature is 310 degrees F. Do not stir. Immediately remove from heat and pour the melted sugar into the coconut milk mixture. Pour carefully.
Return the saucepan to medium low heat and stir constantly until the sugar is dissolved. Increase heat to medium high, continuing stirring and cook until mixture becomes very thick and the temperature is 240 degrees F.
Remove and quickly add 1 teaspoon herb powder, if desired, and then pour into prepared pan. Let cool completely and then cut into small squares with knife rubbed with coconut oil. Wrap individually in wax paper squares.
I have experimented with herb flowers like lavender and they are just too big to incorporate well into the caramels. A little powder, however, like lavender flower powder, vanilla bean powder, cinnamon powder, or orange peel powder works fine. You'll just want to mix it in quickly prior to pouring into the pan. These are also delicious with a sprinkle of Black Lava, Red Alaea, or Himalayan Pink Salt on top!

Spiced Sweet Curry Nuts
Ingredients

Directions

1. Preheat oven to 350 degrees.
2. Roast raw nuts for about 5 minutes. Remove from heat and set aside.
3. Heat butter, sugar, and spices in a medium saucepan until sugar is dissolved and everything is combined. Pour glaze over the nuts and stir to coat. Put back in the oven and cook for approximately 15 minutes until glaze looks a bit dry.
4. Remove from heat, sprinkle with salt and allow to cool before serving.


Variation: This mix also works great with popcorn. Pop about 6-8 cups of popcorn. Prepare the butter, sugar, and spices and pour over the popcorn, stirring to coat. Bake in 350 degree oven for approximately 15 minutes until the glaze is starting to look a bit dry. You can loosely shake the pan or stir the mixture a little mid-way through baking. Remove from heat, sprinkle with salt and allow to cool before serving.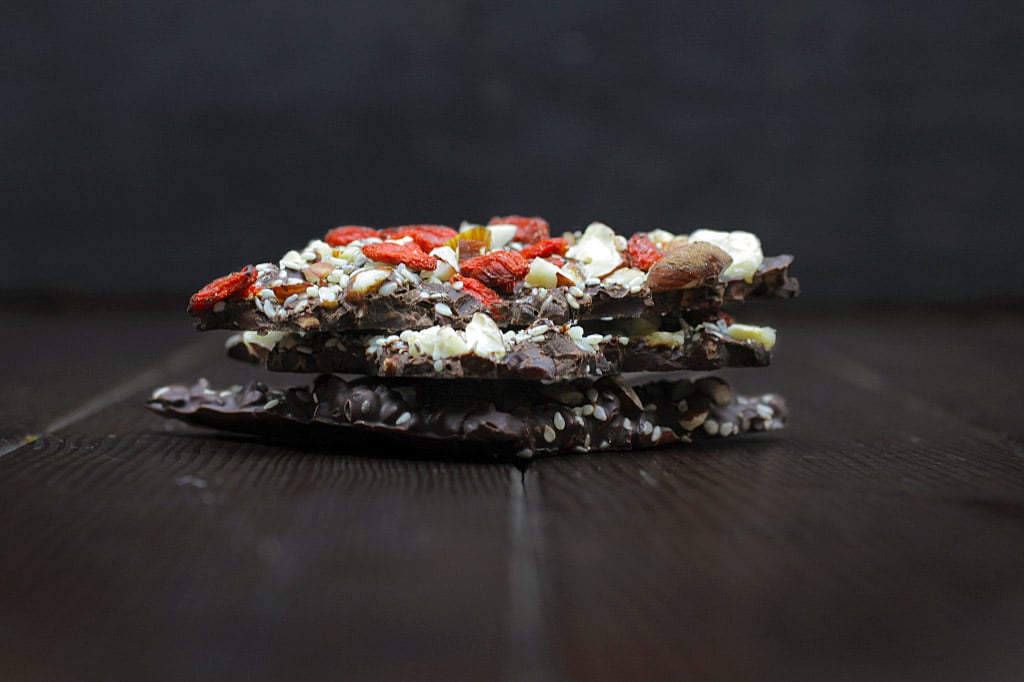 Dark Chocolate Goji & Chia Bark
Ingredients
Directions
Line a cookie/baking sheet with foil or parchment paper
Melt the chocolate and cacao nibs together in a saucepan over hot water (in a double boiler). The cacao nibs will still be solid little bits in the chocolate mixture.\
Once melted, pour into the baking sheet and spread. Top with chia seeds, nuts, sesame seeds, and salt—pressing gently into the chocolate.
Allow to cool completely and then break into pieces.
Coconut & Cacao Nib Truffles
Ingredients
Directions
Put the chocolate in a medium glass or stainless steel bowl.
In a small saucepan, bring cream and butter just to a boil.
Pour cream/butter mixture over the chocolate and let sit for a minute or so until softening.
Stir combined mixture until smooth
Put in the refrigerator and chill for several hours or overnight
Sprinkle cocoa nibs and coconut on a small plate (separate or combined or both)
Using a small spoon, melon baller, or ice cream scoop, make small balls of chocolate and roll into the nibs and coconut to coat. Put on a baking sheet or plate lined with wax paper and chill until ready to eat.
Be sure to store the treats in airtight containers. Only the truffles need to be refrigerated.
Enjoy!