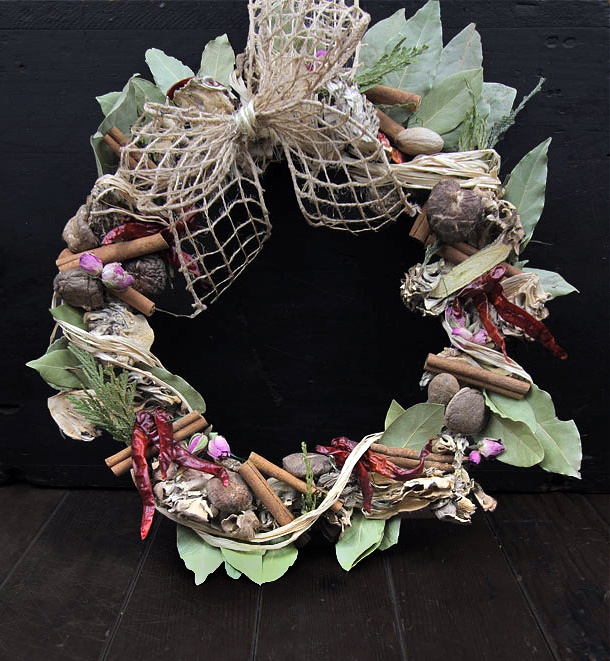 Some herbs are just too beautiful to hide away in a dark jar! I was trying to think of something festive for the kitchen that would also make a great gift. How about a kitchen wreath full of gorgeous, fresh herbs that could actually be used in culinary creations throughout the year? The smells, textures, and tastes of nature come through in this organic wreath, and it also looks great hanging on a wall or door. Who wouldn't want to receive this unique creation as a gift? And…it is super easy to make!


Supplies:

One wire wreath form
Floral wire
Scissors
Variety of suitable herbs and spices:
organic Maitake and Shiitake mushrooms
organic whole Bay Leaves
organic Whole Chilies
organic Cinnamon Sticks
organic Whole Nutmeg
organic Rose Buds
organic Licorice Root Slices or Astragalus Slices
So many others would be wonderful additions like White Sage, Raw Cacao Beans, and Cedar Berries just to name a few!
Raffia, ribbon, and/or floral ribbon for finishing touches


Directions:

Lay out the wreath form so the indent or "ditch" is facing upwards. This provides a nice tray for arranging and fastening herbs. I suggest using larger herbs and spices for the back or base and then filling in with smaller ones throughout. I used various sizes of Maitake mushrooms, highlighted with Bay Leaves for the base. Use the floral wire to attach herbs to the wire form. You will have to get creative and experiment for the best way to attach the various sizes and shapes. Some, like leaves, chilies, and rose buds can be pierced and threaded, while others will need to be wrapped tightly and then attached.
Fortunately, it is rather easy to wrap the wires around the frame at the back once the herbs are attached. I created several clusters of wires, clipped off the excess, and tucked the wire into the back of the form to keep them hidden.
Continue arranging and layering herbs, spices, leaves, and mushrooms as you see fit until you get the wreath looking the way you want. Finish with ribbon, raffia or other adornment as desired. Attach some ribbon or a hook for hanging and enjoy.
If you choose not to use the herbs for cooking, they can be composted after they lose their freshness and the wire wreath form can be re-used. The wire, of course, can be reused or recycled.

Let your creativity guide you and enjoy the process as much as you do the final result!