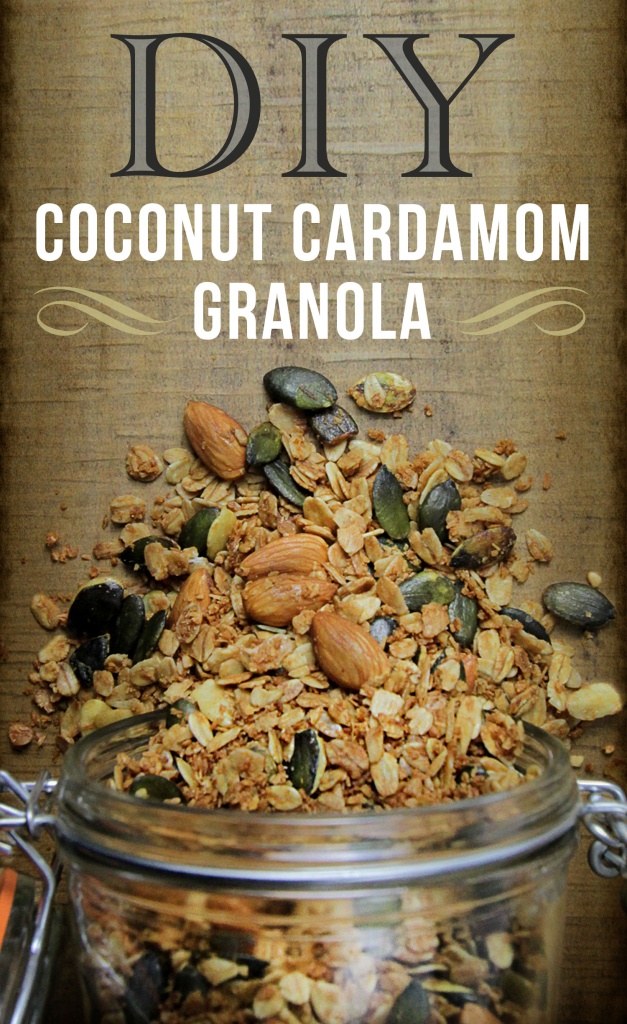 Heading out for a hike now that the sun is shining and flowers are blooming around every turn? You need a delicious power snack to fuel your adventures, and this granola recipe is the best! Spicy, sweet, and salty with a hint of honey and maple syrup paired with cardamom, vanilla, cinnamon, and coconut, the flavor reminds me of these delicious chai oatmeal cookies, but with healthy nuts and seeds. Make a big batch for camping trips, picnics, or those afternoon munchies.
Coconut Cardamom Granola

Ingredients
2 cups organic whole oats
1 cup organic coconut flakes
1 cup organic pumpkin seeds
1/2 cup organic whole almonds
1/3 cup organic hemp seeds
1/3 cup raw local honey
1/4 cup organic virgin coconut oil, melted
2 Tbsp organic maple syrup
1 ½ tsp organic cardamom powder
1 tsp organic cinnamon powder
1/2 tsp organic vanilla extract
Directions
Preheat oven to 275 degrees. Mix all of the dry ingredients together in a large bowl. In a separate bowl, mix together all of the wet ingredients. Pour wet ingredients over dry ingredients and mix until evenly coated. Spread mixture out in a large pan and bake for 45 minutes, stirring every 10 minutes until the coconut flakes begin to toast and turn brown. Allow to cool and store in an airtight container.