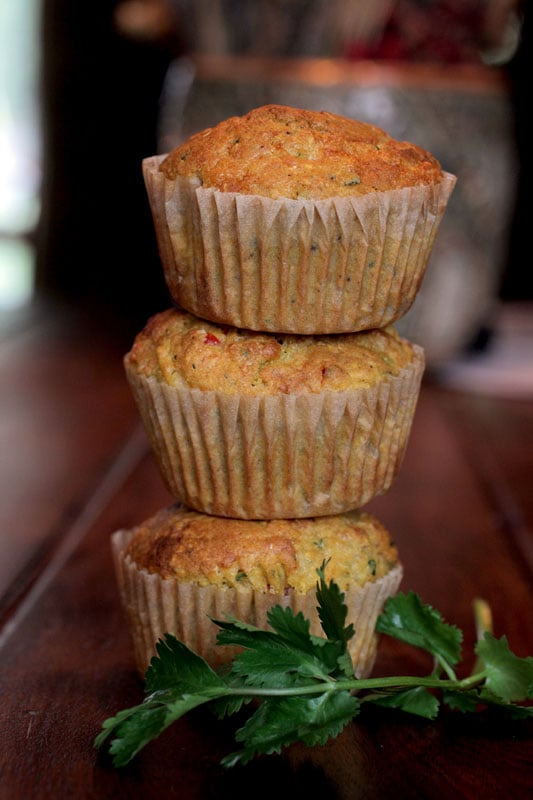 The last few peppers of summer are calling out to you from the garden. By this point, you've probably made plenty of salsa and relish, stuffed rellenos and rainbow colored salads, barbequed skewers and towering sandwiches galore.
Looking for one more way to honor theses flavorful beauties?
Try these gorgeously spicy, savory, cornbread muffins! You can get creative and use any other pepper you have on-hand, like jalapenos or poblanos for this recipe, as well as trade out the flour to make them gluten-free. With a nice crisped top, super moist crumb, and explosion of cheesy, spicy goodness, all you need is a little dollop of melting butter to make these the perfect dinner side or afternoon snack.
Cheddar Pepper Cornbread Muffins
Ingredients
Dry:
1 1/4 cups organic stone-ground cornmeal
3/4 cup organic all-purpose flour
2 Tbsp organic sugar
2 tsp baking powder
1/2 tsp baking soda
1 tsp organic chili powder
1 tsp organic ground black pepper
½ tsp organic cumin powder
1 tsp fine sea salt
Wet:
2 farm fresh organic eggs
1½ cups grated cheddar cheese
2/3 cup organic milk
2/3 cup organic buttermilk
½ cup organic white onion, minced
½ cup organic red bell pepper, minced
½ cup fresh organic cilantro, minced
3 Tbsp organic unsalted butter, melted

Directions
1. Preheat the oven to 425°F and lightly grease a muffin pan.
2. Whisk the dry ingredients together in a large bowl. Mix together the eggs, milk, buttermilk, shredded cheese, cilantro, onion, and peppers in a separate bowl. Next, combine the wet and dry ingredients and mix until moist. Fold the butter into the batter.
3. Fill the muffin pan evenly with batter. Bake until a toothpick inserted comes out clean, about 10 to 12 minutes.
4. Eat and enjoy!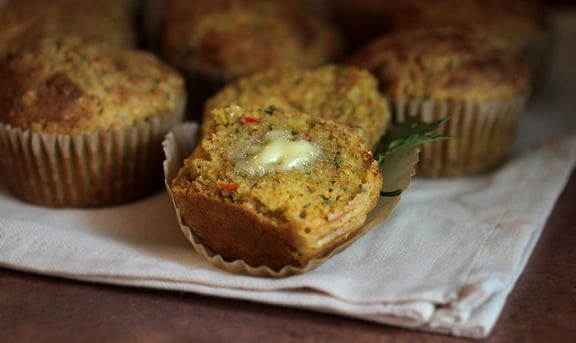 ~ Erin