Pets, like other family members, sometimes need herbal remedies to feel their best. That's why we offer Natural Pet Care products. We want to keep our furry friends healthy, happy and relaxed. Just like when we see a family member stressed out, we do everything we can to calm them down. And oh my, has my pup been stressed.
Those of us who have been working from home recently know that our pets have been on cloud nine, getting extra snuggles, loads of attention, and maybe even a walk at lunch. My pup has been happy and super chill having me home. Now that I'm getting back to the office and away from home more, it's been especially tough on her. Homemade dog treats coupled with good exercise are a DIY approach to helping her feel calm and safe.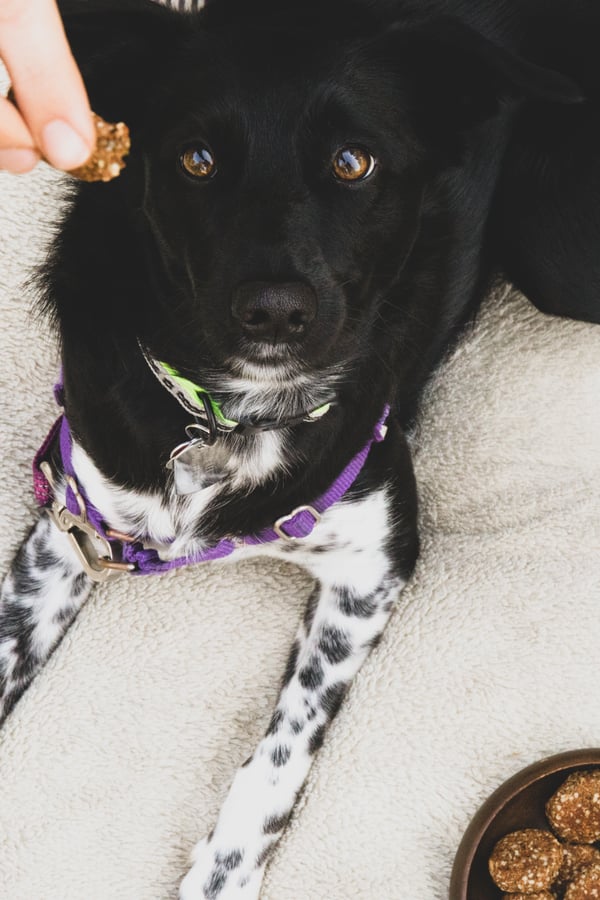 As usual when doing dog care research, one of the first places I turn to is Dr. Kidd's Herbal Dog Care book. This is a great resource to have on hand if you practice herbal pet care at home or are just beginning to explore your alternative pet care options.
The following powdered herbs can be used to help set your dog at ease. Many of the herbs listed below are also used to help humans deal with the daily aggravations we all experience from time to time. I encourage you to test out the herbs individually before making the full recipe to see how your pet responds. This will help you find a combination that works for your canine friend. To do this, make an infusion with the herb you would like to try, pour the tea over your dog's meal, and observe their behavior for a few hours. Mix and match until you find the right combo for your pup.
Herbs to Help Keep Dogs Calm


DIY Herbal Dog Treat Recipe
Makes about 2 1/2 cups of raw batter or 20 dog treats
Directions
Preheat oven to 300 ℉.
Mix all ingredients together until well blended.
Roll dough into 1 inch balls and flatten slightly.
Bake on lined baking sheet for 10 minutes.
Flip and bake for another 10 minutes.
Remove from oven and let cool on baking sheet.
Place in an airtight container like these glass pantry jars for storage.
Pro tips:
You can freeze the batter and/or the finished product for up to two weeks. Just remember to label and date your herbal dog treats.
Cats are not the same as dogs when it comes to herbs, so please explore Dr. Kidd's Herbal Cat Care book before giving your feline friend any herbs.


LOOKING FOR Another RECIPE for your pup?
You may also enjoy: