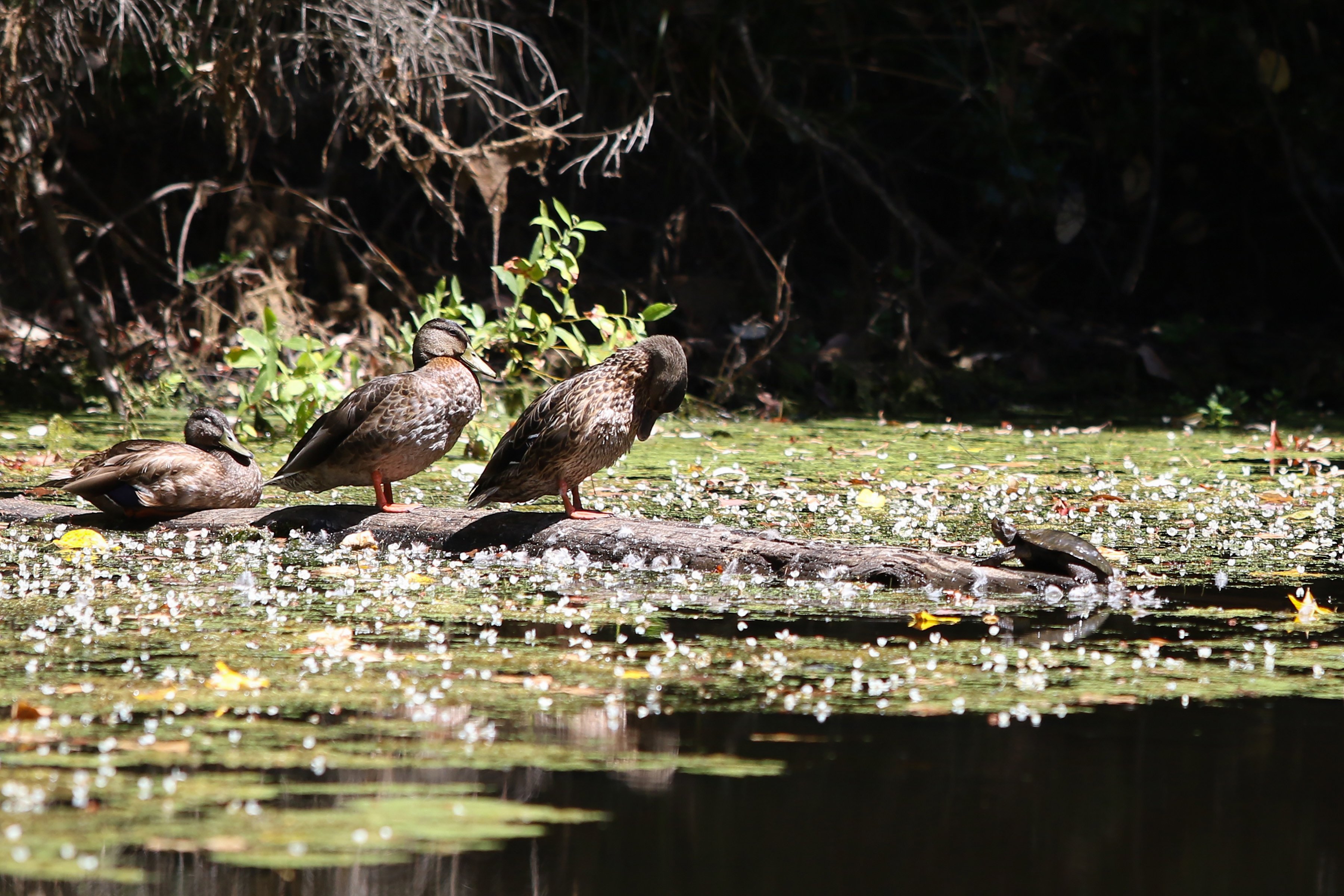 In 2010, when we moved to our current facility in Eugene, Oregon, we knew we needed to address some landscaping issues on the 3.5-acre campus. From a sustainability point of view, there was a lot to love about the new Mountain Rose Herbs facility and grounds, but we were extremely aware of the impact that businesses have on water quality and habitat in their watersheds and communities, and how company decisions regarding landscaping, rain runoff, and storm water management can affect river habitats further downstream.
Because our property is adjacent to Amazon Creek and the Stewart Pond Wildlife Refuge, we had a clear visual every day of the ecosystems most immediately impacted by runoff from the roofs and parking lots on our large campus. We needed a natural way to prevent potentially polluted stormwater from making its way into the creek, refuge, and beyond to our beloved rivers. A bioswale and detention pond were the obvious answers.
We worked closely with the
Long Tom Watershed Council
to determine our steps in increasing wildlife value and stormwater management while decreasing facility water use and impervious surfaces. Our first step was to strategically plant trees to reduce heat on the property and provide more of a wildlife corridor between Amazon Creek and the adjacent wetlands. We then needed to deal with the existing onsite stormwater pond. We dredged and expanded the pond, bypassed the existing storm drain, and created a way for runoff water to naturally flow in. We amended the soil so that it could function as a detention pond that allows stormwater to settle through, and "re-wilded" the banks with Pacific Northwest native plants to draw bees and other pollinators, thus creating an enhanced bioswale and stormwater detention area that worked together.
After the bioswale and detention pond were completed, however, we discovered that, because of the gradient in our facility parking area and driveway, 12% of our stormwater runoff was still overflowing into the municipal system. We dug a rain garden at the front of the property to address this issue. From there, we were able to put a natural landscape design in place to best utilize the various elements of our stormwater containment system to slow runoff and filter 100% of it on our property before it reached the municipal system.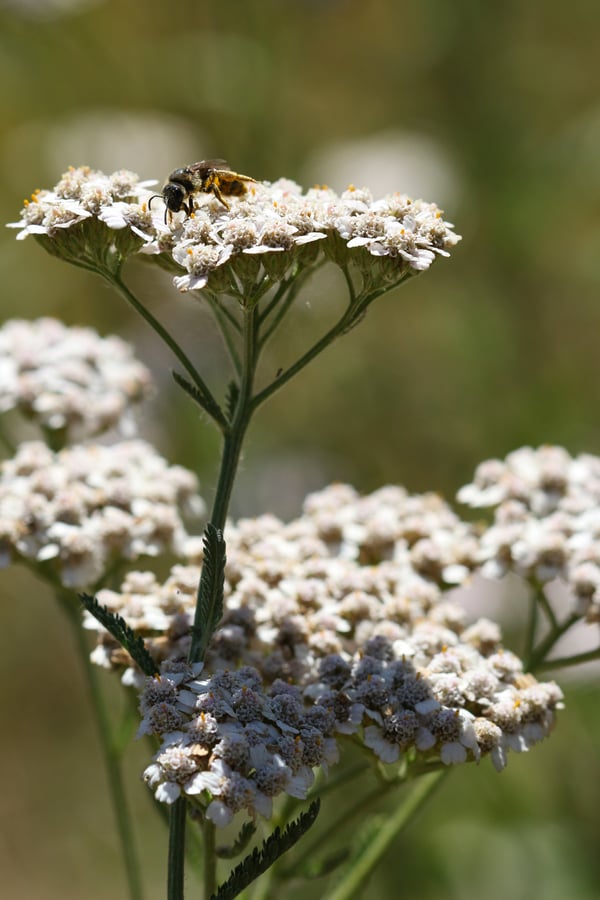 What is a Rain Garden and What is a Bioswale?
Rooftops, parking lots, roads, and sidewalks all block rainwater from soaking into the ground. As the water sits on these impervious surfaces, it heats up and picks up pollution and debris, which it carries with it into whatever stormwater-receiving creeks and streams ultimately catch the runoff. According to Meghan Murphy, environmental services technician in Springfield, Oregon, bioswales and rain gardens "help to recreate a more natural water cycle by taking that stormwater runoff and allowing it to soak back into the ground as it would have before development happened."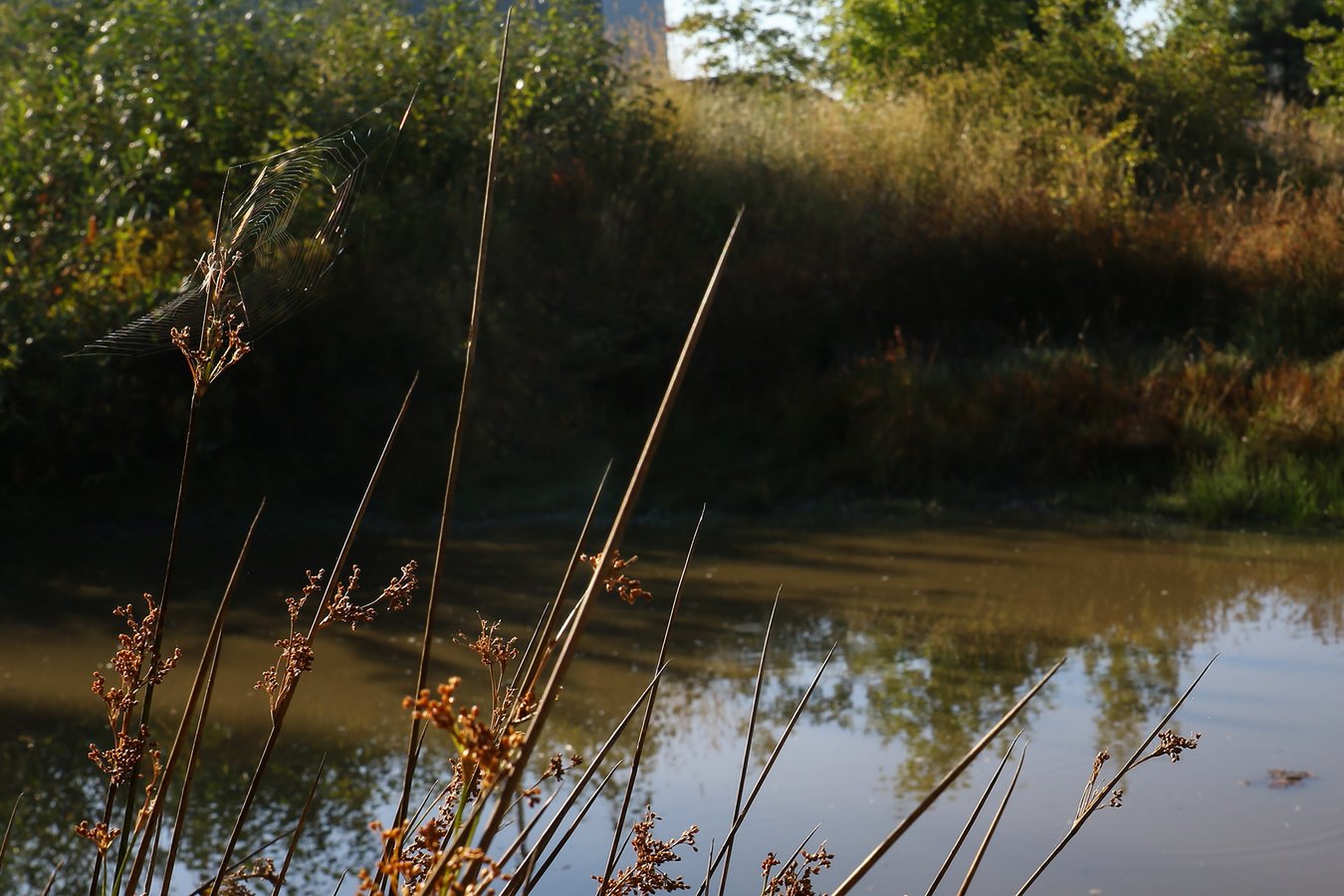 Both bioswales and rain gardens are vegetated and are specifically designed to capture and absorb stormwater runoff. As the water is captured, it filters down through the plants and porous soil. Pollutants attach to the surface of the soil particles, where they are retained and where roots and bacteria can make use of them. This also gives the water time to cool, so when it ultimately reaches the streams and rivers, it is healthier for riparian habitats, fish, and other wildlife. Bioswales are designed as a long, sloping, landscaped channel or drainage course directing stormwater away from parking lots, curbs, sidewalks, and streets, and giving it time to infiltrate the soil of the swale to remove silt and pollution. A rain garden, meanwhile, doesn't channel water, but is a vegetated depression designed to naturally capture and slowly absorb runoff, particularly on low gradients.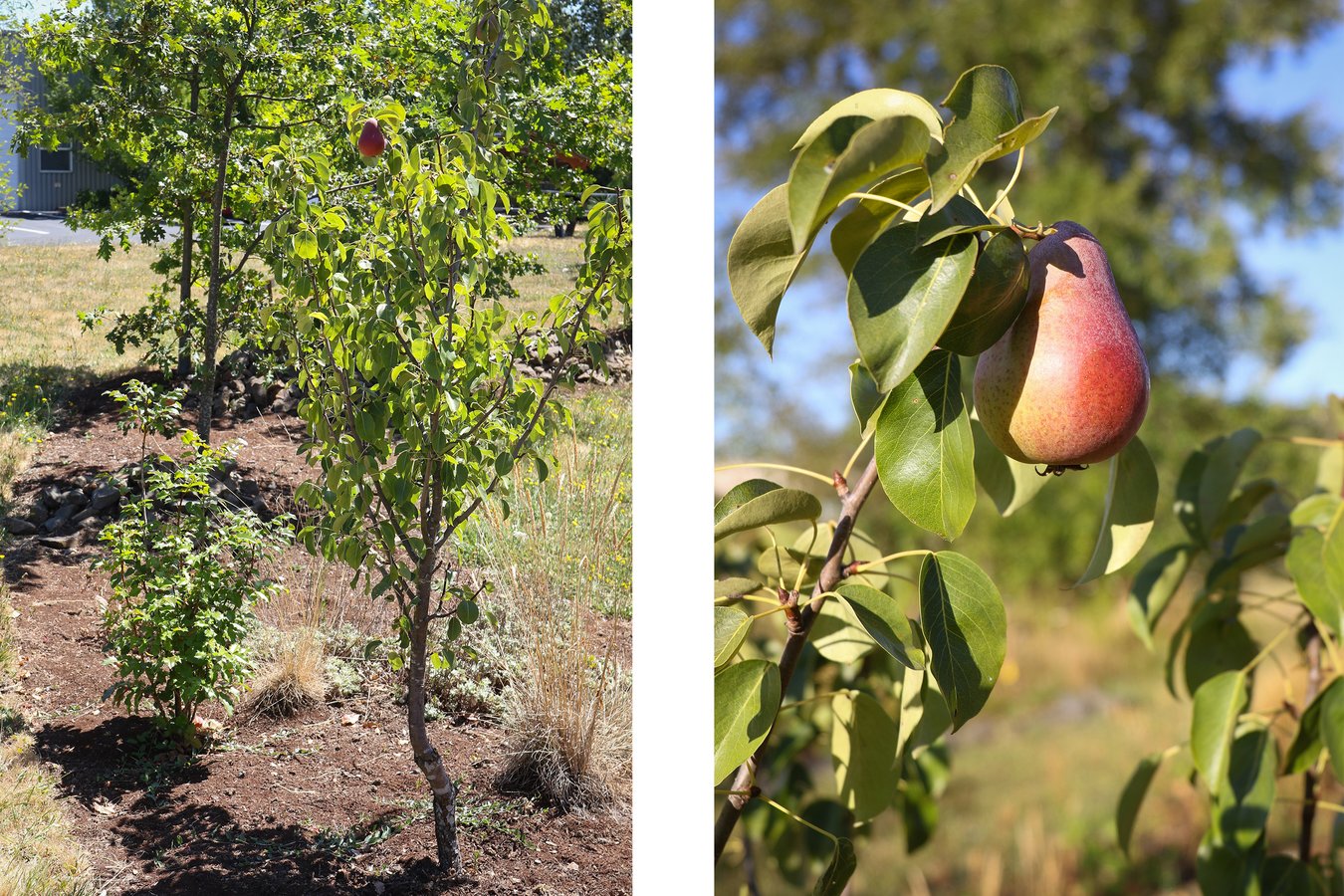 How Businesses can use Their Grounds to Support Local Ecosystems While Saving Money
Today, our storm water system—the rain garden, bioswale, and additional detention pond—manages 11,000 square feet of our stormwater runoff by capturing, cooling, and providing pre-treatment. This system also regularly captures debris from brakes, tires, and road sediment before they enter Amazon Creek. On the remainder of our property, we conserve water with a satellite-controlled irrigation system that helps us monitor our water use. Paired with strategic landscaping using self-sustaining native plants, this system gives us the power to conserve even more water. The completed grounds project has brought us both environmental and economic benefits, including:
Flood resiliency—Because our stormwater is delayed in the rain garden and bioswale at the facility, the streams that normally receive the runoff are not inundated all at once. The runoff arrives over a longer period of time, creating less issues with flooding, erosion, and cut stream banks.
Reducing urban pollution–Our storm water system helps to manage excessive heat, pollution from vehicles, and sediment.
Supporting local wildlife & pollinators—The rain garden and bioswale are planted with native plants that provide food and shelter often not available to pollinators and other native species in urban areas.
Improved habitat downstream—By slowing, cooling, and cleaning stormwater, the habitat for fish, amphibians, and macro-invertebrates is improved in the storm-water-receiving streams.
Savings in facility water use and costs—Our stormwater management system, combined with the satellite-controlled irrigation system, significantly reduces landscaping water use and the inherent costs therein.
Here at Mountain Rose Herbs, our guiding principle is always people, plants, and planet before profit. Our approach to landscaping, rain runoff, and storm water management is part of our recognition that a facility as large as ours has an enormous impact on the environment. Investing in our rain garden, bioswales, and other bioretention landscaping is an investment in the community and the planet we call home.
Bioswales and rain gardens are relatively easy and inexpensive to install, particularly when compared to ongoing landscaping and water use costs. If you think your business, home, or neighborhood would be well served by a bioswale and/or rain garden, check with your city or county government or local watershed council for resources in your area.
WANT TO KNOW MORE ABOUT Our SUSTAINABILITy EFFORTS?
You may also enjoy: