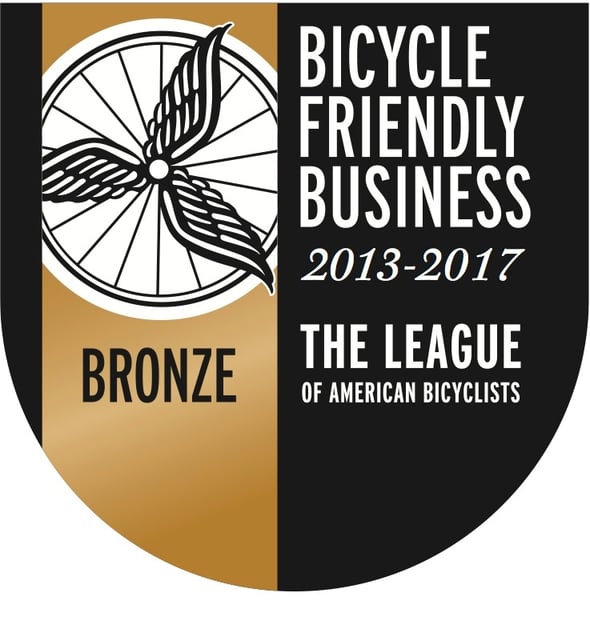 Mountain Rose Herbs is leading the way to reduce CO2 emissions and flip the switch on global climate change. Our Carpool, Bus, and Bike program was put into place in June 2007 and has been extremely popular among the staff.
Who wouldn't love a cash incentive to ride their bike to work?
We pay employees who drive a carpool or take the bus to work 12 cents per mile. For those who commute by bike, we compensate them 20 cents per mile. At the end of the year, we offer $750 in bonuses to the individuals who log the most miles. Talk about positive reinforcement! Our main facility is located on a well maintained bike path, making it a lovely ride to and from work. In addition, we provide a covered and locked bike area so employees have a safe spot to stash their ride. Not to mention the health benefits!
In May 2013, we participated in the Business Commute Challenge and 22% of our staff joined in! The week was filled with fun events and raffle drawings. Troy, our Master Recycler on staff, even won the coveted Burley bike trailer! It is much deserved seeing as he's been riding to work every day for the past 2 years!
We recently got the exciting news that Mountain Rose Herbs has been recognized with a Bronze Bicycle Friendly Business award from the League of American Bicyclists!
"Businesses like Mountain Rose Herbs are leading the way to a healthier and more sustainable future," said Andy Clarke, President of the League of American Bicyclists. "While helping boost the economy in their communities, Bicycle Friendly Businesses are also investing in a happier and more productive workforce."
Learn more about our sustainability initiatives and guiding principles!