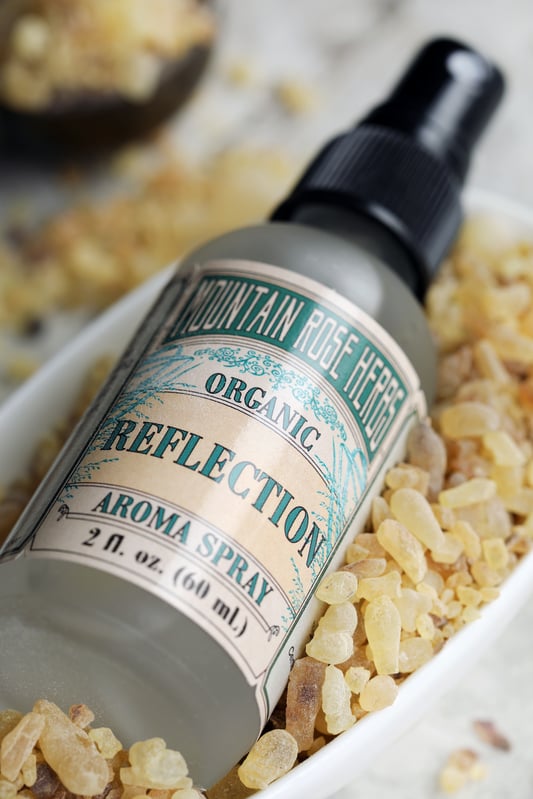 Since prehistoric times, humanity has sought out scented botanicals to create perfumes for anointing the body and burning as incense. From ancient Egyptians using enfleurage of fragrant flowers to create unguents that would melt in the heat and sweeten body odor, to modern perfume houses and the dizzying array of creations they offer, scented preparations are an essential part of the human experience.
Our sense of smell is a powerful tool that connects us to our limbic brain (the pre-language brain), and a
familiar scent
can instantly transport us into a long-forgotten memory. We can
change our mood
and
outlook
just by using different aromas in our space or on our bodies.
Instead of using synthetic scents full of petrochemical-derived compounds (some of which are known endocrine disruptors), using pure botanicals and essential oils can be a more natural way of bringing the benefits of scent into your daily routine. That's why we offer both aroma oil and aroma spray lines that are created from pure plant-based ingredients and essential oils for your botanical pleasure!
Our aroma spray line was specially formulated by Mountain Rose Herbs' in-house Certified Aromatherapist and Products Manager, Christine, and is a wonderful way to scent yourself and your space! Handcrafted with care, these aroma sprays contain organic witch hazel extract, distilled water, and pure essential oils.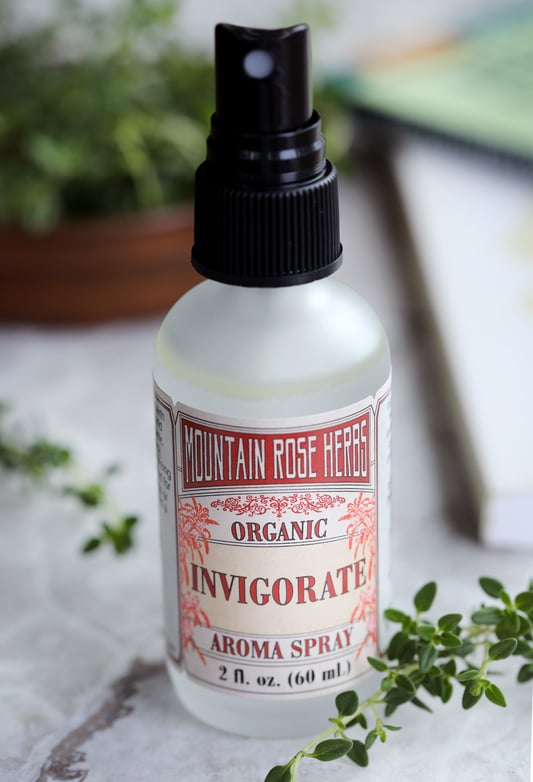 Scents for energy
Invigorate aroma spray is great as a room spray or body mist in the morning, late afternoon, or any time you need a revitalizing pick-me-up. Fresh and energizing, this scent is the go-to spray to enliven your day! A unique combination of fresh ginger, rosemary, and spearmint with other harmonizing essential oils, this blend is ideal for work or study.
scents for Cheer
Uplifting aroma spray features jasmine absolute and has an exquisitely delicate scent. Rejuvenating and cheerful, this blend combines gentle floral notes with subtle woody undertones. Use as a body mist, room spray, or deodorant to help bring comfort and brighten your day!
scents for romance
Aphrodite aroma spray is ideal to use as a perfume, room spray, or linen spray for romantic evenings or to inspire love. Combining an intoxicating rose bouquet with sensual sandalwood and patchouli notes, this scent is intense, inviting, and alluring.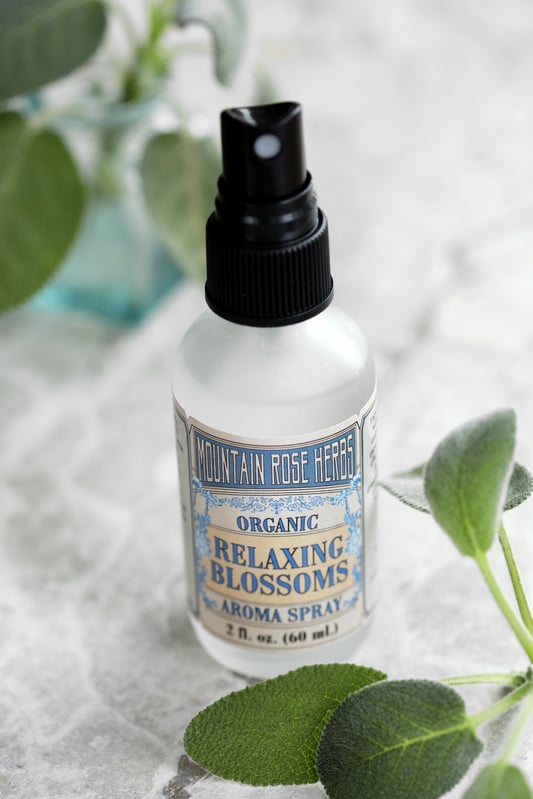 Scents for Relaxation
Relaxing blossoms aroma spray makes a fabulous pillow mist for bedtime, as well as a body mist and room spray. Designed to help ease even the toughest day, this soothingly soft floral with bittersweet undertones is peaceful and tranquil. Featuring Roman chamomile and clary sage, this spray is sure to become a favorite to inspire serenity.
Scents for Evoking the Outdoors
Cascadia aroma spray has an evergreen, resinous scent that evokes the magic of hiking through old growth forests in the mystical Cascade mountain range. Inspired by the botanicals of the Pacific Northwest, this grounding and calming spray is great for meditation or adding a festive touch to the winter holidays. It is best used as a body mist, room spray, or deodorant.
Scents for contemplation
Reflection aroma spray synergizes the clearing and calming powers of frankincense with the balancing, grounding qualities of davana and vetiver. This blend can assist in quieting the mind for journaling, meditation, and other self-reflection practices and is also useful for clearing inharmonious energy out of your space. Reflection aroma spray works well as a room spray or body mist and can also be utilized as a deodorant or linen spray.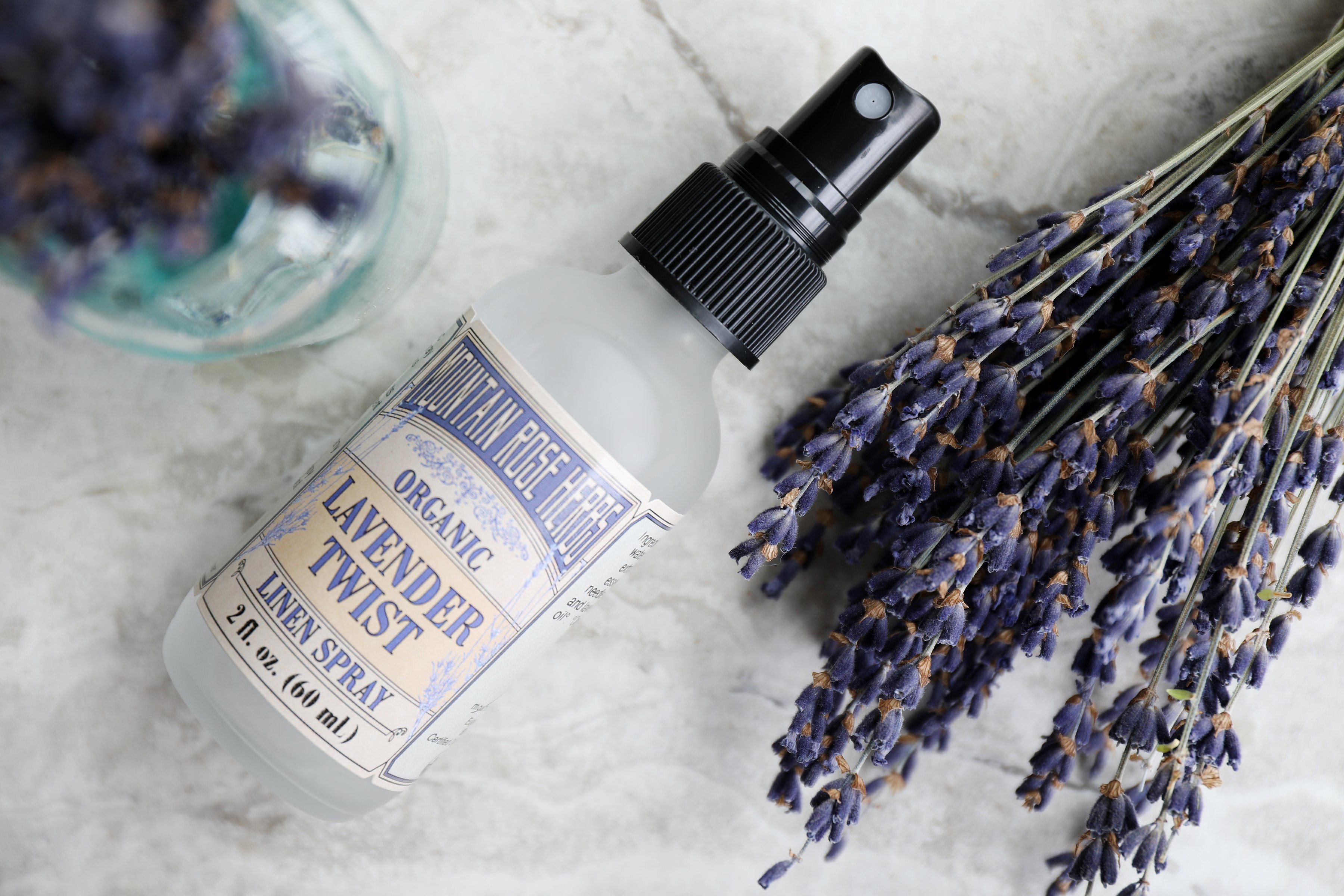 Scents for Fabric Freshening
Lavender twist linen spray is a light floral-citrus with woody notes. Sweetly scented without being overly flowery, this spray puts a fun twist on traditional lavender linen sprays with a splash of organic lemon and fir needle essential oils. Unlike many linen sprays on the market, our spray is free of harmful synthetic fragrances. Linen sprays are commonly used to refresh sheets, blankets, clothes, and comforters between washes.
Scents for a Home Spa
Brightly scented citrus mint bathroom spray helps chase away undesirable odors. Combining sparkling citrus with clearing peppermint, this practical and useful spray helps freshen the scent in any room and is specially designed for the washroom.
want to expand your aroma spray options?
You may also enjoy: