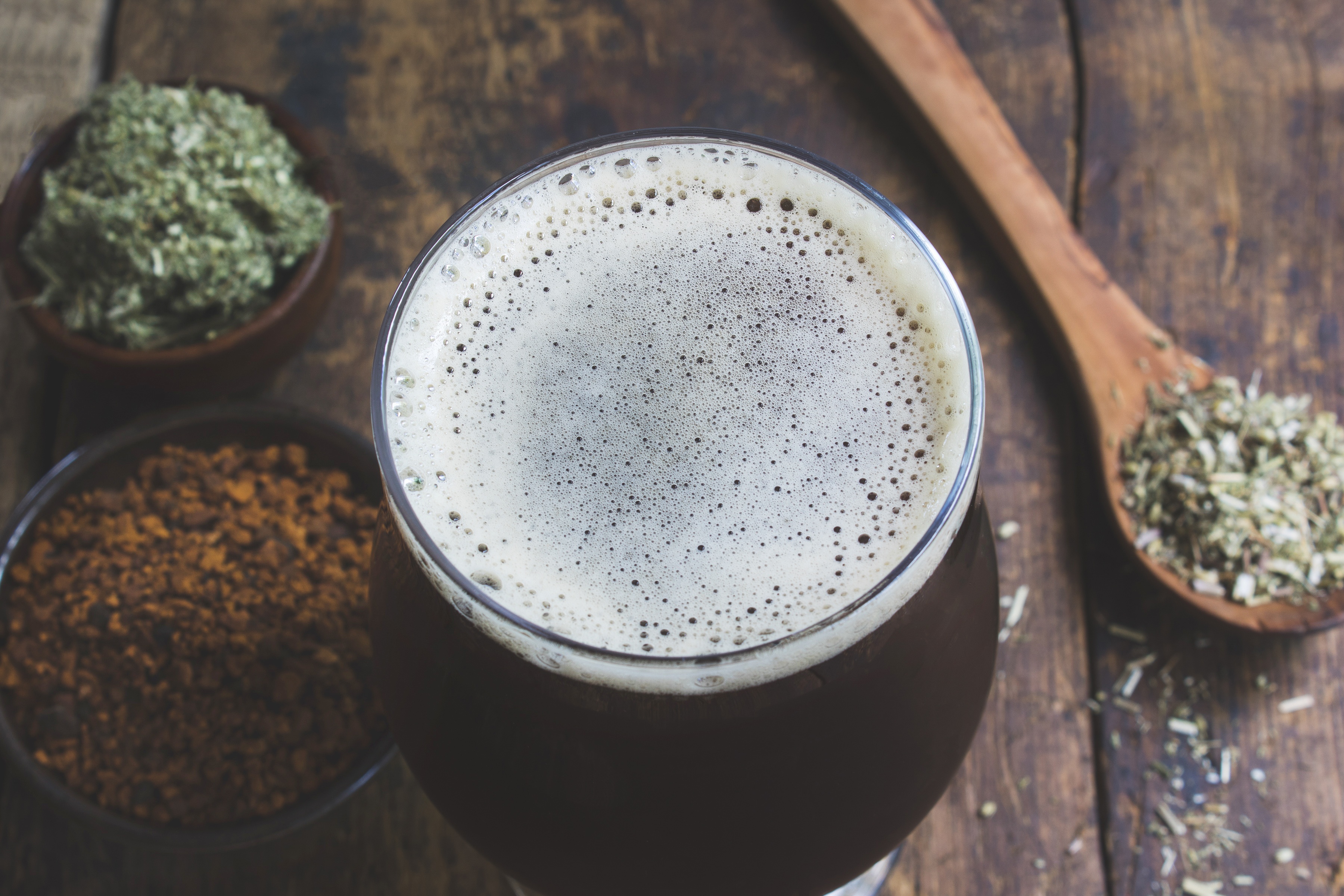 People who have never homebrewed always ask me why I bother, citing the plethora of amazing craft beer choices available today. While there are a lot of great independent breweries making beers that I adore, nothing beats savoring a glass beer I brewed myself. Plus, homebrewing my own beer ensures I'll always have access to my favorite styles brewed just the way I like them. Some of my favorite herbal additions include grains of paradise or smoked peppercorns in rustic saison, a big floral pop of chamomile in a Belgian witbier, or adding a kick to a rich stout with bird's eye chilies and cacao nibs.
One of my favorite herbal styles to play with is a gruit. Gru-what? Gruit! Pronounced gro͞o′ĭt, it is a beer style that uses an herbal mixture as the primary bittering and flavoring agent. It's often thought of as an ancient style, as herbal mixtures were used to bitter beers before the use of hops became widespread in the 15th and 16th centuries. A true gruit doesn't use hops, but I've added a small amount to my gruit recipe for their preservative qualities. The small amount and low alpha acid of fuggle hops ensures they are not a primary source of bitterness or flavor in this formula.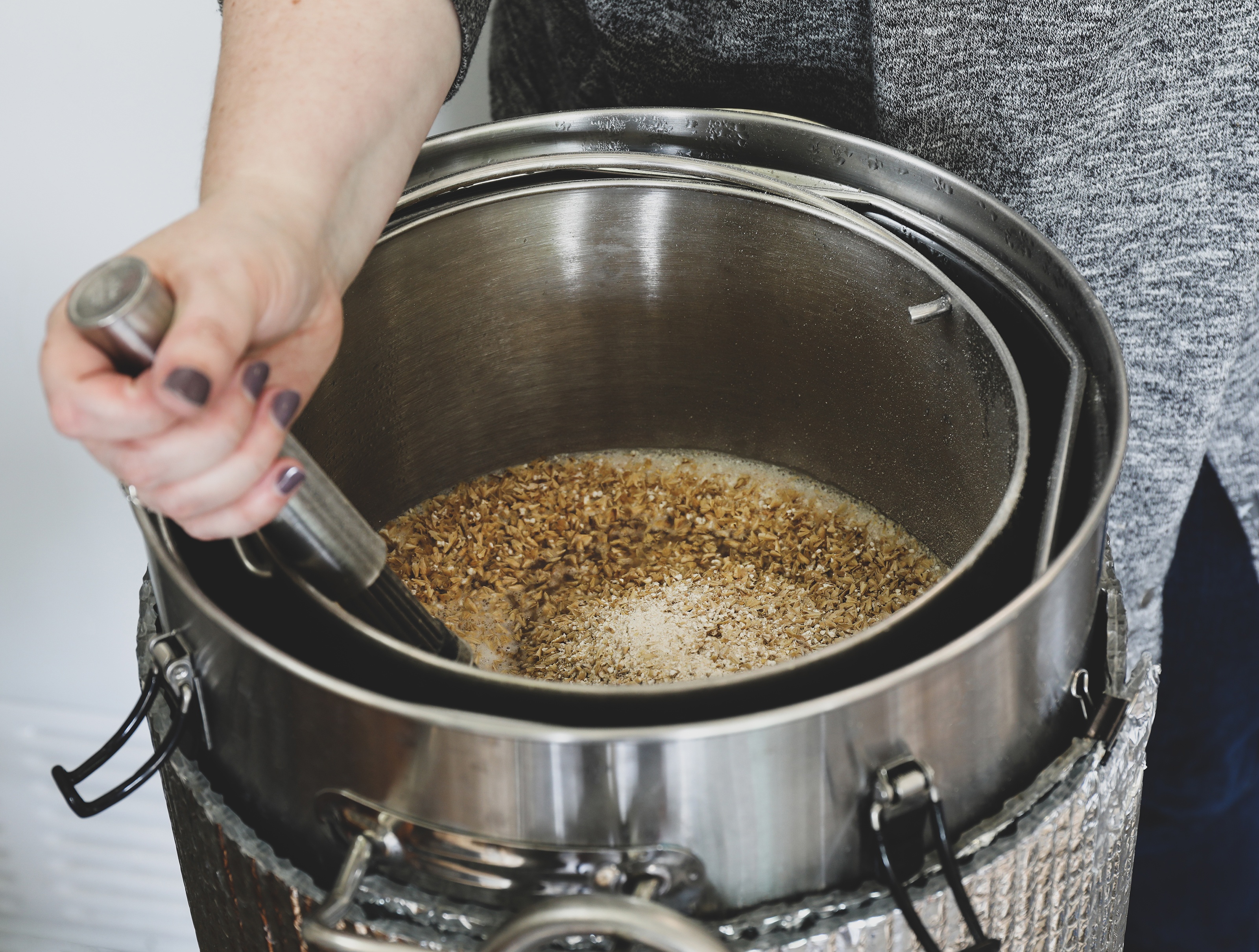 Gruits and other herbally-inspired beers are often hard to find in the wild, even at the nerdiest of beer bars, but adding organic herbs and spices is an easy way to customize a flavor profile. If you're looking to add a few herbal additions to your next beer, Sacred and Herbal Healing Beers can be a great source for inspiration. This book contains 120 recipes for ancient and indigenous beers and meads from 31 countries and six continents.
The inspiration for my own Deep Roots Gruit recipe came to me while enjoying a cup of our herbal coffee. Its rich earthiness and smooth roasted flavor were begging to be added to a beer. Mugwort and yarrow are both traditional gruit herbs that I also wanted to include. I used mugwort in the boil to impart an earthy bitterness, and yarrow at flameout to add a more complex bitterness and a spicy, sage-like aromatic note. The herbal coffee and chaga add additional layers of complexity, and a slightly herbal-roast note. The final product is a highly quaffable beer akin to an English porter.
If you're an experienced homebrewer, jump to the recipe below. If you've never brewed before, I recommend doing some homework before firing up your kettle for the first time. My directions assume that you have some experience homebrewing, so I only cover the basic steps for the mash and boil. The American Homebrewers Association has great free tutorials, MoreBeer has a nice set of all grain brewing instructions, BYO has a big brewing glossary, and Steve Bader wrote a wonderful primer on cleaning and sanitation. Having clean and sanitized equipment is key to having a delicious brew! Otherwise, there is a high risk that other microorganisms will outcompete the pitched yeast, resulting in undesirable qualities or off flavors in the beer.
Deep Roots Gruit Recipe
Yields 5 gallons
Estimated Original Gravity: 1.070
Ingredients
Timeline for Herbal Additions to the Boil
60 minutes
1 oz. organic fuggle hops
20 minutes
1 oz. chaga mushroom pieces
1 oz. organic herbal coffee
1/2 oz. organic mugwort
10 minutes
1/2 tsp. organic Irish moss
Flame out / 0 minutes
1 oz. chaga mushroom pieces
1 oz. organic herbal coffee
1 oz. organic yarrow
1/2 oz. organic mugwort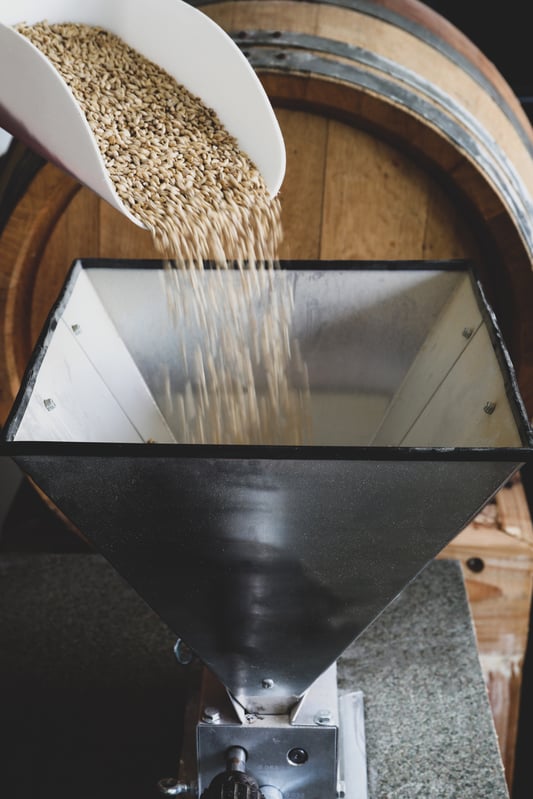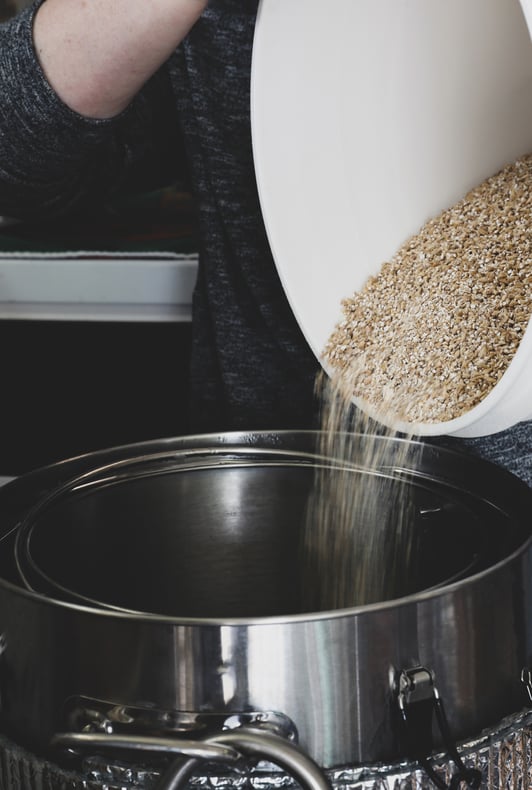 Directions
Mill all grain.
Collect and heat roughly 5.25 gallons of water, filter if necessary.
Heat water and target a mash temperature of 154°F.
Slowly add crushed grain to hot water, stirring well to prevent clumping or dough balls.
Rest mash for 60 minutes.
While mash rests, measure herbal additions and prepare bags to add to the boil.
Sparge mash until six and a half gallons of wort has been collected.
Bring wort to a boil. Watch carefully to avoid a boilover.
Add hops and set a timer for 40 minutes.
When timer goes off, add 20-minute additions and set a timer for 10 minutes.
When timer goes off, add 10-minute addition and set a timer for 10 minutes.
When timer goes off, kill boil and add flame out additions.
Steep for 20 minutes.
Chill wort to 68°F.
Collect in sanitized fermentation vessel.
Pitch yeast.
Now comes the hardest part of homebrewing—waiting for the batch to ferment! If you have a prior batch in reserve, kick back and enjoy one, you've earned it! If not, I suggest a nice cup of organic tea.
Looking for more Libation inspiration?


You may also be interested in: