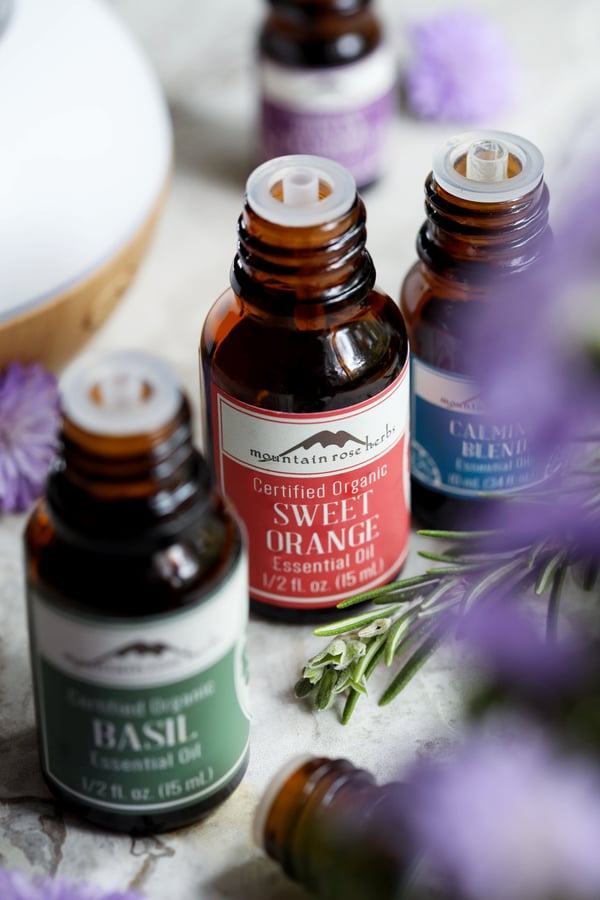 Stress impacts the human body and behavior in predictable ways. Chronic stress increases heart rate, elevates stress hormones, raises blood pressure, and causes a rash of affects that can include headaches, body pain, fatigue, nausea, sleep issues, emotional distress, etc., all of which, when left unchecked, contribute to serious health issues. We know that a healthy diet, plenty of exercise and rest, mindfulness, and relaxation are all key to long term stress-relief strategies. Together, they lower cortisol, increase endorphins, promote sleep, reduce negative effects of stress, and improve mood. The devil, of course, is in the details. Trying to carve out the time to exercise, cook a healthy meal, get more sleep, or do something we enjoy can be… well, stressful. Sometimes we just have time for something small and meaningful. And that, in a nutshell, is the beauty of incorporating essential oils into our lives; aromatherapy doesn't require us to carve out extra time. Like firelight and relaxing music, these oils can gently boost contentment and relaxation while working quietly in the background of our days.
There is, of course, a certain amount of personal preference in aromatherapy, and we always suggest that you explore aromas to see what your body, mind, and spirit resonate with. But there are herbs that have a long history of use for stress management, relaxation, and rest. Used in a diffuser, in a body care recipe, as a linen spray, or in laundry, the oils from these herbs are longstanding allies in difficult times when we need a little extra support to deal with stress.
9 Essential Oils for Relaxation
Lavender—The ancient Greeks and Romans perfumed their bathwater with lavender, burned lavender incense to the gods, and believed its unmistakably sweet, floral, herbal aroma was soothing to untamed lions and tigers. In a blend, this steam distilled oil is a middle note that works well with bergamot, peppermint, mandarin, vetiver, or tea tree.
Roman Chamomile—Distilled from the flowers of Anthemis nobilis, there is a warm, gentle quality to Roman chamomile essential oil. With its light, bright scent and notes of honey and apple, it adds a calming, middle note element when blended with grapefruit, jasmine, oak moss, rose, and bergamot.
Basil—There is an energizing quality to basil essential oil that can be a vibrant support to mitigate agitation or nervousness. This top note oil is steam distilled from Ocimum basilicum and brings an earthy, spicy aroma to blends with lavender, bergamot, grapefruit, cedarwood, or ginger.
Ylang Ylang—This complete distillation has a rich, sweet-floral scent often used in perfumery. Distilled from the flowers of Cananga odorata, it is a base note in blends and imbues a lush, mood-boosting, aromatic experience, particularly with orange, palmarosa, neroli, ginger, and jasmine.
Sweet Orange—Organic sweet orange essential oil is about 90% limonene, a compound used in aromatherapy for its calming properties. Cold pressed from the peels of Citrus sinensis, this sweet, pleasant citrus oil is a top note in a blend, and is often used with nutmeg, lemon, vetiver, eucalyptus, or geranium.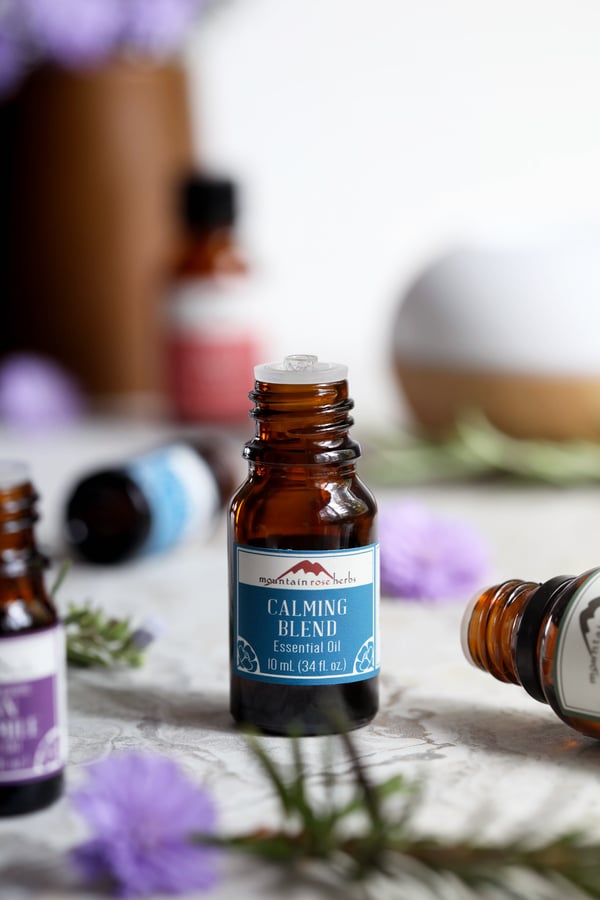 Calming Blend—This blend was intentionally created to support healthy emotional responses in tense, stressful times. You'll recognize some of the best oils for stress management in this blend: lavender, clary sage, vetiver, ylang ylang, and blue tansy oil. When you're looking for a boost in calm and confidence, this is the blend to reach for.
Clary Sage—Clary sage is popular in blends focused on women and can be used as a dry, bittersweet, soothing fixative. It is steam distilled from the leaf and flower of Salvia sclarea and acts as a relaxing middle note when blended with oils such as patchouli, lavender, jasmine, or frankincense.

Blue Tansy—Blue tansy essential oil is a complex scent—dry and floral with honey-sweet undertones. It is a blend often found in soothing skin care recipes and offers a distinct peace-evoking aroma. It is steam distilled from the flowers of Tanacetum annuum, and acts as a luxurious middle note in blends with chamomile, copaiba balsam, frankincense, lavender, sweet orange, and ylang ylang. This oil also has a deep blue color that may vary between batches and adds a lovely hue to cosmetic blends.
Vetiver—This base note essential oil is popular in both aromatherapy and skin care recipes. It is steam distilled from the roots of Vetiveria zizanioides and offers the sweet, woody solidity of mother earth in blends with litsea cubeba, mandarin, clary sage, lavender, or cedarwood.
These supportive essential oils can be used in a diffuser at home, in the car, or at the office. They also can be blended with carrier oils to be used topically: in roll-on bottles as a perfume and in a wide variety of body lotions, creams, and oils.
Want more information about herbs for stress management?
You may also enjoy: