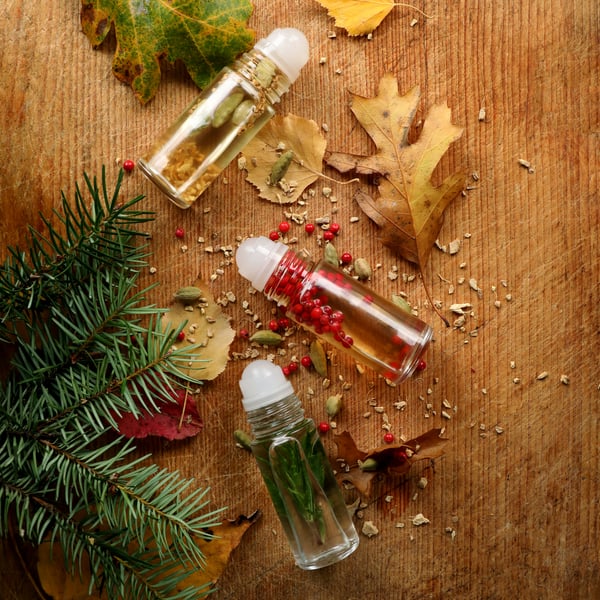 The last days of summer are retreating, and I always find great relief during the changing seasons. The cool breezes return, as does the rain here in the Willamette Valley. The days grow shorter, and leaves put their vibrant yellows, oranges, and reds on display. Autumn is fleeting, and finding beauty and respite in this ephemeral time of year can help us transition smoothly into cooler weather.
I created these three essential oil blends based on my own memories and impressions in the fall, and I hope you find them as uplifting and aromatically inspiring as I do! I used organic fractionated coconut MCT oil for these roll-on recipes due to its neutral scent and ability to absorb quickly into skin without the oily residue. If MCT is not your thing, any favorite carrier oil will do! Almond oil, organic argan oil, organic chia seed oil, organic camellia seed oil, organic jojoba oil, and organic sacha inchi oil are all great for the skin, though some may add their own unique scents to a blend.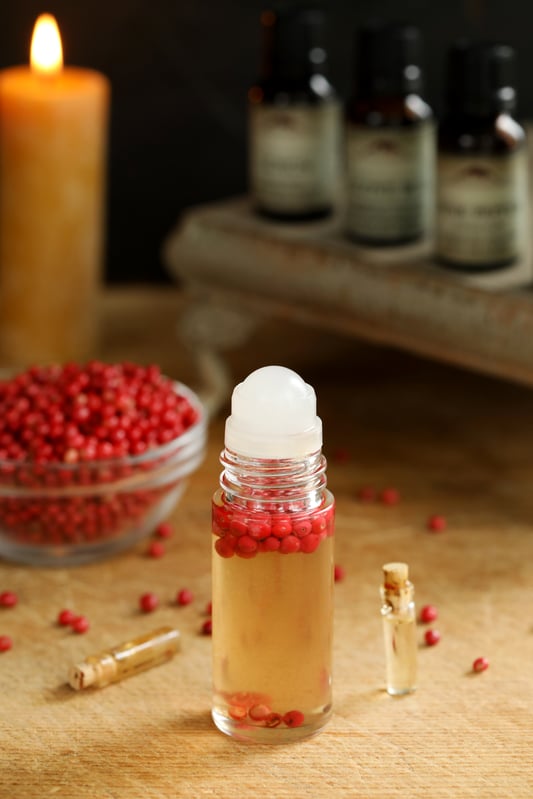 Sugar and Spice Blend
This blend is sweet and slightly spiced, and it's also my favorite out of the three! Peru balsam is a thicker oil, though it's steam-distilled and blends well into the carrier. It smells like rich and earthy vanilla, which I absolutely love in perfume blends, and this is a wonderful alternative to vanilla absolute! The dark color of Peru balsam essential oil turned my blend a light brown, and you may see a few light brown flecks, which is totally normal for Peru balsam.
*Pro Tip: At 9 drops, this blend is a 1.5% dilution when mixed with 1 oz. of carrier oil and a 1% dilution of vitamin E oil as a preservative. This is only necessary when using fresh herbs.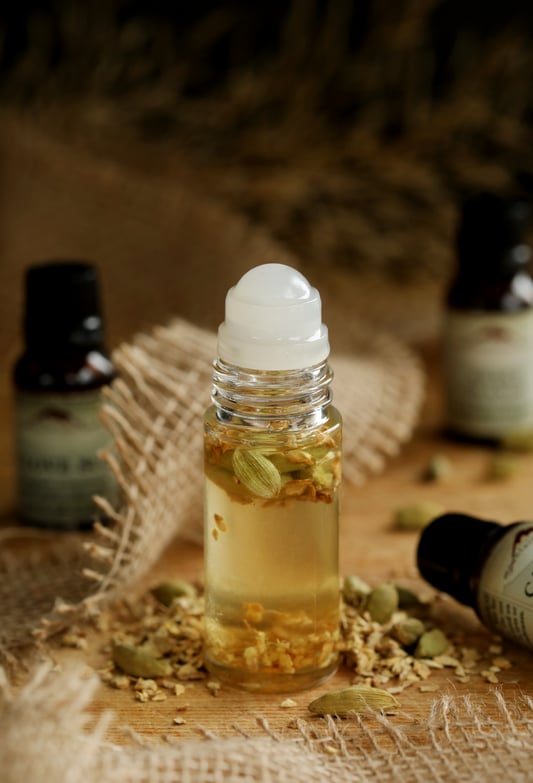 Classic Fall Spices Blend
For a traditional autumnal blend, this combination uses warm fall spices with festive sweet orange. Other options for a fall spice blend include nutmeg, cinnamon, and allspice essential oils, or any substitutions that fit your fancy! This recipe includes a 1% dilution of vitamin E oil as a preservative.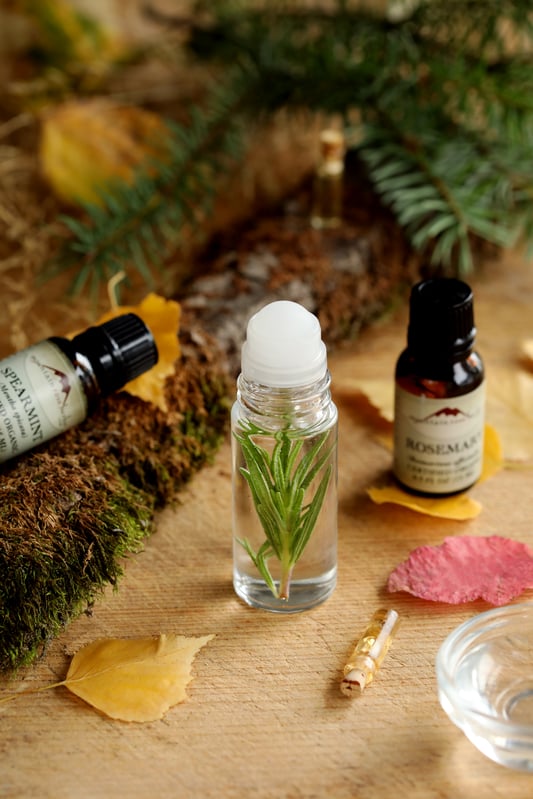 Misty Woodland Blend
Not a fan of the spiced combinations? This aroma blend reminds me of Oregon's forests when autumn rains return after the end of a hot and dry summer. Herbaceous and woodsy, with a hint of mint and fragrant cedar trees. This recipe includes a 1% dilution of vitamin E oil as a preservative.
Directions
Carefully drop essential oils and vitamin E oil into a glass bottle with roll top.
Top with MCT oil or other preferred carrier oil.
Attach roller top and lid.
Gently roll or invert bottle to mix.
Apply as a personal perfume or sniff the bottle for a quick pick-me-up!
Pro Tips
Need Another Way to Enjoy A Fall Aroma?
You May Also Be Interested In:
How to Create Your Own Essential Oil Blends
Fuss-Free Fragrance with Our Roll-On Perfume Oils
Floral Essential Oil Perfume Roll-On Recipes for Spring