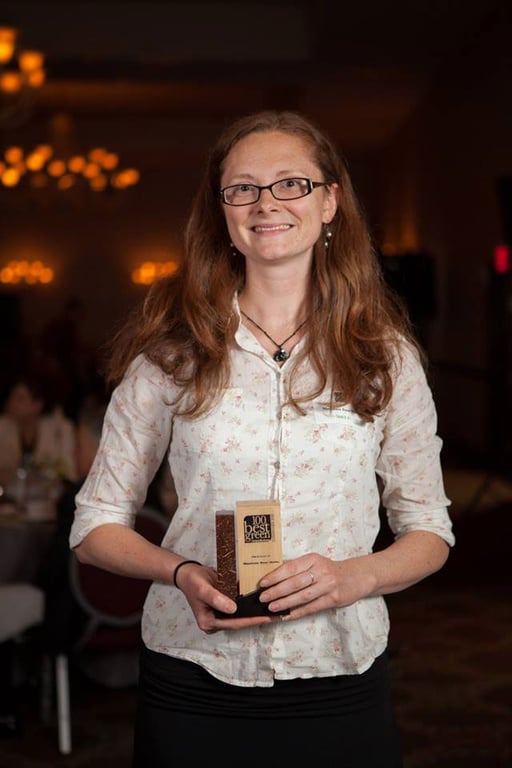 It isn't often that business luncheons include a menu card listing all the local sources for the foods served. What a treat to read about the local farms and farmers who provided the delicious meal! When our Director of Sustainability, Alyssa Lawless, and I sat down at our table, we couldn't wait to get to know some of the other business representatives—including, the folks from Rogue Creamery, artisan cheese makers from Central Point (who placed in the top ten as well.) While we were honored to discover we were among The 100 Best Green Companies to Work For in Oregon as determined by a survey of more than 18,000 employees from 440 companies and nonprofits, we had no idea where we'd place in the rankings until we arrived at the very sustainability-focused luncheon sponsored by Oregon Business magazine.
Those who completed the survey were asked to rate how they thought their workplaces were doing in ten different categories, including recycling and waste reduction, having a "green" mission and company-wide goals, support for public transit and alternative transportation, energy and water conservation, and purchasing locally. Companies were then scored and rated based on the results. Drum roll please....!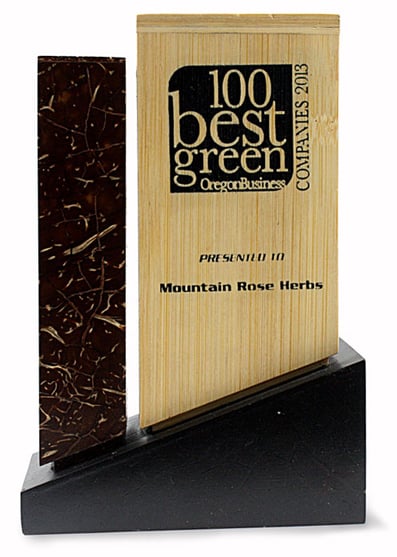 Mountain Rose Herbs came in 9th out of all those businesses!
As this was our first year trying to make the list, we were so honored to be the only first-timers and the only Eugene, Oregon, company to be in the top ten. Joining approximately 300 of our green-focused peers from all sorts of companies throughout the state, we listened to some inspiring speakers, including Oregon's First Lady, Cylvia Hayes, challenge us all to work even harder to think beyond profits and ask ourselves what else we can do to improve the livability and sustainability of our communities.
On the drive back home, Alyssa and I were not only eager to share the trophy and our collective accomplishment with all our Mountain Rose Herbs coworkers, we also had an animated conversation about what else we can do as a company to improve our sustainability efforts. We heard some great ideas and suggestions of what other businesses are doing and Alyssa definitely has some amazing plans in the works to continue building Mountain Rose Herbs into one of the best green companies to work for…anywhere!
"Attending this event and being surrounding by like-minded Oregon businesses was such an honor. And what makes me particularly proud is that it's my fellow Mountain Rosers that got us here! They support our sustainability initiatives, like the Mountain Rose River Project and our Carpool, Bus and Bike incentive program, and that's why it works. Can't wait to see where we go from here!"
- Alyssa Lawless, Director of Sustainability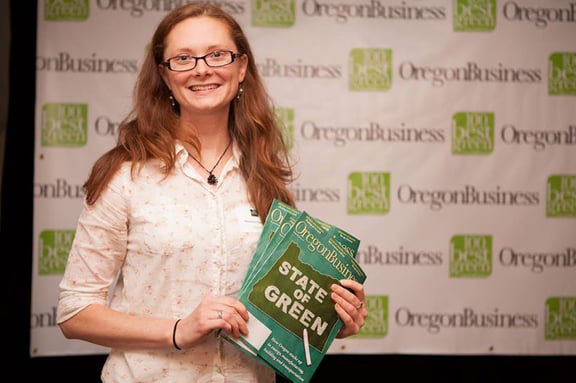 __________
About Kori:
This post comes to us from Kori, our Public and Media Relations Coordinator! A West Coast native, Kori is a seasoned nonprofit activist and community organizer. Having launched six adult kids, she spends her free time in her burgeoning organic and very urban "farm"—taming Heritage chickens, building top-bar beehives from reclaimed materials, baking, brewing, and preserving.