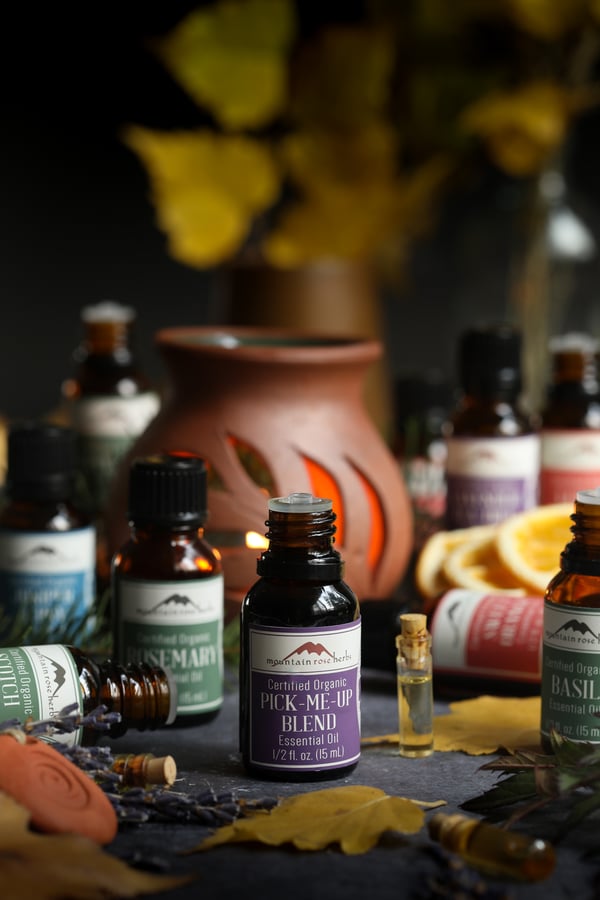 When life gets a bit madhouse, it can significantly impact our ability to process information efficiently. With so much "noise" all around us, it becomes hard to create a space where we can focus and nurture mental and emotional clarity. The folks who are home-schooling or working from home these days know this all too well! Many of us are turning to our favorite herbal allies as we negotiate these challenging days, and here at Mountain Rose Herbs, we're seeing more questions from people who are exploring aromatherapy as part of the actions they are taking to create a calm in the storm. With that in mind, we put together this list of ten essential oils that have long-established reputations for supporting clarity and focus.
These ten oils can be used in diffusers, body care recipes, linen sprays, and laundry. For an even more gentle aroma, try them in a homemade potpourri.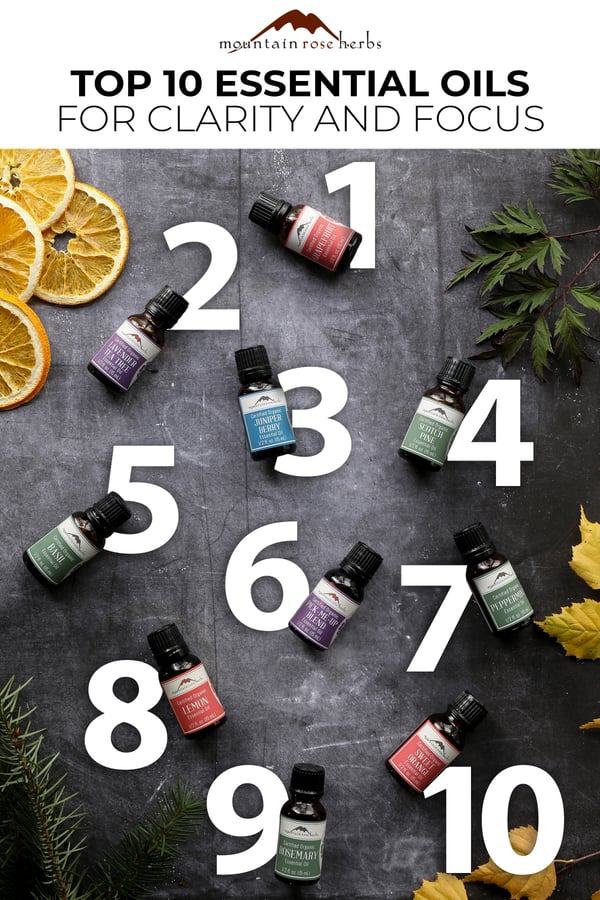 Basil—This essential oil has an energizing quality that can be incredibly supportive in periods of agitation or nervousness. It is a top note oil that is steam distilled from Ocimum basilicum. It blends well with lavender, bergamot, grapefruit, cedarwood, or ginger, and brings an earthy, spicy aroma to the blend.

Grapefruit—Limonene gives this citrusy essential oil a sweet, uplifting aroma that makes an excellent backdrop when you need to focus. Cold pressed from the peels of Citrus paradisi, it is a top note in blends and is particularly popular in diffuser blends and perfumes, although it is also lovely used alone. Blends well with clove, neroli, thyme, or ylang ylang.
Juniper Berry—Organic juniper berry essential oil is a middle note oil steam distilled from the berries of Juniperus communis. Often used in purifying blends, it has a fresh, green aroma with balsamic notes that can support wakefulness and clarity. Blends well with cedarwood, lavender, rosemary, chamomile, or grapefruit.

Lavender Tea Tree— Lavender tea tree essential oil is a top note steam distilled from the leaves of Melaleuca ericifolia. Although it is related to the more well-known tea tree essential oil, it has a softer floral aroma with bright citrus notes that is both calming and uplifting to the mind. Blends well with blue tansy, cedarwood, geranium, grapefruit, lemon, mandarin, and sweet marjoram.
Lemon—Cold pressed from the peels of Citrus x limon, lemon essential oil is a tart, zesty top note that is popular in cleaning recipes and diffusers for its intensely uplifting citrus aroma. Blends well with fennel, geranium, juniper, cistus, or benzoin.
Peppermint—Organic peppermint oil is a classic invigorating aroma that is steam distilled from Mentha piperita. Minty, hot, and herbaceous, the refreshing scent is popular in soaps, room sprays, and cleaning recipes. Blends well with grapefruit, marjoram, eucalyptus, or rosemary.
Pick-Me-Up Blend—Our pick-me-up essential oil blend has fresh, zesty ginger notes, refreshing rosemary and hints of spicy black pepper. Specially created by our certified aromatherapist, this blend is designed to put pep in your step and help energize your day. Great for diffusion in the morning, for study time or when you want to liven up the energy of a room. You can also use this blend as a roll-on perfume diluted in your favorite carrier oil, and in lotion or massage oil recipes.
Rosemary—Steam distilled from the leaves of Rosmarinus officinalis, this middle note essential oil has a fresh, camphoraceous scent with balsamic undertones that is refreshing and clearing. This uplifting oil is excellent in a diffuser as well as in perfume blends and can also be used in cleaning recipes. Blends well with bergamot, cinnamon, oregano, or peppermint.
Scotch Pine— Organic scotch pine essential oil is steam distilled from the needles of Pinus sylvestris. It is a base note in blends, bringing a dry-balsamic aroma with turpentine-like notes that can wake up the brain. Blends well with cypress, sage, juniper, peppermint, or lavender tea tree oils
Sweet Orange—Like grapefruit essential oil, sweet orange essential oil is about 90% limonene, a compound used in aromatherapy for its calming, uplifting properties. Cold pressed from the peels of Citrus sinensis, this sweet, pleasant citrus oil is a top note in a blend. Blends well with nutmeg, lemon, vetiver, eucalyptus, or geranium.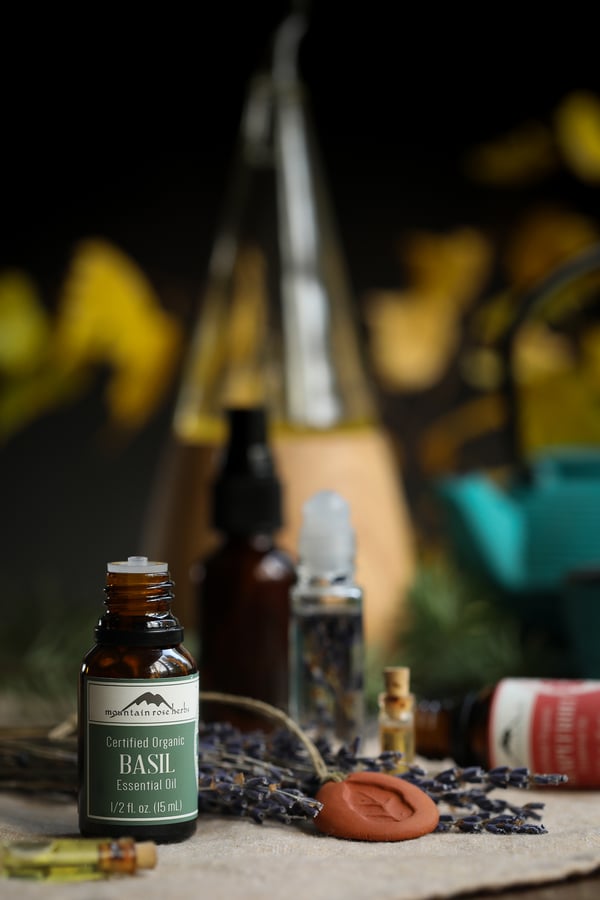 Want more aromatherapy support?
You may also enjoy:
• 9 Best Essential Oils for Stress Management
• Essential Oils for the Morning
• 5 Essential Oil Guides for Aromatherapy Explorers