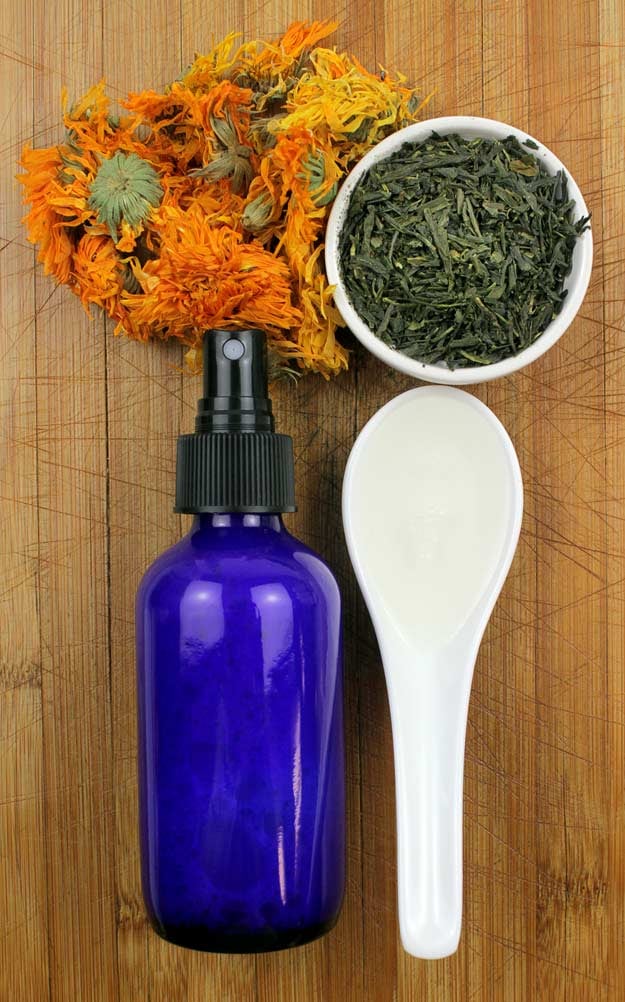 Our summer here in the Pacific Northwest is turning out to be an early scorcher. With outdoor parties, festivals, and camping trips on the calendar, and temperatures already nearing 100 degrees, now is a good time to take extra precautions for your skin. Drinking lots of water and mucilaginous teas like this Hibiscus Berry Chia Tea to stay hydrated, slathering on some homemade sun cream, and using a restorative skin serum to moisturize will help you keep a healthy glow. Of course, hats are helpful too!
However, when the power of the sun stings your skin, you'll want to reach for cooling astringents first. The herbs in this recipe are great at drawing out the heat before using an oil or cream. Since oil acts as a protective barrier on the surface of your skin, it can actually hold in the heat that you want to cool. This is why using tannic astringents is an important first step! This recipe is really simple to make and can be used as a spray or compress. You can even keep it refrigerated for an extra refreshing sensation.
After Sun Spray Recipe

Ingredients
organic witch hazel extract
organic green tea leaves
organic calendula flowers and/or organic lavender flowers
organic cleavers
organic hydrosol of your choice (try lavender, helichrysum, cucumber, rose, or peppermint)
organic aloe vera gel
Directions
Fill a mason jar 1/2 full with a mixture of equal parts green tea leaves and calendula flowers, lavender, and cleavers. Pour witch hazel extract over the herbs and fill to the top of the jar. Cap, shake well, and allow to infuse for 2-4 weeks before straining. Bottle and label.
When needed, mix 4oz of the herbal infused witch hazel extract with 2oz of hydrosol and 1oz of aloe vera gel in a spray bottle. Shake well and spray generously on over-sunned skin several times a day until the heat subsides. Keep refrigerated if possible.
NOTE: Need it now? You can also make a tea with the herbs, cool it down, and then mix it with witch hazel extract, hydrosol, and aloe. Use as a spray or compress. While this won't keep very long, it is perfect in a pinch!