Here at Mountain Rose Herbs, we love to make our own natural body care. These fun do-it-yourself projects allow us to ensure that we are using only the highest quality organic and natural ingredients. The finished products reflect our commitment to sustainability and our desire to provide friends and family with safe and beautiful goodies. One of our favorite guides to the world of DIY cosmetic creations is the wonderful book Hello Glow by Stephanie Gerber.
This book is perfect for beginners and seasoned body care enthusiasts alike. Featuring a collection of more than 150 recipes for the face, body, and hair, Hello Glow contains beautiful photographs that will inspire and guide you on your path to natural beauty.
Making your own body care products is a lot of fun, and it's great example of how the journey to wellbeing can be both natural and stylish.
Here are two recipes from Hello Glow to get you started on your do-it-yourself beauty adventure:
Radiant Rosehip Lotion Recipe
Ingredients:
Directions:
Heat two inches of water on low in small saucepan..
Mix jojoba oil and beeswax in a small heat-safe glass bowl. Place bowl on top of saucepan.
Let wax melt, take bowl off heat, and stir in rosehip seed oil. Let cool to room temperature.
Use a glass dropper to add carrot seed essential oil and rose absolute oil. Stir to combine.
Pour room temperature rose hydrosol into a small bowl. Using a hand mixer, turn on low and slowly pour in the oil mixture, blend on medium until creamy.
Transfer cream to a lidded jar.
To use, apply a thin layer to your face after cleansing. We recommend storing this lotion in the refrigerator and using within three months.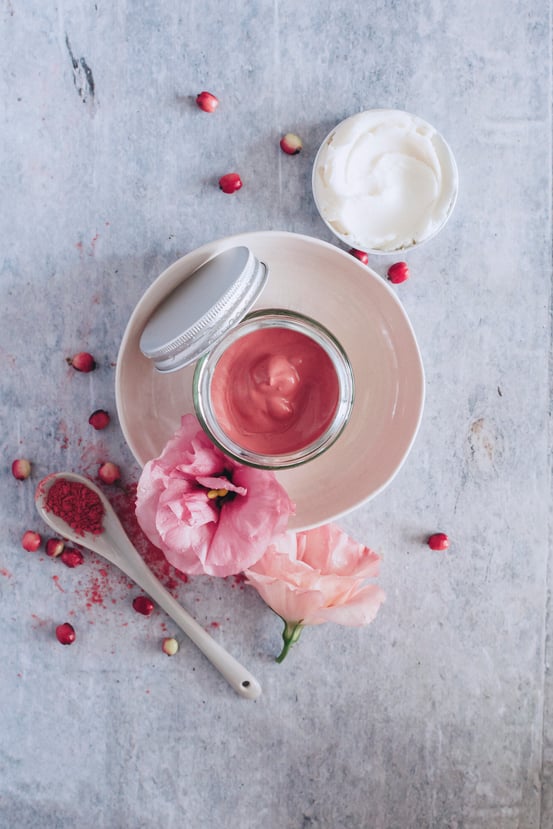 Cranberry Lip Gloss and Cheek Stain Recipe
Ingredients:
Directions:
Heat two inches of water on low in small saucepan.
Add coconut oil to a small, heat-safe glass bowl and place on top of saucepan.
Once coconut oil has melted, add cranberry and beet root powders. Let mixture stand for one hour to infuse oil, monitoring the saucepan and adding more water if needed. Remove from heat and let mixture cool slowly.
Strain the warm oil through cheesecloth into a small bowl. Press gently on the solids to extract as much of the oil as possible.
Stir in shea butter. It should melt easily if the oil is still warm. If it is not, slowly warm it up before adding shea butter.
Let mixture cool, stirring to keep the color particles suspended.
When the mixture has solidified, gently beat it with a spoon until light and creamy.
Transfer to a small jar with a tight-fitting lid and use as needed.
This gloss melts easily, so it's best not to keep it in your pocket! If you live in a warm climate, you can add the beeswax to firm up your gloss and add more texture. Gently melt ½ teaspoon beeswax pastilles into the coconut oil after straining and before adding the shea butter to give it a more balm-like consistency. We recommend using this gloss within six months.
Do You Adore DIY Body Care like us?