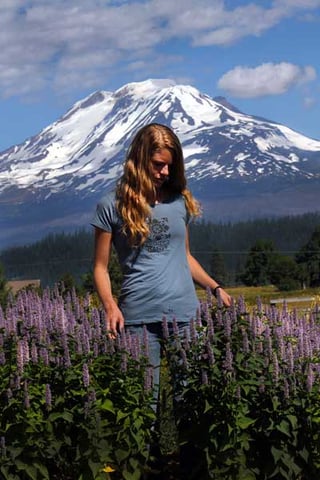 Mary Woodruff is the Domestic Farms Representative here at Mountain Rose Herbs. She works closely with our small organic farmers and wildcrafters in the US to source, grow, and harvest the most beautifully vibrant herbs here in our own backyard. Mary was raised in Eugene where she also lived and worked on a sustainable off-the-grid farm raising goats, growing fresh produce, canning, and making goat cheese.
She just returned from a trip to our organic clover seed farm with this story to share…
Winding off the freeway, east bound, emerging from concrete into field after field of grass, I roll onto fields of squash surrounded by red and crimson clover going to seed—a different sight from the surrounding fields of tall grass. These seeds will be harvested and brought to Mountain Rose in just a few weeks.
This particular area is well known as the best top soil in the United States, close to the best in the world. Historically, farmers here have grown grass seed commercially, a traditional crop which many families have relied upon to be their main source of income in Oregon.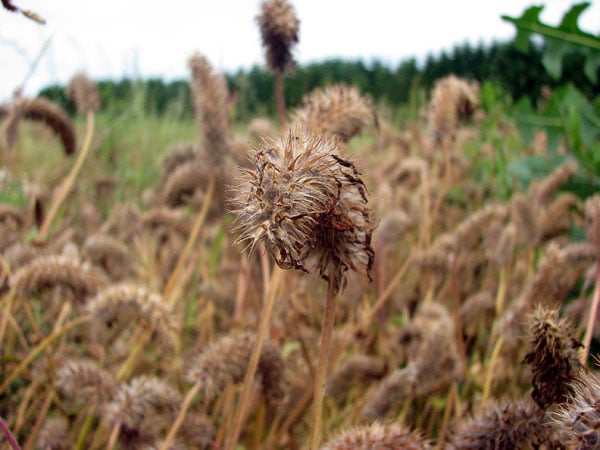 The farming family growing clover seed for us has been here for three generations. This land has been passed down from father, to son, to grandsons - leaving their heirs something valuable and life giving...the farm. A few years ago, our farmer sectioned off his land from his brother, became Certified Organic, and abandoned grass seed for a more sustainable crop.
Rotating his 50 acres between fresh vegetable and cover crops, he uses a traditional farming pattern to get the most benefit and fully utilize his labor and land in the most sustainable way possible. The clover seeds are essential to his soil health: fixing nitrogen, decreasing soil erosion, increasing organic matter (as a mulch), and decreasing other noxious weeds from permeating his fields.
There are even more benefits of growing Clover varieties as a cover crop. For one, these wonderful flowers attract bees. Having these bees around for pollination of his vegetable crops is an absolute must. Feeding our local bees that good organic pollen is an important path toward saving them!
This crop also makes sense to him economically. He has found a niche where he is able to maintain soil health, create an alternative harvest each year of clover seed for our customers, and bring pollinators to his veggies.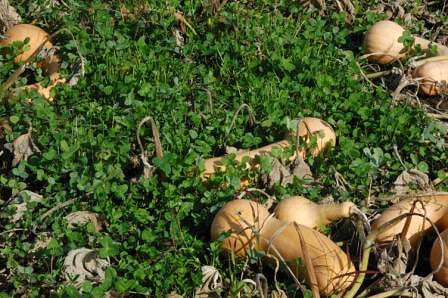 Sprout your own organic Clover seeds and support local Oregon farmers!
The sprouts of Red Clover seeds are delicious in salads and sandwiches. The beautiful flower tops, leaf, and stem have been used as a tonic for many centuries by herbalists and doctors of plant medicine. Red Clover is a source of many valuable nutrients including calcium, chromium, magnesium, niacin, phosphorus, potassium, vitamin C, and thiamine. Red Clover is also considered to be one of the richest sources of isoflavones. Clovers make great cover crops for your garden beds too. Watch our How To Sprout Video for home sprouting instructions.
Organic farming is the only path to take in order to nurture, maintain, and support the land for our future generations, so...