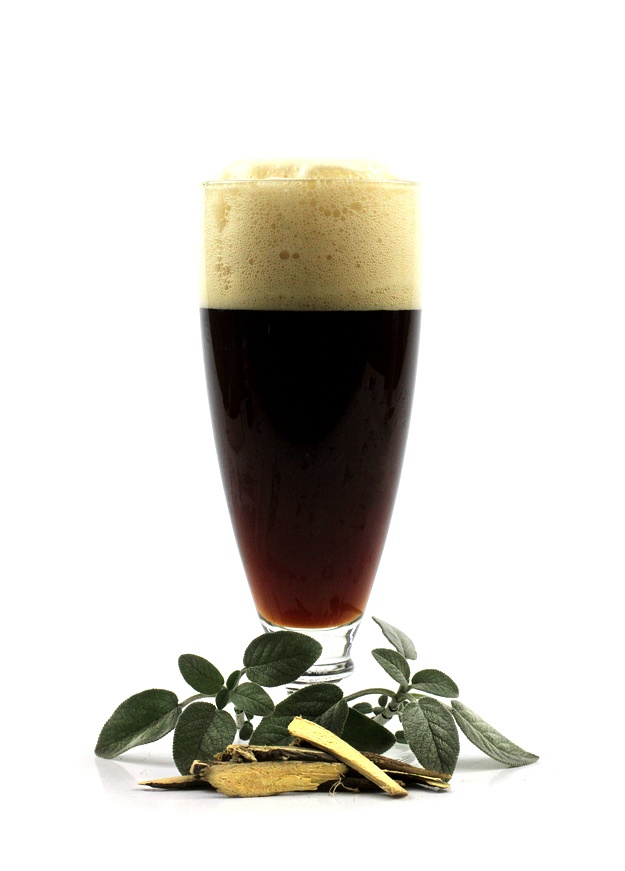 My love of home brewing is over a dozen years old. From my first novice attempt with a beer-making kit, it was a quick trajectory to all grain brewing and some grand experiments (not all of which resulted in delicious masterpieces, mind you!) Now, I grow my own hops on three established hop plants along the edges of the garden, and this provides plenty of plump hops to dehydrate and freeze for use in my creations. While my brewing adventures started with modern-ish beer recipes, I also love experimenting with meads and herbal fermentations.
For me, the joy of home brewing is creating beverages that I can't get anywhere else! Sacred and Herbal Healing Beers is a dense book of almost endless inspiration for a home brewer like me. I picked it up because I wanted to learn more about brewing with fresh and dried herbs and decided to give one of the recipes a try. This, I confess, led to my own creation of a second herby Elderberry Mead recipe. What I love about both of these beverages (besides the deliciousness) is that they have medicinal properties and are full of good herbs and ingredients; in my mind, these are life-affirming creations!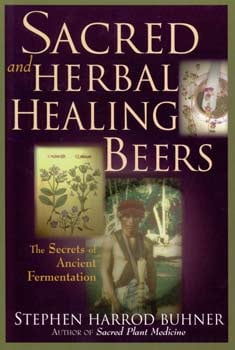 4 pounds malt extract
2 pounds brown sugar
4 ounces fresh culinary sage (Salvia officinalis)
2 ounces dried organic licorice root or slices
4 gallons of water
1 package yeast (I used an ale yeast)
Bring water to a boil in a large pot and add half the sage and all the licorice root. Simmer this "tea" for one hour. Turn off heat and allow to cool. When cooled to 160 degrees F, strain into carboy or other fermenting vessel (removing the spent herbs.) Add extract and sugar and stir to dissolve. Cool to 70 degrees and then add the yeast. Drop the rest of the fresh sage into the mixture. Stir or lightly shake to mix and dissolve. Put an airloc on the carboy and allow to ferment for 7-10 days. At first, you will see lots of bubbling in the airloc and foam/bubbles on the top of the liquid, but this will diminish. After a week or so, you can bottle the ale (strain or lift out the sage leaves before bottling.) I added about ¼ cup sugar to the ale at bottling and capped. After 2-3 weeks, it should be ready to drink.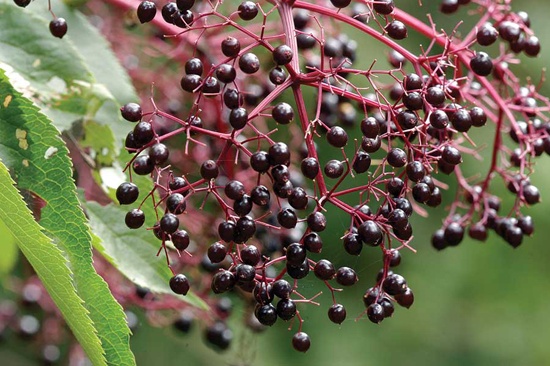 Kori's Elderberry Mead

2 gallons water
1 pound fresh or frozen Elderberries
2 cups dried organic Elderberries
¼ cup dried organic Orange Peel
4-5 organic Cinnamon Sticks
1 organic Vanilla Bean pod, split
1 Tablespoon organic Ginger Root, dried
1 teaspoon organic Nutmeg, freshly grated
1 teaspoon organic whole Cloves
½ teaspoon organic whole Allspice
2 quarts raw honey (I used organic Orange Blossom honey, but you can use whatever you'd like)
1 package champagne yeast
Combine the water, elderberries (fresh and dried) and all the spices in a large stock pot. Bring to a low boil slowly and simmer for approximately an hour (your kitchen and house will smell amazing!) Once this mixture is thick and dark and well-simmered, turn off the heat and add the honey. Stir well to dissolve. If any foam forms on the top, scoop this off (I've never had this happen since I don't actually boil the honey, but I've read that it can.) Allow to cool to about 70 degrees. This could take a few hours. Strain the fruit mixture into a glass carboy or fermenting vessel, squeezing as much of the juice out of the elderberries as possible. I actually like to pour a little more water over the berries just to make sure I've extracted as much goodness as possible.
Compost the berries and spices (although my chickens love the spent berries!) At this point, I "pitch" the yeast—sprinkle the yeast over the liquid in the carboy and give it a stir or gentle shake to combine. Put an airloc on the carboy and allow to ferment for at least a month. After a month, you can either rack it into a secondary fermenting vessel (carefully pour into another clean container and cover with a clean airloc) and allow to continue to ferment or you can bottle it up in individual bottles and cap. This next stage requires a bit of patience. Allow the mead to age for at least 6 months before tasting. It will mellow into a smooth, delicious beverage!
For more adventures in brewing:
The Ancient Art of Mead: Making Spiced Cyser
Other great herbs for brewing: Juniper berries, Rosemary, Yarrow, Heather, and Hops!