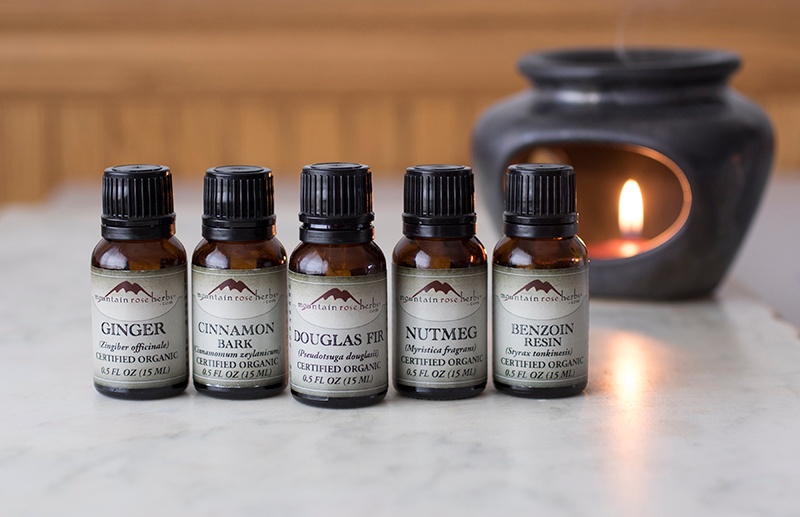 My memories of December take me back to a white farmhouse in the middle of grass seed fields, with my four brothers and one sister, poking ribs and making jokes around the wood stove. If we were lucky, we'd be surrounded by snow and immersed in the scents of our winter home. There's nothing I love more than the aroma of solstice spices, the most beautiful tree all lit up, and the warmth of a wood stove.
A tradition in our house every year was making cute little gingerbread decorations for our yule tree. This essential oil blend is an ode to those sweet and cozy moments, hanging freshly made decorations with the crackling of wood tickling my ears from the next room. I like Douglas Fir essential oil in this recipe, but your favorite tree scent will work just fine too! A little sweetness from benzoin resin essential oil or vanilla absolute will help bring out the spicy notes of ginger, nutmeg, and cinnamon. This is the perfect blend to make you feel like you're on vacation in a toasty lodge near a white powdered mountain!


Winter Solstice Essential Oil Blend Recipe
Blending Directions and Tips:
Add all essential oils to a glass bottle. Screw cap on tightly and invert the bottle to blend the oils. Do not shake! Vanilla absolute is a very thick oil, so the container can be placed in a bowl of hot water to make it easier to pour.
Diffusing Directions:
Fill your essential oil diffuser reservoir with water. Add 5-6 drops of the essential oil blend. Light a tea candle in the base of your diffuser and enjoy as your space fills with the aroma. If you are using an Electric Diffuser, please follow the included directions.
Aroma Spray:
Add 12 drops to a 1 oz glass spray bottle and pour organic witch hazel extract, vodka, or organic blood orange hydrosol to the top and shake well.


Looking for More?