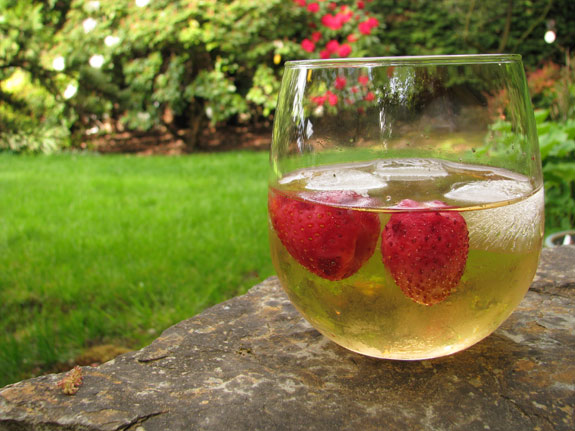 May Wine is an old, traditional beverage that originated in Germany and is consumed throughout Europe. Infusing white wine with Sweet Woodruff gives this libation an herbal flavor with green notes that are refreshing and pleasant. Often served on May Day and at spring and early-summer weddings, this beverage is perfect for sharing with friends and family during dinner parties, backyard barbeques, picnics, and at other get-togethers. May Wine was historically brewed during the May and June months when Sweet Woodruff is in flower, but there is no need to restrict consumption to these months. This light and refreshing herbal infused beverage is a perfect treat that can be enjoyed throughout the year!
Not only does May Wine taste delectable, but Sweet Woodruff has a long history of herbal and medicinal use. It has been used throughout the ages to treat ailments including liver problems and jaundice. During the Middle Ages, Sweet Woodruff was widely applied as a poultice for wounds and cuts and taken internally for digestive and liver problems. In modern day herbalism, infusions of Sweet Woodruff are used for diuretic and to ease stomach aches.
This is a classic recipe for May Wine, but feel free to adjust it to your liking. I am already envisioning Chamomile flowers, Rose petals, and Lemon Balm incorporated into future batches! Simply follow the recipe below but substitute the herb(s) of your choice for Sweet Woodruff, and make allowances for herbs that are especially flavorful - like Lavender flowers.
May Wine

Ingredients:
1 bottle white wine
1 bottle sparkling wine or champagne
½ cup dried organic Sweet Woodruff (Galium odoratum)
½ cup organic strawberries, sliced or whole
Combine dried Sweet Woodruff with the bottle of white wine, cover tightly, and place in a refrigerator. Allow to steep overnight. Fresh Sweet Woodruff may be used, but dried is preferable because the flavor and aroma increase when the herb has dried. Before serving, strain out the Sweet Woodruff and pour the infused wine into a punch bowl, carafe, or other glass or ceramic serving vessel. Add the bottle of chilled sparkling wine or champagne and garnish with strawberries. Feel free to further beautify the beverage with fresh Sweet Woodruff or edible and herbal delights from your garden. Fresh Violets, Rose petals, Lemon Balm, or sprigs of Lavender are especially captivating and delicious! Serve in wine glasses or champagne flutes. Ice may be added if desired.
Cheers!
~ irene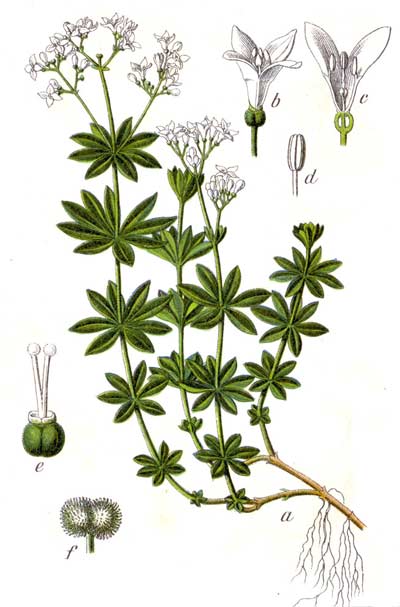 A note of caution: Sweet Woodruff may produce headaches and other toxic effects if high doses are consumed or if it is used long-term.
For educational purposes only This information has not been evaluated by the Food and Drug Administration. This information is not intended to diagnose, treat, cure, or prevent any disease.